Greg Suckow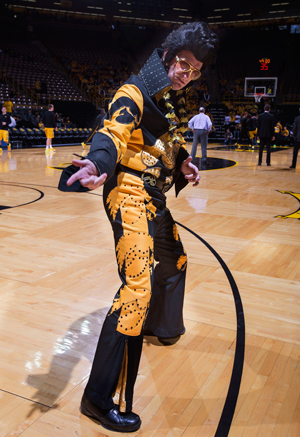 PHOTO: BRIAN RAY/HAWKEYESPORTS.COM
Sporting gold-rimmed glasses, a bejeweled jumpsuit, and an impressive pompadour, Hawkeye Elvis (otherwise known as Greg Suckow) frequently drives down from his home in Minneapolis to prove his burning love for the Iowa football and basketball teams. Here's why the Ogden, Iowa, native and lifelong Hawkeye fan leaves us all shook up:
ROCK MOVES
Since his debut four years ago at a Halloween-themed Iowa-Michigan State home football game, Hawkeye Elvis has delighted Iowa fans with his charming impersonation. Says Suckow, a commercial real estate attorney by day, "I do the voice, I do the Elvis moves, I sing—the whole ball of wax." In fact, at a restaurant after the Iowa men's basketball team defeated North Carolina this past winter, Elvis treated fans to a rousing dance performance of "Hound Dog."
SEWN WITH LOVE
Suckow's mother introduced him to the King of Rock 'n' Roll's records and designed the three costumes he wears to games. Painstakingly decorated with sequins, rhinestones, or shiny Tigerhawks, each jumpsuit takes Maggie Suckow about a couple months to sew.
FAMILY TIES
Greg Suckow bleeds black and gold in more ways than one: Coach Fran McCaffery's wife, Margaret, is his cousin.
FAN FAVORITE
Some 4,000 fans follow Suckow on Twitter, eagerly awaiting the next Elvis sighting. Second only to Herky in popularity, Hawkeye Elvis typically receives about 200 photograph requests per game. Even with basketball guard Josh Oglesby's grandmother and running back Mark Weisman's mother among his fans, Elvis still gets starstruck: at Iowa's 2014 NCAA Tournament game against Tennessee, he asked for a photo with former Hawkeye hoops star Roy Marble, 91BA.