Father Ed Fitzpatrick reflects on his longtime campus ministry.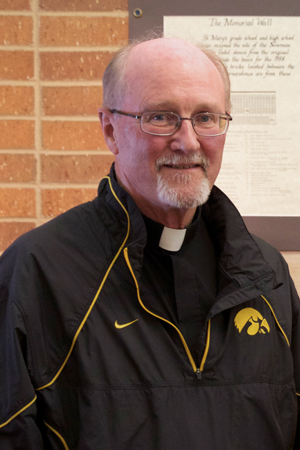 PHOTO: BRYAN DERBALLA
A man buying an anniversary gift for his wife recently approached Father Ed Fitzpatrick in downtown Iowa City. "Do you know what you were doing 10 years ago?" the man asked the priest. "You officiated my wedding."
Such conversations have become routine for Fitzpatrick, the longtime director of the Newman Catholic Student Center, who has presided over countless weddings, baptisms, funerals, and other meaningful milestones in the lives of UI community members.
He retires on June 30 after 31 years of ministry at Iowa. A constant and familiar face in an ever-changing college town, Fitzpatrick moved to Iowa City in 1984. On Jan. 15, 1989, he helped dedicate the Newman Center as a "faith home away from home" for UI students. But his influence has extended far beyond the church walls, permeating many aspects of college life, not the least of which Hawkeye sports. Fitzpatrick regularly meets with university officials as a member of the Association of Campus Ministers, attends I-Club breakfasts and Hawkeye games, and has created two annual scholarships for Catholic student-athletes. He also celebrates masses for the visiting athletic teams with the good-spirited distinction that he pray with them, not for them. The priest's love for the Hawkeyes is so pronounced that at a church auction last year, a bobblehead doll of Fitzpatrick in his vestments and a UI cap brought in $1,200 to support the Newman Catholic Singers.
He's also been known to ride through Ames in the Iowa football equipment truck, playing the "Iowa Fight Song" for Iowa State fans to hear. Now the man who has helped his congregation through many transitions faces a transition of his own. As he prepares to step down, the Newman Center is in the process of welcoming a new executive director, while three priests have been assigned to serve at both the Newman Center and St. Mary's. Although Fitzpatrick will retire, he plans to remain engaged in the life of the church, ever available to deliver homilies or conduct religious ceremonies as needed. "I've been there through the joys and sorrows," he says of the years of comfort and wisdom he's provided. "It's a blessing to be drawn into the significant events of people's lives."