Anne Hawley reflects on her tenure at one of the world's most fascinating museums—and the notorious heist that cast her in the national spotlight.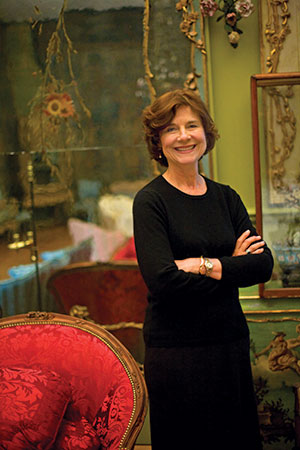 PHOTO: CHERYL RICHARDS/ISABELLA STEWART GARDNER MUSEUM
Nestled in the Fenway neighborhood in Boston, within walking distance of the Green Monster and the Back Bay Fens, the museum designed after a 15th-century Venetian palace projects an irresistible charm. The 4,000 art objects and rare books inside remain just where Isabella Stewart Gardner placed them over a century ago, in galleries surrounding a splendid courtyard garden of Roman antiquities, tree ferns, and a fountain.
"You walk from the busy streets into the museum's dimly-lit cloisters toward this atrium space that explodes before you," says Anne Hawley, 66BA, the museum's director for the past quarter-century. "It's meant to open you up to beauty and learning."
While this was always the intention of the brilliant and inventive Isabella Stewart Gardner, when Hawley arrived in September 1989—as the fourth leader and first female director—the museum was a quiet, introverted place with infrastructure in need of repair, no climate control (such that once condensation clouds actually formed in the Spanish Cloister), little programming, and a paltry endowment. So, Hawley set about fixing these immediate problems with the long-term goal of transforming the Gardner into a vibrant, engaged 21st-century celebration of art and creativity.
Today, 25 years later, Hawley's legacy includes a thriving artist-in-residence program, educational partnerships with the Boston Public Schools, an endowment that's grown by some $120 million, more than 3,000 new members, and a successful $180 million capital campaign for a glass-and-copper clad wing designed by Pritzker Prize-winning architect Renzo Piano. Opened in 2012, the extension added much-needed exhibition space and a concert hall—expanding the museum's mission without betraying Gardner's wish that the original artwork remain untouched. Additionally, Hawley introduced lecture programs, exhibitions, and performances related not just to art, but also music, scholarship, education, and horticulture.
Says Barbara Hostetter, a museum board member: "Anne arrived to a place that had become complacent and she began to reimagine the future. What the Gardner Museum has accomplished in the last 25 years would not have been possible without Anne's leadership and vision."
Ready to create another chapter, Anne Hawley recently announced that she will step down as museum director at the end of this year. And while she leaves behind an impressive record of successes, her tenure cannot be fully described without mention of March 18, 1990, when, a mere six months into her new position, Hawley awoke to devastating news that overshadowed any challenges that had previously seemed overwhelming.
"I didn't realize when I took the job how much work the museum needed," Hawley says. "It was quite discouraging and then along with the horrendous theft—it was like a stab in the heart."
---
In the early-morning hours of that fateful day, two thieves dressed as Boston police officers convinced museum guards to allow them in the building, claiming they were responding to a call. The thieves managed to duct-tape the guards' hands and feet and handcuffed them in the basement, then began to randomly slash and stash rare paintings, sketches, and bronze. About 80 minutes later, the museum was missing 13 works of art valued at $500 million—a heist that remains the nation's largest unsolved property crime. Among the stolen works: Rembrandt's Storm on the Sea of Galilee, the only sea scene the famed Dutch artist ever painted, and Johannes Vermeer's The Concert, one of only 36 Vermeer paintings in the world.
"I didn't sleep for a long time after that happened," says Hawley, particularly heartbroken by the loss of the Vermeer, the artist most famous for Girl with a Pearl Earring. In an interview with WGBH television right after authorities informed her of the theft, a stricken Hawley described feeling devastated and "numb," but also resolved to not let the crime define her or the museum. "I think it made us more determined than ever to succeed," she says. "We were not going to let this defeat us, and we haven't."
Hawley continued with her original plans for strengthening the Gardner, but with the investigation never far from her thoughts and priorities.
Robert Wittman was a member of an early program that eventually grew into the federal Art Crime Team, charged with recovering works all over the world. It was obvious to him that the thieves had little background in art because several pieces they stole weren't all that priceless. To steal the finial bronze eagle from the Napolean flag, they passed by two Raphaels and a Botticelli. Now a private security consultant, Wittman worked undercover on the case for nearly two years in Spain and France—and there was a point when the team began closing in on suspects with ties to the Corsican mob. "I thought we had the Vermeer and seascape," he says. "Throughout her tenure, Anne did a great job supporting the investigation and working with the police and FBI."
UI Museum of Art Director Sean O'Harrow was an art history student at Harvard University at the time and understood what a blow Hawley and the Gardner had suffered. "When the theft occurred, we all felt violated; as far as we knew, this had never happened before to any great museum in the United States," says O'Harrow, who coincidentally had a poster of The Concert hanging in his dorm room. Today, he admires the framed poster—one of the best reproductions of the painting currently available—from its spot on his office wall.
Although the works have yet to be recovered, the heist remains atop the Federal Bureau of Investigation's priority list. The agency recently renewed efforts to track down the missing masterpieces, offering a new $5 million reward just last year.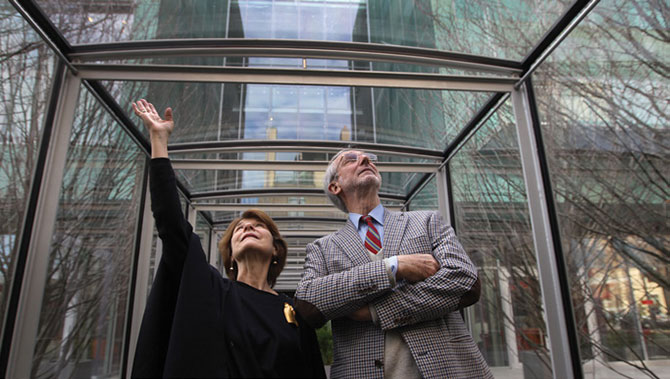 PHOTO: DAVID L. RYAN/THE BOSTON GLOBE VIA GETTY IMAGES
Anne Hawley walks through a spectacular glass tunnel connecting the Gardner Museum's new wing to the original building.
---
Elegant, poised, and unflappable, Anne Hawley has a way of drawing from Gardner's legacy in order to revitalize the museum. Isabella Stewart Gardner was a prominent patron of the arts and she opened her museum on February 23, 1903. She sold tickets for $1 each and admitted 200 guests to her event, which featured a performance by the Boston Symphony Orchestra and plenty of champagne. Gardner loved the symphony and she loved baseball, and she even declared that admission would be free to all Red Sox fans as well as anyone named Isabella. (To this day, "Isabellas" get in free of charge.)
With a zest for life and a keen intellectual curiosity, Gardner and her husband started traveling extensively in 1867 to immerse themselves in different cultures and collect art from Europe, Russia, the Middle East, and Asia. A favorite destination was Venice, Italy, where she bought numerous artworks and antiquities. The collection eventually outgrew the walls of her home, which led to the creation of her Venetian-inspired palazzo near Fenway—detailed right down to the stair treads.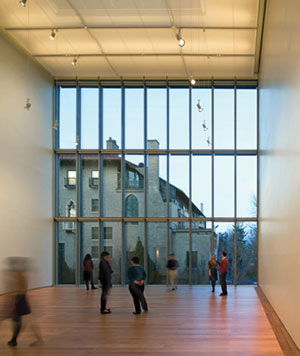 PHOTO: NIC LEHOUX/ISABELLA STEWART GARDNER MUSEUM
From the Hostetter Gallery in the museum's extension, visitors can see the historic palace.
"Gardner was very meticulous in making sure these were exact replicas of the Doge's palace stairs," notes Hawley. "We talk about the museum as being a total work of art."
When she wasn't traveling, Gardner loved to entertain, inviting artists, musicians, writers, philosophers, and composers to dinner parties. She continued to do this after opening her museum—then called Fenway Court—to share and enjoy her collection with friends and visitors. Gardner precisely displayed items to "evoke intimate responses to the art, mixing paintings, furniture, textiles, and objects from different cultures and periods" and her collection includes works by Degas, Titian, Michelangelo, Sargent, Manet, and Matisse.
What Gardner was able to assemble reflects one of the most remarkable and intimate collections in the world today and for years she continued to embellish and rearrange her precious things in "The Palace." She died in 1924 after a series of strokes, stipulating in her will that the 2,500 original artworks remain exactly as she'd placed them.
Hawley remained mindful of this intent even as she worked to take the museum into the future while honoring Gardner's legacy. With the support of her board of trustees, Hawley thrilled at reinvigorating the museum once again with Gardner's spirit for fun, learning, and community: "This had been a place where there were great scholars and musicians and beautiful gardens and [they] saw that possibility again."
---
Anne Hawley's Iowa roots reach back to the 19th century, and she grew up on a farm between West Liberty and West Branch that had been in the family for generations. It was an idyllic place, so beautiful, so connected to family, and Hawley remembers receiving a quality education at the local schools.
Other family members had attended Iowa State University and Northern Iowa, but a program that allowed promising young students to enroll in University of Iowa classes introduced Hawley to campus. She began attending seminars in the music department at age 13, and the experience made such an impression that she decided the UI was the place for her.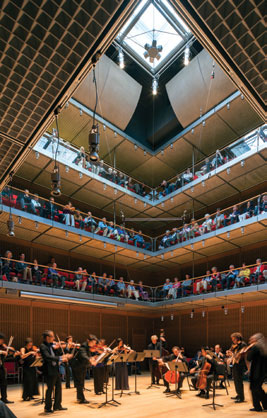 PHOTO: NIC LEHOUX/ISABELLA STEWART GARDNER MUSEUM
The addition of Calderwood Hall brings world-class performances to the Gardner.
Hawley originally declared a music major to pursue vocal performance, possibly opera. But she eventually switched to English when she realized she could continue to sing and study Emily Dickinson. She recalls one day during class registration at the Field House where UI physicist James Van Allen tried to talk her into taking his astronomy course. She decided the class would probably ruin her GPA, but now realized it was a missed opportunity to study under one of science's most celebrated minds.
Hawley also remembers sitting on a UI cultural affairs committee with then-law professor Willard "Sandy" Boyd during her sophomore year, although he says he first met Hawley when she came to Iowa City for the youth program. They later reconnected when she served as executive director of the Massachusetts Council on Arts and Humanities and he was on the National Arts Council, and they kept in touch when she moved on to the Gardner and he was named head of the Chicago Field Museum. Hawley so values her long professional relationship with the former UI president that he was among the first people to personally hear about her decision to retire. Says Boyd: "She's been extraordinary in the way she dealt with the theft, but more importantly in how she led the museum in a whole new direction without in any way infringing on the limitations of what can be exhibited there."
After receiving her English degree from the UI in 1966, Hawley completed a master's in urban studies at George Washington University and sought a job in national policy. She'd experienced so much cultivation of her leadership and talent in Iowa that she grew frustrated when she bumped up against a lack of career opportunities for women, including being told on Capitol Hill in 1968 that women were only hired for secretarial jobs. Still she persisted, finding work as a research associate with the National Urban League and later with the Ford Foundation Study in Leadership in Public Education before leaving Washington, DC, for Boston in 1974 to found and direct the Cultural Education Collaborative.
"It was there I learned how to find a board, how to find money, how to make it work," Hawley says. "I was improvising because I had no training, but my DC network helped me and taught me to be intrepid. That was also in my DNA from my early days in Iowa."
In 1977, Hawley became executive director of the Massachusetts Council on the Arts and Humanities. For the next 11 years, she developed the council's art, conservation, preservation, and public-design initiatives and grew the budget from $2.7 million to $26 million. It was there that she caught the attention of the Isabella Stewart Gardner Board of Trustees.
---
Once Hawley leaves the Gardner, she intends to take time for intensive German language study, which she's chosen because she often visits Parpan, Switzerland, an Alpine village where her husband's family has vacationed for many years.
Reflecting on the years, Hawley takes pride in the new wing that will ensure the Gardner remains a cultural resource. The museum is on solid financial footing with all curators endowed and a recently completed five-year plan that's ready for a new leader.
But she's most proud of the programs—the artists-in-residence, the concert series, the educational initiatives for schoolchildren, the scholarly exhibitions, and the landscape programs—that infuse life into the museum and stir the imaginations of its visitors. "I hope my legacy will live in the continuity of these buildings and that the programs will continue to be true to the museum's ambitious vision and spirit of creative risk-taking," Hawley says.
Through times both dark and glorious, Hawley transformed the Isabella Stewart Gardner Museum into one of the great public institutions.
While it would've been nice to see the stolen art returned during her tenure, Hawley remains confident the works will be found. Every few years, new and credible information surfaces. Until that time, four giant, empty frames in the Gardner's Dutch Room commemorate the pieces, waiting for them to come home.
On that Iowa farm and even during her days on campus, Hawley never imagined leading a major museum. Then, people invested in her and exposed her to new ideas and opportunities. Every time new students from the neighborhood walk through the palace doors, she smiles with the satisfaction and hope that she's doing the same.
"If I could tell young people anything, it's that it's really important to find mentors, the most talented, interesting people you know," says Hawley. "And to go for your dreams. It's so important to have your work be something you love."
To find out more about Stolen Treasures, click here
Linzee Kull McCray, 80MA, 97MA, is an Iowa City-based freelance writer.