Tom Brokaw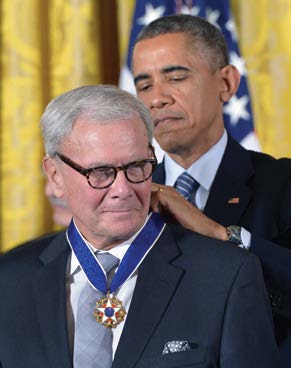 photo: MANDEL NGAN/afp/getty images
Why was he in the news?
More accustomed to reporting the news, Tom Brokaw found himself making headlines this past November as one of 19 recipients awarded a Presidential Medal of Freedom. At a White House ceremony, Brokaw—a former University of Iowa student who became one of the nation's most recognized and respected journalists—accepted the honor from President Barack Obama.
Best known as anchor and managing editor of NBC Nightly News from 1984 to 2004, Brokaw was cited for his effortless ability to provide depth and analysis to the country's most historic moments, and for continuing to enrich the public discourse.
In Obama's words: "At pivotal moments, Tom got it. He reported on Watergate, snuck a camera to Tiananmen Square. He sat down for the first one-on-one with Mikhail Gorbachev. We trusted him to tell us what we needed to know and to ask questions that needed asking. I know because I have been on the receiving end of some of those questions."
What's the big deal?
The Presidential Medal of Freedom is the nation's highest civilian honor for extraordinary contributions to the interests of the United States, to world peace, or to cultural endeavor. Also included among this year's recipients were human rights activist Ethel Kennedy, novelist Isabel Allende, actress Meryl Streep, and singer-songwriter Stevie Wonder—all citizens who Obama said "have made America stronger and wiser, more humane, more beautiful."
In addition to his career achievements, Brokaw received the medal for his philanthropic support of organizations that help international refugees, Native Americans, U.S. military service personnel, health care, and higher education. The event proved especially meaningful because his wife, three daughters, and five grandchildren were able to attend the celebration.
"I was stunned—and that doesn't happen very often anymore," says Brokaw, joking that his daughters were most excited to see Meryl Streep. "This award is in a league of its own, and it's very gratifying to me."
How did his UI experience shape him?
From Yankton, South Dakota, Brokaw came to Iowa City in the early 1960s to attend the UI. But his social life trumped academics, and although he didn't flunk out, he did retreat to South Dakota to reorder his priorities. "I credit Iowa with having a high standard," he says. "I took my eyes off the ball and I'm grateful for the lesson."
Brokaw received a Distinguished Alumni Award from the UI Alumni Association in 2006 and an honorary degree from the UI in 2010.
What's next for him?
After stepping down from the NBC Nightly News anchor desk in 2004, Brokaw remained at NBC as a special correspondent, and he recently signed a new three-year contract to continue in this role. Although diagnosed with multiple myeloma—a cancer affecting the blood cells—in 2013, Brokaw announced this past December that he is officially in remission.
Since the success of The Greatest Generation, his World War II best-seller, Brokaw has continued to write. His currently untitled new book ready for release this spring explores a family's experiences in facing a cancer diagnosis. As always, Tom Brokaw offers