The Iowa Writers' Workshop produces another national poet laureate.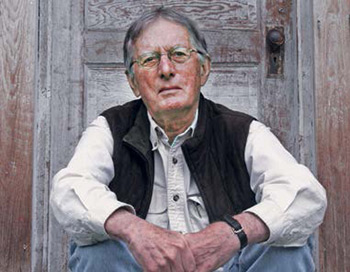 PHOTO: HOLLY WRIGHT
While stationed as a G.I. in Italy during the late 1950s, Charles Wright immersed himself in the poetry of Ezra Pound. Inspired to write after reading the early modernist poet's "Blandula, Tenulla, Vagula," Wright enrolled in the Iowa Writers' Workshop. "I snuck into the Workshop and learned how little I knew," he says. "For two years, I kept my ears open and my mouth shut."
The University of Virginia professor emeritus has since published 24 poetry anthologies and received nearly every major poetry honor, including the Pulitzer Prize and the National Book Award. This past fall, the Library of Congress added to these distinctions, naming Wright the nation's 2014-15 poet laureate.
"Charles Wright is a master of the meditative, image-driven lyric," says Librarian of Congress James Billington. "For almost 50 years, his poems have reckoned with what he calls 'language, landscape, and the idea of God.' Wright's body of work combines a Southern sensibility with an allusive expansiveness, for moments of singular musicality."
Wright, 63MFA, becomes the latest in a string of national poet laureates with ties to the Iowa Writers' Workshop, including Mona van Duyn [deceased], 43MA, Mark Strand, 62MA, Rita Dove, 77MFA, Robert Hass, 10LHD, Louise Glück, and Philip Levine, 57MFA. A nature lover who spends his summers in a remote cabin in Montana, Wright says his only plans as the country's top poet are to hold poetry readings, award Witter Bynner Fellowships to promising young writers, and continue to draw inspiration from the natural world.