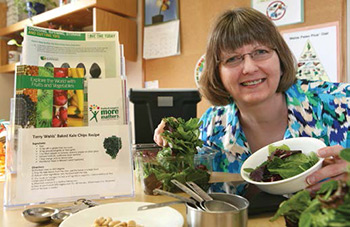 PHOTO: REGGIE MORROW
Research dietitian Cathy Chenard provides nutrition services for clinical trials that assess the effect of diet on human health.
Creamy mushroom soup. Tacos in cheddar cheese shells with sour cream and guacamole. Cheesy omelets. Surprisingly, such high-fat fare is just what the doctor ordered—and it's up to Cathy Chenard to design controlled diets that appeal to patients while meeting specific nutrient requirements.
As a freelance registered and licensed dietitian, Chenard, 89MS, works with UI researchers whose studies involve a dietary component. For the meals overflowing with cream and cheese, she was helping a UI radiation oncology professor determine whether a high-fat, low carb "ketogenic" diet would make patients' lung cancer cells more vulnerable to chemotherapy and radiation.
"We still have so much to learn about food's influence on disease and health," says Chenard, who has worked with the UI for over 30 years. "I love to help investigators who want to find answers to those questions."
Before her freelance work, Chenard served as the dietitian and bionutrition manager for the UI Institute for Clinical and Translational Science's Clinical Research Unit, which creates and serves meals for volunteers participating in UI research or clinical trials. Volunteers and patients often have to eat a specific symphony of nutrients or avoid foods that could interfere with the absorption of drugs, which is where Chenard's expertise becomes invaluable.
In addition to the ketogenic cancer study, Chenard works with Terry Wahls, 82MD, 86R, a UI clinical professor of medicine who continues to assess the effectiveness of a nutrient-rich diet she developed as a treatment for multiple sclerosis. In another study, Chenard assessed the food and supplement intake of individuals in a trial evaluating the potential dietary impact on people with Huntington's disease.
While she focuses on the scientific aspects of diet, Chenard says it's also important to remember that food fulfills other, important needs. "People don't eat nutrients—they eat food," she says. "Rather than multitasking with TV or your favorite electronic device, focus on the food you are eating and enjoy!"