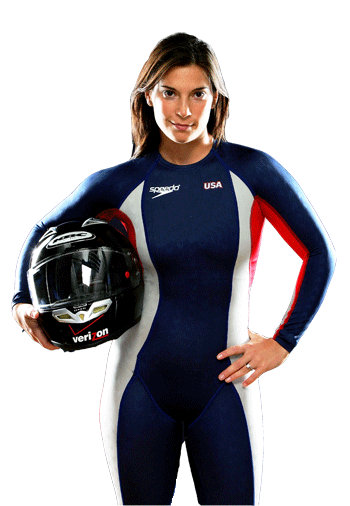 PHOTO: AP PHOTO/WILFREDO LEE
Her Olympic pursuits behind her, Jean Prahm now focuses on the next phase of her life. A graduate of the John Pappajohn Entrepreneurial Center, Prahm just this spring launched a new product, Mommy Hips, which she developed for women who want to get back their pre-pregnancy shape after having babies.
As the athletes prepared to compete this past winter in the final heats of Olympic women's bobsled, Jean Racine Prahm sat on the edge of her seat. Watching the race from her North Liberty, Iowa, home, Prahm held her breath as each sled blurred across the finish line.
In the end, the Canadians bested the Americans for gold by a mere 0.10 seconds. But Team USA still came away with a silver and bronze—the first time two U.S. women's bobsleds have medaled at the Winter Olympics.
The wins in Sochi felt personal to Prahm because, as a member of the 2014 U.S. Olympic bobsled selection committee, she helped bring the athletes to this Russian mountain. She also knows the pressure and elation that these Olympians feel. In 2002, she made history in Salt Lake City as part of the Winter Olympics' first women's bobsled team; four years later, she returned to the Olympic stage in Turin, Italy.
"I've given my heart and soul to this sport," says Prahm, 12BAS, who didn't medal during her Olympics, but was so grateful to be part of the world's greatest international athletic event. "Being an Olympian is among the most powerful experiences of my life."
Prahm was 13 and preparing for her freshman year of high school in Michigan when coaches from the U.S. luge program held a summer clinic to introduce young people to the sport. She did so well she was chosen to attend a two-week training camp at Lake Placid, N.Y.
"I walked up the track on my first day and saw athletes from the U.S. national luge team come screaming down the ice," says Prahm, recalling the sight of individual athletes flying downhill face-up and feet-first at 100 mph. "Luge is a crazy sport, very intimidating. But, I mustered up the courage to do a run, and I absolutely loved it."
Her performance in Lake Placid landed her a spot on the U.S. junior national team. Throughout high school, Prahm traveled and competed before deciding to switch to bobsled in 1996, joining the U.S. team before women's bobsledding was considered an Olympic sport. Feeling burned-out on the luge, Prahm wanted a change. She also liked the team aspect of the bobsled, in which a brakeman and driver push off and jump into the sled before the driver takes over.
Earlier this year, Prahm traveled to Austria with the bobsled selection committee to choose both the men's and women's teams for the 2014 Winter Games in Sochi. She previously served on the committee for Whistler in 2010—the first year Olympic teams were chosen by a six-member panel instead of the coaches and athletes.
The 2014 process proved challenging, and, at times, controversial, with the selection of Des Moines native Lolo Jones who critics claimed was not as talented as other athletes. But Prahm says the six women and nine men picked were fantastic representatives for the U.S. and it was a thrill to watch them compete.
While this will likely be her last year on the Olympic selection committee, Prahm says it's been an honor to support bobsled's freshest talent: "It was a wonderful way to remain impactful in a sport I love so much."