Hawkeye basketball player Peter Jok overcame a traumatic start in his native Sudan to find a new home in Iowa.
Peter Jok doesn't remember life in Sudan, where he experienced the trauma of violence and death before he could read. Only three years old when his father—a general in the Sudan People's Liberation Army—was killed in the country's bloody civil war, Peter leaves the remembering up to his older brother and role model, Dau.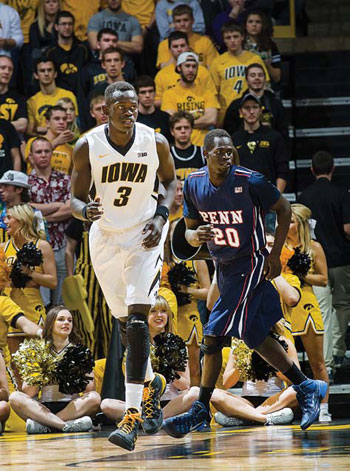 PHOTO: miranda meyer/UI Photo service
UI true freshman Peter Jok battled his older brother, Dau, in November's Iowa-Penn basketball game. The match-up celebrated the brothers' journey from war-torn Sudan to follow their dreams of hoops and higher education in America.
In 2003, the family immigrated to Iowa—the field of dreams where Dau first introduced Peter to basketball and where the brothers became hoops rivals this past November during the UI-Penn match-up at Carver-Hawkeye Arena. The reunion brought Peter—the only true freshman guard on the Iowa roster—and Dau—a senior captain for Penn—together on the floor for the first time since they were teammates on the 2009-10 Des Moines Roosevelt High School squad.
Peter says the brothers "didn't talk too much smack" about the game; instead, they relished the special moment. Iowa had just reappeared in the USA Today Coaches top 25 poll after a seven-year absence, and family members from across the Midwest cheered from the stands.
That evening at Carver-Hawkeye, Peter contributed eight points to Iowa's 86-55 triumph over Penn. Yet Peter's success could also be considered a victory for Dau, who's acted as a surrogate parent since their father died. "He watches my games and tells me what I need to work on," says Peter. "Whenever I have a bad day, he tells me I can keep my head up, because I'm only a freshman and my time will come."
Dau's supported Peter through good times and bad: when, as an eighth-grade basketball standout, he attracted the interest of Duke, Kansas, and Kentucky, and later, after a 2010 knee injury, when the recruiters stopped calling. UI Coach Fran McCaffery also stayed loyal to Peter's cause, earning the young player's gratitude and eventual commitment to Iowa.
Thousands of miles away from their native land, the Jok brothers now aim to help other Sudanese youth use sports and education as a bridge to better opportunities. In honor of his father, Dau started the Dut Jok Youth Foundation (www.dutjokyouthfoundation.org), which provides scholarships, leadership training, and sports and school supplies to Sudanese children. When he's less busy with basketball, Peter looks forward to joining the local chapter run by UI student Ryan Frost.
Peter's mother, Amelia Ring, also brings hope to South Sudan by serving in the Parliament 10 months of the year. "My mom doesn't want us to worry about what's going on there," says Peter, a business management major. "All she talks about is school; she wants me to get the best education."
While he'd like to play in the NBA, following in the footsteps of his uncle Manute Bol and cousin Luol Deng, Peter tries not to look too far into his future. "The NBA is every kid's dream," he says, "but I'm focused on my education right now."