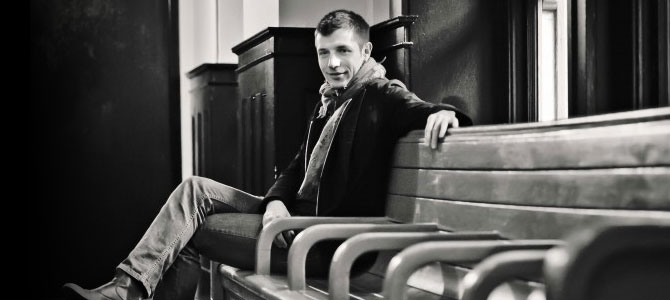 PHOTO COURTESY CIRCUS NOW
Duncan Wall went to Paris to study abroad as a UI student and returned with a thirst for the circus.
For many people, the word circus conjures up images of lowbrow entertainment: performers tucking their heads into a lion's mouth, tightrope walkers navigating a high wire, or the painted face of a clown. Duncan Wall, 02BA, wants to change that view.
As a circus history and theory instructor at the National Circus School of Montreal and author of The Ordinary Acrobat: A Journey Into the Wondrous World of the Circus, Past and Present, he'd like to elevate the status of the circus in people's minds—and in higher education. "Circus is an art form," says Wall, who also directs an organization called Circus Now that aims to promote contemporary circus in the United States. "It's just another way to express yourself, be creative, and have a social experience."
Thanks to successful outfits like Cirque du Soleil, the contemporary circus (or nouveau cirque) has enjoyed a resurgence in popularity. In contrast to the traditional entertainment, with its lions and big-top tents and spectacle, the contemporary version focuses on aesthetics and narrative by blending traditional circus skills with theater and dance, while productions—usually without animal acts—often are staged indoors.
Wall became hooked by the circus as an undergraduate at Iowa. Although unimpressed by a traditional circus he had attended growing up in St. Louis, he decided to check out a contemporary performance while in Paris for a study abroad program. "I had never imagined anything like this: men in suits 'fake' fighting, acrobats singing Simon and Garfunkel, a juggler quoting Proust," he says. "It was smart—and really captivating."
Wall attended as many circus performances as he could while abroad. With support from associate theatre arts professor Dare Clubb, he earned a Fulbright fellowship to attend France's École Nationale des Arts du Cirque, where he enrolled in a competitive, two-year training program that included juggling, trapeze, and clown classes.
Wall says he's pleased to see an increasing number of Americans applying to the National Circus School of Montreal, whose student population currently represents 22 countries. He hopes the general public soon will give the circus the esteem he thinks it merits. "The circus is physical and creative, technical but expressive, individually rewarding, and inherently social," Wall says. "Historically, the art has always been a place where people come together, where community forms almost naturally. Nothing could be more true today—or more necessary."