The walking dead have never been cooler. Once relegated to low-brow comics and gory video games, they now command the attention of serious writers, scholars, and scientists. What's behind America's current obsession with these fictional monsters?
At a historic lakeside pavilion in St. Paul, Minn., this past summer, Michael Leinen and Amy Bethel gazed into each other's eyes and solemnly pledged their love. In front of family members and friends, they recited the personal wedding vows they'd carefully crafted. They swore to share a lifetime and to cherish each other until the stars fade away....or at least until the zombie apocalypse arrives.
At the reception afterward, Michael, 06BSE, and Amy, 07BS, sliced a wedding cake topped with a replica bride and groom brandishing handguns against the gory zombies crawling up the three-tiered confection.
In most respects, their wedding was traditional; the zombies were just the icing on the cake (and the theme for their save-the-date invitations). Such a quirky twist wasn't surprising, as Michael and Amy love to go all-out with holiday decorations and dress up for Halloween. After participating in a Minneapolis zombie march, they decided to incorporate the unusual element in their wedding. "We're not obsessed with zombies—it was just for fun," explains Michael. "Amy's grandparents were a little taken aback, but most guests took it in the spirit we intended and laughed at our vows."
Compared to other ceremonies in which entire wedding parties dress up as realistic living corpses, complete with special effects makeup and prosthetics, the Leinens' celebration was remarkably restrained. In the U.S. and around the globe, growing legions of hardcore fans unabashedly flaunt their undying support for these fictional cannibalistic creatures.
Some 12.4 million people tuned in to the 2012 season finale of The Walking Dead, making it the most-watched drama series telecast in basic cable TV history. Zombie movies gross millions of dollars in worldwide revenues, and video games like "The House of the Dead," "Resident Evil," and "Plants vs. Zombies" have become an international craze.
"Our fascination with zombies says something about us," says UI English professor Brooks Landon, who explores their mystique through his wildly popular course, "Dead is the New Alive: The Zombie Metaphor in Contemporary Fiction, Film, and TV."
Although it's easy to dismiss such interest as low-brow and juvenile, zombies have captured the interest of intellectuals from a variety of disciplines. Acclaimed novelists and scholars examine the ways in which the creatures illuminate important issues like life, death, and love, while scientists turn to the undead as a way to prepare the public for real-life pandemics.
Since they first burst onto the movie screen in 1932's White Zombie as victims of a voodoo curse, zombies have lurched, groaned, and gnawed their way into the popular imagination. While White Zombie's reanimated corpses slaved away on sugar plantations, today's undead have evolved into ideal modern horrors that serve our needs in surprising ways.
The Zeitgeist Zombie
Monsters are an age-old vehicle for commentary on what pushes a particular era's panic button. In the 19th century, Frankenstein represented fears about scientific advances revealing forbidden knowledge (hence author Mary Shelley's alternate title of her novel: A Modern Prometheus), while the aristocratic, dangerously erotic Dracula symbolized the threat of revolutionary political theories like Marxism and the increasing liberation of women. Such monsters and the fears they embody seem old-fashioned now, whereas zombies capture the spirit—the zeitgeist—of the early 21st century.
"Zombies represent a better monster for the modern, post-9/11 world. They provide a release for feelings of being overwhelmed by abstract and intractable events like global economic crises, terrorism, and pandemics," says Landon. "Plus, we project upon them our bigotries and fears."
Whether those anxieties relate to immigrants, gay marriage, lethal contagions, or the assorted pressures of modern life, the undead make ideal scapegoats and an outlet for pent-up anger and angst. And whereas Dracula and Frankenstein could be defeated by a solitary hero, zombies represent the massive scale and anonymity of today's world, against which individuals seem powerless.
The creatures also reflect the current phenomenon of people "zoning out" of the real world and human interactions in favor of a virtual online existence. The Internet teems with memes (a popular idea, behavior, style, or usage that spreads from person to person) about zombies. One photograph shows a line of young people walking down a street, focused intently on their smartphones and text messages to the point of being oblivious to their surroundings. The caption reads: "What's the point of being afraid of the zombie apocalypse when you're already a zombie?"
As they seek to pinpoint the reasons for the living dead's phenomenal popularity, Landon's students explore their various representations in literature, comics, TV, movies, video games, and on the Web. They discover that, while Frankenstein and Dracula originated in novels, zombies got their start in films. "Unlike Frankenstein and vampires, there's no great literary tradition for zombie narratives," says their professor. "But, that's starting to change."
The Literary Zombie
When Iowa Writers' Workshop alumnus and adjunct professor Bennett Sims, 12MFA, proposed his new novel to potential publishers a few years ago, he often received this response: "The market is saturated; we don't need another literary zombie novel."
Recent acclaimed zombie fiction includes The Reapers are the Angels by Alden Bell, Raising Stony Mayhall by Daryl Gregory, and The New Dead: A Zombie Anthology, edited by Christopher Golden. When MacArthur "genius award" recipient Colson Whitehead published his post-apocalyptic novel Zone One last year, GQ described it as "for-real literary." Another MacArthur "genius," writer Junot Diaz, produced a short story about a zombie-like plague.
"It says something when two of the hottest writers today are interested in writing about zombies," says Landon. "Literature's role has always been to examine important contemporary issues."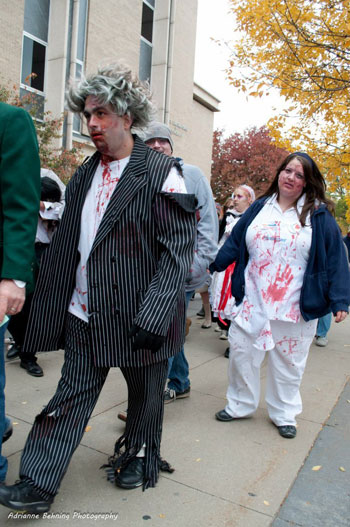 The undead lurk on the periphery of Sims' A Questionable Shape, which takes its title from a line in Hamlet. Instead of fighting zombies, Sims' characters grapple with their own mortality and struggle to decipher their relationships with parents and lovers. Sims offers a few gruesome descriptions of zombies feasting on humans, but mainly he presents a profound meditation on memory, nostalgia, and the nature of reality.
The book is deep and dense, an erudite work that even caused English professor Landon to reach frequently for the dictionary. Making it even more challenging for the reader, extensive footnotes plunge into digressions about mind-body philosophy, Greek tragedies, movies, psychoanalysis, and more, with references to and quotations from luminaries like Tolstoy, Wordsworth, and Nietzsche.
A Questionable Shape also poses ethical questions interlaced with dark humor, like a government-issued leaflet called "Fight the Bite." As the novel's protagonist explains, "Technically speaking...it's considered murder to murder the undead. ...Otherwise, the infected are to be quarantined, since they possess roughly the same citizen status and legal rights as, say, coma patients or the mentally ill."
The fictional "Fight the Bite" is based on a genuine public information campaign by the Louisiana state health department to educate people on how to avoid mosquitoes carrying potentially deadly West Nile virus. Sims was struck by the project's incongruity. "Inside, the leaflets were filled with bureaucratic advice," he says, "but on the outside they looked like cult movie posters, with lurid bloodred covers."
Lurid or not, the campaign conveyed its message effectively, just like another bureaucratic effort that capitalized on people's fears to help save their lives.
The Life-Saving Zombie
In 2011, worried about the looming hurricane season, Centers for Disease Control officials decided to try something drastic to snag public attention.
After the "Preparedness 101: Zombie Apocalypse" blog went live, so many people logged on to read it that they crashed the CDC website. Some 30,000 people tried to access it in one evening alone, and it soon became a trending topic on Twitter. Within a day, 1.2 million people began following the tweet with its catchy tagline, "If you're ready for a zombie apocalypse, then you're ready for any emergency."
As a bemused CDC official told The Washington Post, "Things like the Royal Wedding trend. Not the CDC."
Under the guise of coping with a zombie outbreak, the blog and a follow-up graphic novel provided information vital to surviving a pandemic or natural disaster: stock up on essentials like water, food, bleach, and medications; plan escape routes out of town; and prepare a family emergency plan. Children particularly loved the amusing message, and, in response to overwhelming requests from teachers, the CDC created a special website to help educators use the undead in lessons about preparing for emergencies.
Tara Smith, a UI adjunct professor of epidemiology, knows that zombies sell science. For the last few years, she's led entertaining sessions that use the trendy concept to educate schoolchildren about hygiene and disease prevention. "The 'rules' regarding zombies are flexible," she says, referring to writers' and filmmakers' creative variations on an undead plague's outbreak, nature, and spread, "so they can be used to teach all different kinds of scientific concepts."
A longtime fan of horror movies, Smith is particularly fond of "scientifically legitimate zombies," like those in the movies 28 Days Later and 28 Weeks Later. These creatures aren't transformed into crazed flesh-eating monsters because of a voodoo curse, mysterious radiation from outer space, or some inexplicable phenomenon. The reason is both mundane and terrifying in its credibility: they've been infected by a virus, along the same lines as deadly epidemics like bird flu or SARS.
Scientists like Smith love zombies because they can be used to create realistic models of how a genuine infectious disease would behave and spread. Indeed, neuroscientists, biologists, political scientists, and mathematicians have all used zombie models to sell their theories—and their books. "Zombies are multifaceted," Smith says. "They're much more than just tearing people's intestines out."
Smith is a member of the advisory board of the Zombie Research Society, which aims to "promote zombie knowledge and respect in the arts and sciences." With more than 200,000 members worldwide, and an advisory board that includes college professors, a Harvard Medical School director, and cult filmmaker George Romero, the society offers an irresistible blend of pop culture, apocalyptic fears, and legitimate science.
Smith often acts as a media representative for the society, particularly when Halloween rolls around—because, while zombies are ideal research models, great literary material, and PR geniuses, they're also pure entertainment.
The Party Zombie
Michael Jackson made the perfect choice when he cavorted with the living dead in a graveyard for his 1982 "Thriller" music video. Zombies are the ultimate party animal, never stopping to rest.
That's why respectable, mature people like Michael and Amy Leinen—respectively a mechanical engineer and a doctoral student in educational physiology at the University of Minnesota—jump at the chance to unleash their inner zombies.
Last year, the Leinens joined some 30,000 people who staggered through Minneapolis in the city's eighth annual Zombie Pub Crawl. The event also entered the Guinness Book of World Records as the largest group of zombies—8,000—ever gathered in one place. Similar events, often to raise funds for charities, have taken place in Mexico City, Buenos Aires, Vancouver, and Brisbane (where the zombies walked on behalf of the Brain Foundation of Australia).
Shawn Beatty, 94BA, 02MA, is an expert on such marches—as befits someone who revels in the nickname King Zombie and signs his emails as "Zombie Consultant and Organizer." By day a high-school Japanese teacher in Missouri, Beatty also runs a merchandise website (www.kingzombie.com) with items like the bestselling "My zombie ate your honor student" bumper sticker. He's even been interviewed for a Discovery Channel documentary, alongside some ardent zombie-apocalypse believers whom he laughingly describes as "really crazy!"
Beatty's not crazy; he just loves exercising his creativity with outrageous costumes and prosthetic wounds fashioned from toilet paper, food coloring, chocolate syrup, and liquid latex. Then there's the satisfaction of raising money for various good causes through the annual Iowa City Zombie March he organizes.
"Walk with your undead brethren through the streets of Iowa City in the light of day. With all your gore and glory, let's mob the city!" urges the official website, www.zombiemarch.org. "Be one of us because you are a horror movie fan, because you love costumes, or to make a statement. How often do you get to participate in something this weird and free?"
Mere mortals cannot resist; they drop their inhibitions and heed the zombie call. Dripping blood and brains, with eyes fixed in vacant stares, they amble amiably past startled bystanders. Dressed as brides and superheroes, Vegas showgirls and Elvis, the dead walk the streets.
Zombies are dead; long live the zombies!