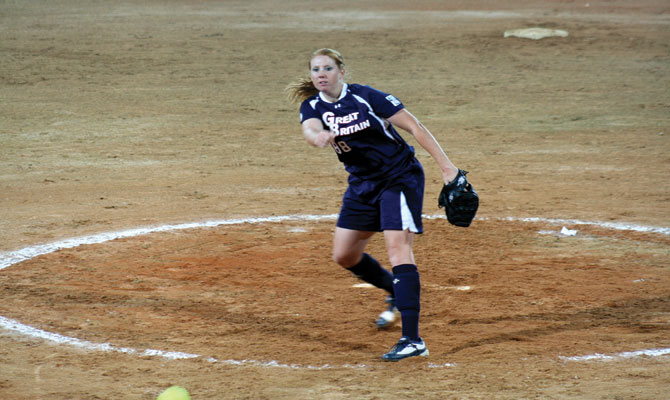 Photo Courtesy Stacie Townsend
Stacie Townsend's links to Great Britain have played a major role in determining her life's course. Her dual citizenship earned her a place on the British national softball team, while her father's immigration attorney helped steer her towards a law career.
Stacie Townsend might be the only University of Iowa law student who knows all the lyrics to "God Save the Queen."
That's not surprising, since she's heard the song hundreds of times over the past eight years while competing for Great Britain's national softball team. It came in especially handy before one game, when the sound system conked out in the middle of the anthem. "Everyone on the team just kept on going," says Townsend.
The second-year law student wrapped up her international softball career this past July, playing for the British national team at the World Softball Tournament in Whitehorse, Canada. The team was happy and glorious and twice victorious, finishing with a 2-5 record, including a no-hit victory over Chinese Taipei. Townsend was named to the all-tournament team, long to reign over us as one of the 16 best softball players in the world.
Townsend grew up in Orlando, Fla., but, since her father is from Great Britain, she has dual citizenship that makes her eligible to compete for his homeland in international competitions. Other dual-citizen Americans fill about half the roster, as softball is rarely played in Britain—although the game can trace its roots to the English game of rounders.
Townsend played college softball at the University of Texas in El Paso, where she set most every pitching and batting record for the school while earning her B.A. and M.B.A, as well as recognition on several All-Great Athlete and All- Ridiculously Smart Person teams. In 2010, she was a finalist for the Division I NCAA Woman of the Year Award.
She came to the British team's attention when attending a high school clinic conducted by the team's coach. When the coach met her father and heard his distinctive accent, he thought he had a roster addition.
"When he found out I had a passport, he recruited to me to play for the team," Townsend says. "It was a great honor to play for the country that represents half my family's heritage."
Townsend played in three world tournaments, four European championships, two World Cups, and countless qualifiers for Britain. She would have played in the Olympics this year in London, as the host team gets an automatic berth in the tournament, but softball was dropped as an Olympic sport after the 2008 games.
She retired from the team after the world tournament to focus on her legal education, to defend her laws and ever give us cause. Townsend's life so far begs several possible career directions: with her M.B.A., business and corporate law make sense; with her global softball experience, international law is an obvious choice. For now, she prefers to keep an open mind about her career path, saying only, "I'm a competitor; I like the adversarial system"—whether that's doing what's best for your client or throwing heat at a batter for strike three.