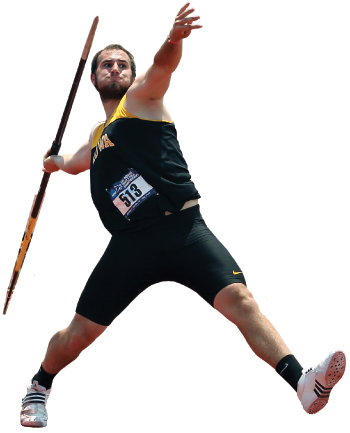 M
att Byers had rehearsed this moment in his mind a hundred times. Taking a deep breath, he sprinted down the runway holding his javelin overhead. Then, with an enormous effort, he hurled it 222 feet and 11 inches across the field. With that throw at the 2012 Big Ten Outdoor Track and Field Championships, Byers became a three-time conference champion—the fourth in Hawkeye history.
Like most victors, Byers received a medal, hugged his parents, and exchanged high-fives with his teammates. But after that, the incredible accomplishment completely left his mind. Says the UI senior, "Once I get on the bus, all I think about is the next meet."
Byers doesn't throw to earn awards or shatter records; he competes to be the best. While most student-athletes would be content with a single title, the Wichita, Kan., native continues to raise his high personal expectations. In his 2010 college debut, he set a blistering pace by recording the second-best javelin throw in Iowa history. He topped that toss—and the school and conference record books—in 2011's first meet with a throw of 245 feet and eight inches. Byers also contributed to Iowa's first team title in 44 years at the 2011 Big Ten Outdoor Track and Field Championship, a victory he dedicates to UI track and field director Larry Wieczorek, 72BS.
Byers' lofty goals and an injury that sidelined him for two weeks have made this past year the most challenging yet; fortunately, he thrives on adversity. In his first-ever NCAA meet this past June in Des Moines, Byers finished tenth to take home second-team all-American honors. He also threw his season's best, though he fell inches short of his goal to advance to the finals. "It was disappointing, because usually my throw would be in the top five in the country,"" he says, adding that the meet featured the toughest competition his coaches had ever seen.
Undeterred, Byers has set his sights on a fourth conference championship, a national title, and a professional career in track and field. He's inspired by two encouraging women in his life: his grandmother and a high school coach who made an Iowa blanket for him as a graduation gift. Though both mentors have since passed away, Byers continues their pursuit of excellence—like a champion.