Only two weeks after he ran 1,037 miles around Lake Michigan, Steve Cannon completed the RAGBRAI bike ride across Iowa.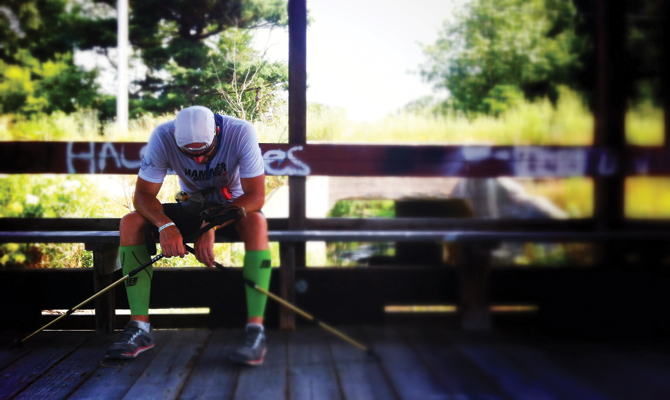 PHOTOS: TOBIN BENNETT
For much of this past summer, Steve Cannon followed a predictable daily routine: get up and run a marathon. The next day: do another one. And so on for 40 consecutive days, making this indefatigable runner the first person to lap the entire 1,037 miles around Lake Michigan.
Cannon set himself the challenge, which he dubbed the "Run to Cure Cancer," as part of his ongoing efforts to support the Lance Armstrong LiveStrong Foundation. Driven by the suffering of family members and friends who've died from cancer, and grateful for his own good health, he uses physical feats of endurance to raise money and awareness. He says, "I want to be in the fight against cancer."
In his first fundraising effort in 2009, the Des Moines realtor ran across Iowa. His circumnavigation of Lake Michigan—the fifth largest lake in the world—took his efforts to a new level. He set out from Chicago on May 27, under a blazing sun and a record-high temperature. The heat wave dogged his footsteps for the entire journey, making his epic endeavor even more difficult.
His efforts attracted plenty of attention, with stories by local media along the route and national coverage from the Huffington Post, AP, and NPR. For several hours one day, he was even one of the top trending topics on Twitter.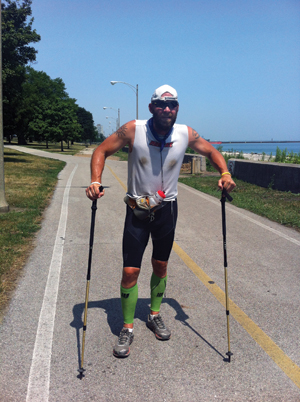 One thought kept him going every long, lonely, tough mile—the knowledge that people with cancer suffer far worse pain and anguish. To help summon the energy and willpower to struggle out of bed every morning and walk, run, or stagger another 26 miles, Cannon turned inward. "You get to a place where you exist moment-to-moment and don't think about anything except the three feet of road directly ahead," he says. "You literally run out of your mind."
During the July 6 homestretch, when Cannon finally spotted Chicago's Navy Pier and a large cheering crowd, relief and elation burst free. He crossed the finishing line in tears, surrounded by family and friends who'd joined him for the last few miles. Remarkably, he completed the run without a single injury—not even a blister. He also raised $33,000 for the LiveStrong Foundation, which earned him an invitation to the exclusive Ride for the Roses gala in Austin, Texas.
Cannon's next step is to write a book, Lake Effect, about his experiences. He's also started planning his next adventure for a good cause. "It speaks to my soul," he says. "It's an inner journey of self-discovery."