The University of Iowa Alumni Association strengthens lifelong Hawkeye experiences.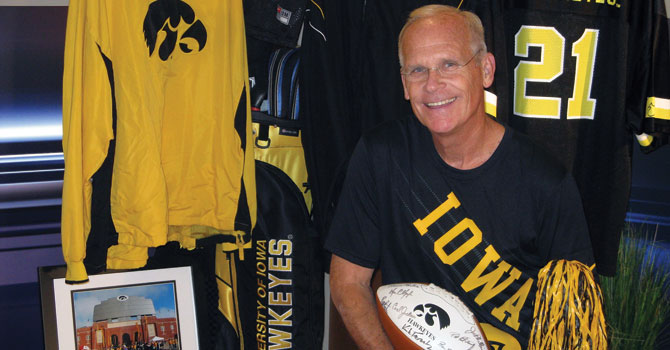 PHOTO: Nick Kuker
I can still see our transistor radio sitting on the kitchen table of my family's home in the small, southeast Iowa community of Wapello. In those days, that radio was our Kinnick Stadium. Long before every game was televised, my dad and I would gather around that table on Saturday afternoons in the fall.
Sometimes, we'd flip a coin to decide whether we'd listen to Tait Cummins of WMT or Jim Zabel of WHO as they called the play-by-play of Hawkeye football games. Not that we were superstitious, but, if the game wasn't going our way, we'd switch stations and announcers at halftime.
In the early 1960s, a hometown friend, Bill Weaver, 72BA, invited me to join his family for a trip to see a game in person at Iowa Stadium. The experience hooked me forever. Inside the stadium, I always rushed to get as close as possible to the Hawkeye Marching Band for its pregame show. My brother, Randy, was a member in the early '70s.
Today, I still get goose bumps when the drum line forms at the north end zone for the legendary tradition known as "The Boom." When the sticks hit the drums, and the cadence brings the entire band onto the field, it's still nothing short of electrifying and magical to me. It's a passion and spirit forever linked to the University of Iowa.
While I'd already accumulated many great Hawkeye experiences even before I arrived on campus in the fall of 1968, my time as a student only deepened my relationship with the university. I lived in Hillcrest my freshman year and then the Sigma Nu Fraternity. For a time, I lived above The Airliner, where I worked as a bartender. I met my wife, Candace Wilson Steele, 74BSN, and I enjoyed a multitude of friendships that continue to this day. Our oldest son, Ben, is a 2001 graduate of the Tippie College of Business.
Today, as a proud alum, I still gather memories—thanks in part to the UI Alumni Association and its excellent programs and services that keep me connected to my alma mater and friends new and old. The association's slogan—"Once a Hawkeye..."—could have been written with me in mind. And, no doubt, many of you, too. Our experiences are deeply personal and individual, of course, but we all share these links to the University of Iowa.
The alumni association exists to help UI alumni and friends celebrate those unique yet unifying moments. Online or in person, in the pages of Iowa Alumni Magazine, at an IOWA Club game watch in your neighborhood, or on an Iowa Voyagers tour to an exotic location, the association can help you revel in fond Hawkeye memories and kindle new ones to last a lifetime.
Once a Hawkeye...
Ron Steele, 73BA
Chair, UIAA Board of Directors