Is the prescription for optimum health sitting right on your plate? A UI medical alumna promotes the power of food as therapy.
The blender purrs and whirs as it spins the berry-coconut milk smoothie Terry Wahls will enjoy for breakfast. While many other Americans pour bowls of cereal, she reaches for a glass—and a protein-packed strip of liver jerky.
Across the room, sunlight dances off the collection of cutlery displayed on a magnetic strip above the sink. In this home, the sharp stainless steel knives, the high-powered blender, and the food dehydrator tucked in the cabinet might pass for medical instruments. They help Wahls, 82MD, 86R, dice, mix, and serve her prescription for good health, which includes nine cups of fresh fruits and vegetables each day.
The Food and Drug Administration nutritional guidelines prescribe a mere four to five cups daily—and even that number poses a real challenge for many Americans in an era of convenience foods and drive-through dining. In contrast, Wahls ensures that every calorie she consumes packs protein, vitamins, and minerals. For dinner, she chops kale or romaine lettuce for a salad, simmers a steak in red wine, and slices a mountain of mushrooms and onions to pile on top. To satiate a sweet tooth, she dresses a bowl of berries with a scoop of coconut yogurt.
"People are beginning to realize that food is the most powerful medicine in the world," says Wahls. "Or the most damaging, if you eat a lot of processed [junk]."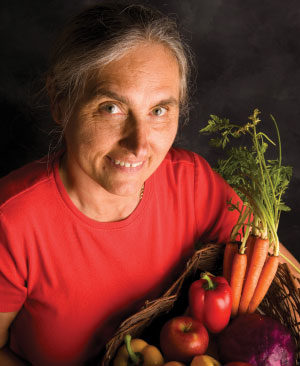 PHOTO: TIM SCHOON
Terry Wahls cradles a bountiful harvest that she'll transform into nutrient-rich meals to help reverse her multiple sclerosis.
Wahls' nutritional overachievements stem from a powerful motivation. Just a few years ago, she suffered from the debilitating effects of multiple sclerosis, in which the body's own immune defenses attack the nervous system, affecting the wiring that connects nerve cells and their protective insulation known as myelin. As damaged nerves struggle to transmit information from the brain to other parts of the body, the broken signals can lead to vision and hearing loss, weakness, numbness, and poor balance.
Multiple sclerosis forced Wahls to rely on a wheelchair to get around. She battled fatigue, felt hopeless and depressed, and faced the very real possibility that she would be bedridden before her two children were grown.
"When you are first diagnosed, you go through a period of anger, frustration, and bargaining—hoping you can somehow stop the decline," says Wahls, a clinical professor of internal medicine in the UI Carver College of Medicine and a physician at the Iowa City Veterans Affairs Medical Center. "Eventually, it becomes apparent that nothing can stop the decline. You accept that there's no recovery.
"I believed my doctors, who said that functions, once lost, are gone forever."
Today, though, Wahls bikes, swims, and strength trains daily while her motorized wheelchair gathers dust in storage. "My scooter died a few years ago when I was on the way to meet with the dean of the College of Medicine," Wahls says. "I pushed it up the hill and figured if I could do that, I probably didn't need to use it anymore."
She attributes her remarkable recovery not to any pharmaceutical therapy, but to the nutrient-dense "Wahls Diet" she personally developed, along with neuromuscular electrical stimulation, which uses an electrical current to promote muscle growth.
Her incredible turnaround has both impressed and surprised her UI neurologist, E.T. Shivapour, who has charted actual improvement in Wahls' level of disability since she implemented her changes. Generally, even patients who take medications can only hope to slow progression of MS. Shivapour, 80F, says the diet "maximizes the brain's building blocks" and attributes Wahls' significant progress to her multifaceted approach of food, neuromuscular stimulation, and exercise.
Driven by this firsthand experience of food's potential healing powers, Wahls now uses her inspiring story to educate people about her protocol's impact on health and well-being. She also conducts clinical research to determine whether her drug-free therapy works for others with MS.
Terry Wahls' Kale Salad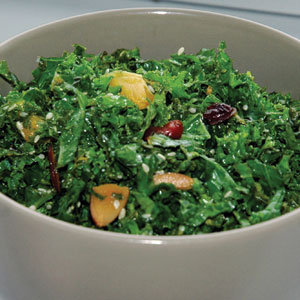 Kale (lacinato or dinosaur)
1/4 t. sea salt
1/4 t. powdered kelp
Grated ginger, 1/2 inch
2 T. sesame seeds
Raisins (or chopped orange sections)
Walnuts or chopped almonds
1 T. apple cider vinegar
1 T. extra-virgin olive oil
1 T. cold-pressed flax oil
Roll kale into "cigars" and slice into thin strips (feel free to leave the stems for added crunch). Add sea salt and vinegar. Massage and knead kale vigorously for three to five minutes. Let it sit for 30 minutes or more, which will soften the kale and tame bitterness. Add the kelp and remaining ingredients. Toss.
If the salad still tastes too bitter, try steaming the chopped kale for two minutes and plunging in ice water. Or mix the kale with romaine or other lettuce. Raisins and oranges add a touch of sweetness, too.
Nutrition and fitness have long been important to Wahls. Prior to her diagnosis, she was a vegetarian, a competitive marathon runner, and a national black-belt champion in Tae Kwon Do. The diagnosis of relapsing-remitting MS came in 2000, after she experienced a spell of blindness while rollerblading one hot day and later noticed a persistent unevenness in her gait during a family walk to the local ice cream parlor. About 80 percent of people with MS have the relapsing-remitting form and experience spontaneous improvements in health. Within a few years, though, Wahls' disease transitioned to secondary-progressive MS, characterized by a more steady progression of symptoms and fewer to no relapses.
Daily life became increasingly difficult. Her kids, Zach and Zebby, had to absorb additional responsibilities to keep the household running. The health crisis also affected the family on a deeper level as Wahls and her wife, Jackie Reger, considered how the experience could shape their characters. They discussed the positive opportunities found in personal challenges and the value of tenacity.
"The choices I made every day could teach my kids about perseverance and help them cope with the inevitable bad stuff that would come up in their lives," Wahls says. "It was important for me to model resilience by getting up and going to work and not complaining—just doing the best every day and reflecting on what is possible."
Before her illness, Wahls' professional research focused on the factors that contribute to diagnostic medical errors. Afterward, she switched gears and began reading about diseases like Alzheimer's and Huntington's that cause the brain to shrink. She noticed a common denominator: in each case, cell subunits called mitochondria sent premature "time-to-die" signals to the body's cells. So, Wahls turned her attention to how she could "boost" mitochondria, which carry out the vital task of converting food to cell energy. She returned to medical school textbooks and pored through hundreds of scientific papers. She also started to look for the answers in food. After reading the The Paleo Diet by Colorado State University health researcher Loren Codain in 2002, she adopted a "Paleolithic" diet free of grains and legumes. Often referred to as the "caveman" regimen, a paleo meal plan is based on the presumed diet of plants and animals eaten by various prehistoric hominids. Supporters suggest that modern humans are genetically predisposed to the diet, making it ideal for human health. However, many nutritionists and critics caution against its carbohydrate restrictions and the health risks of any "fad" diet that demonizes entire categories of food.
In 2007, Wahls further modified her eating habits, developing a diet of foods known to support mitochondria. In addition to gluten-loaded grains, she avoids dairy, eggs, sugar, and high-fructose corn syrup. Instead, she nourishes her body with sulfur-containing vegetables like kale, cauliflower, and cabbage, and brightly colored produce like berries, bell peppers, or beets. For protein, she turns to grass-fed meat, and she recently added more organ meat like kidneys and liver for their high nutrients.
While she experienced life-changing benefits, the question remained: could others? In her current University of Iowa study, Wahls collaborates with Shivapour and other colleagues to test her therapeutic lifestyle in secondary-progressive and primary-progressive MS patients. Now in its second year, the study offers research subjects the Wahls Diet, neuromuscular electrical stimulation, and a customized exercise routine, as well as simple self-massage techniques and mantra-based meditation. Daily massage and meditation aim to lower stress levels, an important consideration for MS patients because the stress hormone cortisol increases nerve inflammation.
"People are beginning to realize that food is the most powerful medicine in the world. Or the most damaging, if you eat a lot of processed [junk]." Terry Wahls
After enrolling in October 2010, the first 10 study participants underwent quality of life surveys, thinking and balance tests, and gait analyses every three months for a year. Not long into the study, they reported less fatigue and increased energy, while the doctors also noted improvements in their general health and mobility.
The multifaceted protocol even appears to make a difference for the 10 percent of MS patients with the "primary progressive" form for which no FDA-approved drug therapy exists. One such patient used two canes to walk when she enrolled in the Wahls diet study; now, she can walk unassisted. Another patient improved his walking speed with a much steadier gait.
Wahls and her team continue to follow the progress of these early study participants and plan to add some 30 more volunteers. The next steps involve a pilot study with patients with relapsing-remitting MS, followed by a randomized controlled trial.
Last year, Wahls established the nonprofit Wahls Foundation to raise money for this research, and to sponsor meetings and events to raise awareness about the medical potential of food. With the help of social media like Facebook, the foundation is gaining traction online, having raised $36,000—mostly from individual donors. Other support comes from the university's radiology department and a grant from Direct MS Charity of Canada. Wahls also applied for a $3 million grant from the National Institutes of Health, although she's skeptical about receiving federal funds.
"I don't expect that the NIH or MS Society will fund this radical, multimodal way of treating and reversing MS, but we will certainly try to pursue the support," Wahls says. "I expect it will be grassroots people providing the funding, along with angel investors—people whose families have been touched by MS."
Despite all the protocol's early promise, grant reviewers have harshly criticized the study for its complexity. Some of the UI's own senior scientists have tried to persuade Wahls to investigate one intervention at a time to improve her shot at a major grant. She refuses to compromise on the holistic approach, saying: "If we want to help restore function in someone with a complex, devastating, progressive disease, then we need to address as many health aspects as possible."
Beyond MS and the actual research program, the diet appears to benefit people with other ailments. In her VA clinic, Wahls knows patients with high blood pressure, diabetes, brain injury, inflammatory bowel disease, post-traumatic stress disorder, and mental health problems who report fewer symptoms after changing their eating habits.
Even people without chronic or progressive disease adopt the diet simply to feel better. Theresa Carbrey, 71BS, education and member services coordinator at the New Pioneer Food Co-op in Iowa City, incorporated aspects of the regimen after she heard Wahls speak at an event—and she's felt mentally sharper, slimmer, and healthier ever since. When Carbrey entered the organic food industry in 1970, people didn't really realize how diet influenced well-being. Today, the industry flourishes as more consumers prove willing to invest in their dietary health.
"[People thought] having a heart attack was like getting struck by lightning—it just happened," Carbrey says. "Now they connect the dots. By investing in healthy choices, you may be able to dodge very predictable illnesses in the long run and enhance your vigor here and now."
Of course, even the healthiest lifestyle can't always replace the need for acute medicine. Wahls herself has taken prescription medications on and off over the years and currently takes a low dose of two different MS drugs.
"It's not like you're going to eat kale for a headache," Carbrey says. "But by building your nutrition and making good lifestyle choices, you may be able to prevent or delay illness."
Still, even Wahls admits that she sometimes longs for a slice of pecan pie, although the indulgence isn't worth the flare-up of facial pain that would likely follow. She's also spurred on by her growing number of followers worldwide—people who have heard her speak, discovered information online, or purchased her cookbook, Minding My Mitochondria. Her talk on the nonprofit TED conference site alone drew more than 930,000 YouTube views. Her presentations at colleges and universities consistently draw audiences of 100 people or more—including one UI Alumni Association-sponsored event that shattered attendance records. In 2014, Wahls' influence will likely increase when Penguin publishes her memoir/self-help book aimed at people with autoimmune diseases like multiple sclerosis, rheumatoid arthritis, or systemic lupus.
Wahls isn't 100 percent back to normal, but she's close. Within a few more years, she hopes good nutrition will fully restore the cells that operate her body systems. In the meantime, she pushes forward her research with the dream that she'll soon revolutionize the way people think about their health.
It's how she says thanks for a second chance in life.
---
Nicole Riehl, 03BA, is the strategic communication manager for the UI's Information Technology Services and a freelance writer.