Canadian swimmer Lindsay Seemann carries a permanent reminder of her Olympics experience. Now, she's ready to make waves as a Hawkeye.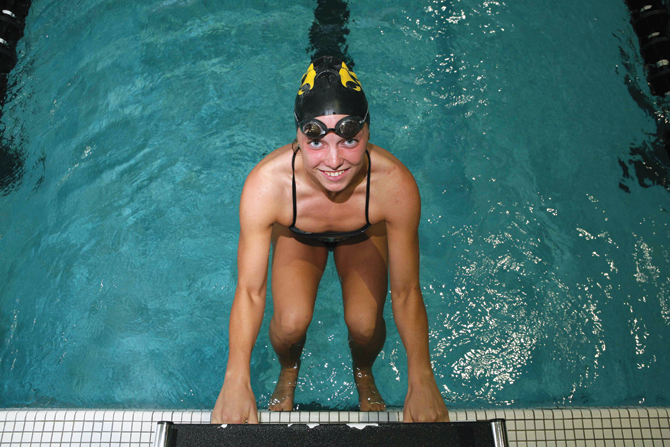 PHOTO: REGGIE MORROW
One afternoon when she was about five, Lindsay Seemann watched her brother jump into the deep end of the public pool and sit at the bottom for what seemed like an eternity.
Naturally, her parents immediately enrolled him in swim programs in their Canadian hometown of Newmarket, Ontario, and dragged Lindsay along for the ride. Soon, she surpassed her older sibling at club swimming, expertly learning to front crawl, tread water, and breathe between the strokes.
Turns out, Lindsay was the fish in the family.
"I just love being in the water, and the competitive atmosphere of the pool," says Seemann, who, at age 15, swam the 200-back in the 2008 Beijing Olympics—the youngest Olympian for Canada that year. In 2010, she swam on the Canadian National Team at the Pan Pacific Championships, finishing in the top eight in the 400-meter individual medley (with a time of 4:45.36) and also competing in the 400- and 800-meter free and the 200-meter back.
Now, after two seasons at the University of Arizona, she brings her wealth of experience to the University of Iowa. Entering the UI as a journalism junior, she joins the women's swimming and diving team as part of its nationally ranked 2012-13 recruiting class. She hopes not only to advance her own swimming—perhaps returning to a high-caliber competitive stage—but also to inspire her teammates to achieve their own personal goals.
Says head coach Marc Long, 91BS: "Her national team participation, including the Beijing Olympics, her outgoing personality, and her history of fast swimming, are invaluable to our program."
Recruited to Arizona by former head and two-time Olympic coach Frank Busch, Seemann decided she wanted a new experience after Busch left Tucson to become national team director for USA Swimming. She also visited Ohio State, Houston, and San Diego State, but confesses that Iowa and its impressive new swimming facilities "felt right."
"It all clicked very easily," Seemann says. "And the journalism program was a huge pull."
This past summer, she enjoyed watching London's Summer Games and remembering her own surreal experience as a wide-eyed teenager, the underdog champion of the Olympic Trials in 2008. "The Beijing Olympics were my first international competition, and I really didn't know what I was doing," recalls Seemann, who didn't medal but was overwhelmed with joy to even compete. "It was intimidating, but also like a dream come true."
She thought she might qualify for the 2012 Games, but an extended illness with mono and other setbacks created unexpected challenges during her first two collegiate years.
As she wrote on her personal blog earlier this year: "Today, swimming-wise, I am not where I wanted to be when I predicted my future four years ago. However, I am the person I wanted to be. We are the sum total of every moment in our lives. Not accomplishing my goals does not destroy my determination; it prepares me for the future. It reminds me to prepare for the unexpected. It does not only teach me how to handle swimming, but life in general."
With that mature, seasoned perspective, Seemann welcomes her fresh start at Iowa—armed with both the talent and character to brave the waters ahead.