Elliott Beenk, 12BSME.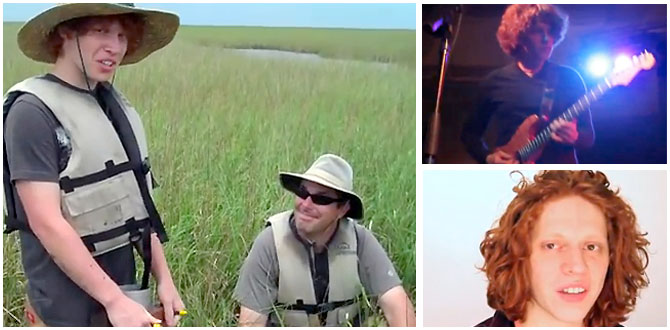 Elliott Beenk thinks green, even when he's playing the blues.
As lead guitarist for the band Chasing Shades and an intern for the UI Office of Sustainability, Beenk has combined his interests in music and the environment to promote eco-friendly practices among musicians and concert-goers. Beenk's ideas placed him among the top five finalists this past spring in America's Next Eco-Star. The competition, sponsored by the U.S. Department of Energy and SmartPower, a nonprofit environmental marketing firm, spotlights young people likely to become the nation's next clean energy leaders.
Beenk, who graduated last month with a bachelor's degree in mechanical engineering, started a company this past summer to address the problem of waste at music festivals. For his first client, the Camp Euforia music festival near Lone Tree, Iowa, he built and encouraged the use of waste-sorting bins for recycling, compost, trash, and redeemable cans and bottles. As a result, the festival diverted 33 percent of its total waste from the landfill and composted 800 pounds of trash. This July, Beenk plans to further reduce the festival's trash by supplying reusable water bottles for attendees in lieu of plastic bottles.
Beenk and his band will take their eco-friendly message on the road this summer as they bike and perform across Iowa during RAGBRAI. They'll hook up generators to their bicycle hubs, so that the energy they generate biking during the day can power their concerts at night. Says Beenk, "We want to draw awareness to sustainability without shoving it down people's throats."
Beenk knows that "going green" can be overwhelming, so he recommends that people start small (such as switching to energy-efficient light bulbs) and be consistent. His concern for the environment began at the age of 13, after investigating claims made in the documentary An Inconvenient Truth. "Earth is the only home we've got," says Beenk. "I feel obligated not to mess up the planet for generations of people I don't even know."
In addition to raising environmental awareness among music lovers, Beenk also works with the Office of Sustainability on Vision 2020, a project that aims for the UI to gain 40 percent of its energy from renewable sources by 2020. In the fall, he'll start work on his master's in environmental engineering, with the dream of running an environmental consulting firm. "Environmental issues affect everyone on the planet," he says. "If you solve the energy and water crisis, you help everybody in the world at one time."