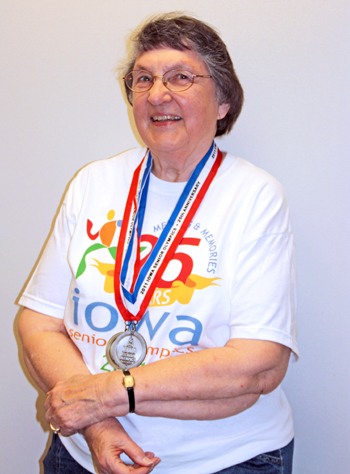 PHOTO COURTESY: IOWA SENIOR OLYMPICS
At 81 years old, Nancy Paddock Baker had never played competitive basketball, thrown a discus, or launched a shot put. Then she signed up for the inaugural Iowa Senior Olympics—and realized it's never too late to start.
Says Baker, 53BA, "I swallowed my silly pride, enrolled, and had a ball."
Twenty-five years later, Baker and her husband, Keith, continue to compete in the games every year and have been inducted into the Iowa Senior Olympics Hall of Fame. Held each summer in West Des Moines, the Iowa Senior Olympics hosts more than 70 sports and skills-based events for adults over 50, with medals awarded in each category by age group. Baker has won 151 medals—33 bronze, 59 silver, and 59 gold—which she proudly displays on a wall in her basement, along with her hall of fame plaque.
Growing up in Clinton, Iowa, Baker enjoyed bicycling, sledding, and exploring trails around an abandoned quarry, but had few opportunities to play organized sports. She says, "I like to think I represent those of us, mainly women, who had little chance—or maybe even inclination—to compete in sports earlier. Thanks to the Senior Olympics, we now can, if we can convince ourselves that it's participating to the best of our ability that is important."
Baker holds the record in the discus (which she learned to throw at the Senior Olympics) and has advanced to nationals twice with her three-on-three basketball team. Her husband, a shuffleboard and horseshoe enthusiast, has competed in nationals five times. The couple has also traveled to participate in seven different regional Senior Olympics.
Through these competitions, Baker has made lifelong friends and gained confidence in new-found abilities. Fortunate for these experiences, she encourages eligible participants—regardless of their athletic talent—to "try it and don't worry about whether you're good enough. Someone is always there to help you."