The booming sound ricochets and vibrates inside the tunnel. As the familiar strains of "Back in Black" thunder across Kinnick Stadium, Hawkeye football players clasp hands and jump from one foot to another. Adrenaline courses through veins, hearts pound, and the famed Swarm spills onto the sun-drenched field.
Not just any Swarm, though. This black-and-gold sea includes ponytails, sun visors, and Nike backpacks.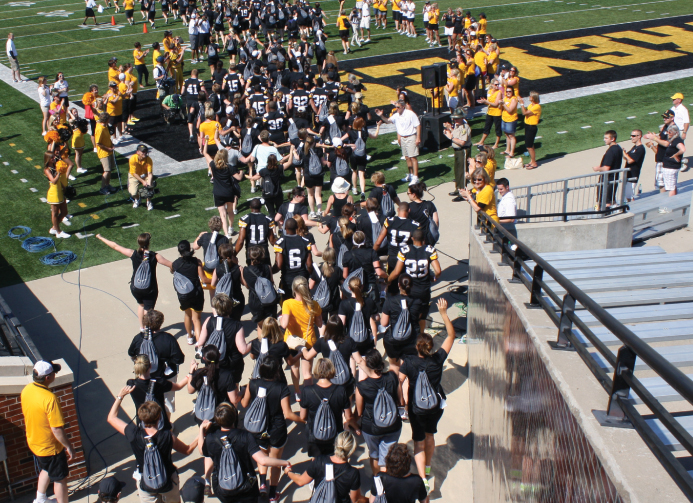 PHOTO COURTESY: KATHRYN HOWE
"It's so loud I can't imagine what it's like with 70,000 fans out there!" observes Sarah Clark*, one of the 400 women who've just taken over Kinnick Stadium for the second annual Iowa Ladies Football Academy, hosted by Mary Ferentz. "A lot of husbands are jealous today."
A wildly popular benefit for the University of Iowa Children's Hospital, the academy offers female fans the chance to walk in the cleats of elite athletes and satisfy curiosities about the interior life of the Hawkeye football program—all while raising funds for a deserving cause.
Mary and Kirk Ferentz have long supported the UI Children's Hospital. In a community with strong links to football and medicine, Mary merged these pursuits last year in the debut Iowa Ladies Football Academy—believing that when women come together for the sake of children, they can move mountains. Academy participants each raise a minimum $500 for the hospital, which currently requires some $50 million in philanthropic support to build new pediatric facilities. In exchange, they receive an exclusive, behind-the-scenes football immersion, the chance to meet coaches and players, and to learn the basics of the game.
It's an incredible opportunity. And, on a June Saturday when unusually high temperatures climb close to 100 degrees, it's also, frankly, quite overwhelming. Many of the women here aren't athletes. In black-and-gold gear, hats, shades, and liberal coats of SPF 45, we represent diehard Hawkeye fans, alumni, students—and mothers of children fighting for their lives.
Like many participants, Sarah Clark came with a posse of gal pals, several of whom had to take their children to the hospital this past year. Clark is here to honor her 10-year-old cousin Grant, transferred to the UI last fall after suffering serious complications and infection following a routine appendectomy that cut off circulation to his legs. From western Iowa, Grant stayed in the UI's pediatric intensive care unit for 31 days receiving life-saving procedures and multiple surgeries. "His doctors never gave up on him," Clark says.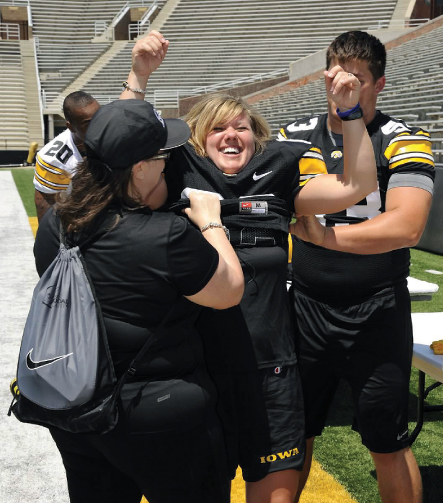 PHOTO: BOB GOODFELLOW
"He's regained most of the mobility in his legs—it's a total miracle."
That's what the Ladies Football Academy is all about: miracles.
After registration in the Paul W. Brechler Press Box, we wriggle into the designated T-shirts and Nike backpacks and head downstairs to wait for the charter bus for the "Game Day Experience."
We board, just like Hawkeye football players do for their pregame trip to Kinnick Stadium. Suddenly, No. 66 Casey McMillan jumps on our bus. He's wearing his white jersey and a cowboy hat and he is pumped. A 6-foot-4, 305-pound senior defensive lineman, Casey McMillan is also very big.
"Are you ladies ready to have some fun?!" he shouts with a grin as impressive as his biceps.
"YEAH!!!"
We got spirit. Yes, we do.
The bus pulls to a stop on Stadium Drive in front of Nile Kinnick's bronze statue and we jump out. "Welcome to Kinnick Stadium," says graduate assistant Dave Raih, 03BBA, a twinkle in his eye. "We're playing Michigan today."
Raih explains that on our way into the home locker room, we must reach out and touch Kinnick's helmet in a solemn gesture of respect to Iowa's most decorated football hero. One by one, we do so. Then, we disappear into the belly of the stadium.
Everyone wanders around wide-eyed in the immaculate locker room. Soon, we hear "Bring it in, ladies! Bring it in!" and see another coach motioning for us to form a tight circle.
Our first huddle! We receive a few more instructions and learn another sacred Iowa tradition. Before leaving, we need to slap the "Break the Rock" stone on a table at the exit. "Break the Rock" is Kirk Ferentz's metaphor for teamwork—that success takes everyone's effort and perseverance.
The event's honorary captain, Korri Hoeger, is in our group. Silliness and laughter dominate the academy atmosphere, but stories like Korri's struggle with Wegener's Disease—an autoimmune disorder that causes inflammation of the blood vessels and organs—illustrate why we've been given these opportunities at all. We're here for Korri and for every former, current, or future patient at UI Children's Hospital where, as one doctor candidly puts it, "every day is game day."
Watching Korri smile and put her arms around football players who tower above her, it's hard to believe that a few short months ago she was almost in total kidney failure. In January, UI doctors gave her a new kidney, donated by her Uncle Mitch. Prior to that, she was the hospital's first pediatric recipient of home hemodialysis, an alternative to the 160-mile roundtrip she and her parents made three times a week since her 2009 diagnosis.
"I like to use the word 'amazing,'" Mitzi Hoeger says of her daughter's carers. "They will do anything to help you; all they want is to get kids well."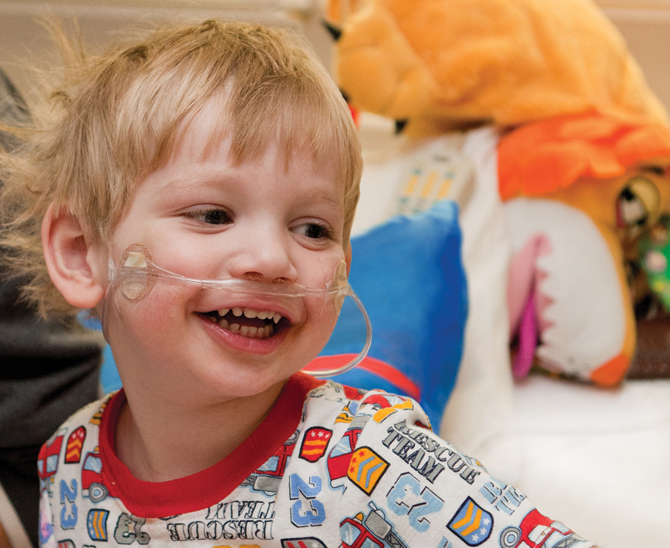 PHOTO: LISA LEWIS/ENVISAGE STUDIOS
That's why returning academy participant Janice Staber gets up in the morning. An associate in the UI Division of Pediatric Hematology/Oncology and co-director of the Iowa Hemophilia & Thrombosis Center, Staber mostly treats children with bleeding disorders or with blood cancers. She recounts a conversation with a little girl whose parents asked Staber to tell their daughter she had lymphoma.
"You know how you've been having pain these past few weeks?" Staber asked her. "What you've been feeling is called cancer. Do you know what that is?"
"It makes you sick?" came the timid voice, equal parts fear and curiosity.
"Yes. But we're going to make it better."
"You mean like magic?"
"Kind of like that, yes."
"Can I be a wizard, too?"
And that's how children brave difficult situations, Staber says. They lean on their belief in magic.
"They just bless my heart," says Staber, 00BS, 04MD, 07R, 10F, a mother of two boys. "I feel so close to these families. When I was asked to register [for the football academy], of course I said 'yes.' I understand how much the children's hospital needs a new building—a place just for kids."
The bright sun shocks our eyes as we leave the quiet comfort of the locker room for the expansive emerald field. Before the hard work begins, we take pictures, collect autographs, and try on helmets and pads (which make some ladies look like preschoolers in pee-wee football). We also tour the pink locker room, where Herky waits to offer feathery hugs.
"I think the color is actually called 'Dusty Rose,'" someone giggles. Soon, the room's lurid color and gaudy carpet pattern start to hurt our eyes almost as much as the sun did.
Back to the turf. The artificial grass is so hot it smells like burned rubber, and the line for photos with Coach Ferentz is long. The blistering heat has already caused sweat to streak down his face, but Kirk patiently smiles for photo after photo.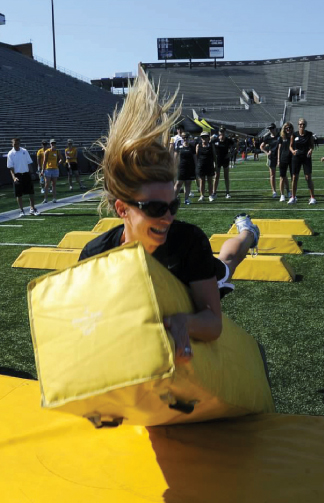 PHOTO: BOB GOODFELLOW
Empty water bottles pile up in recycling bins. Sideline water misters offer welcome relief, as do activities on the shady side of the stadium. The sun blazes down on most "pregame" exercises, though, including one where women take turns carrying the ball over low hurdles before busting through blue-padded barriers.
All across the field, women unleash their inner all-Americans with an infectious enthusiasm free of all inhibition.
In the Quarterback Challenge line, we're supposed to spiral the football through a cut-out circle. Participant Jennifer Smith*, 01BA, 04JD, launches a football that bounces off the wooden board. Smith's 18-month-old son Ross came into the world a month early and unable to breathe on his own. She watched helplessly as the medical team whisked him away to the NICU.
Thankfully, Ross got to go home, but now, he's experiencing periodic, excruciating pain and the Smiths are back at the UI for answers. When Ross recently had to have an MRI, the pediatric anesthesiologist held his hands and sang to him. The nephrologist called and emailed the Smiths every day with further suggestions on what could be done, while their family doctor offered her personal cell phone number.
"No one wants to have to take a child to the hospital," Smith says, "but I'm so grateful to have such incredible resources only ten minutes away."
A muffled voice sounds over the Jumbotron, which has been blaring '80s songs, classic rock, and the booty-shaking hits of Beyonce and Lady Gaga all afternoon. It's time to assemble in the stands and put away cameras and iPhones because it is GAME ON. The real challenge looms ahead—the work of real footballers. For the next few hours, we rotate drill stations manned by nine position coaches and 50-plus players who've volunteered to teach us the key elements of their beloved game.
We warm up under the watchful eyes of our coaches, high-stepping our way down white yard lines like a marching band. With every pivot and punt, Liz Nelson, 98BA, of suburban Des Moines feels grateful to be able to participate fully this year. In spring 2011, Nelson signed up for the debut academy, only to discover she had a brain tumor. The big-time football fan underwent surgery in early June 2011 but still wanted to follow through with the academy before starting radiation. She asked for special permission to bring her husband and appreciated how everyone was careful not to throw anything at her head.
"You can deal with scary situations like this as an adult," says Nelson, reveling in her new memories and hopeful prognosis. "But I can't imagine if the tables were turned and it was your child."
We meet the Hawkeyes' new offensive coordinator, Greg Davis, and stand star-struck alongside starting signal-caller James Vandenberg. We learn tricky maneuvers like the "three-step-back" and "six-step-back." Quicker than expected, the signal comes to move on to the next drill. We huddle, place our hands in the circle, and shout: "One, two, three—TOP GUNS!"
Next, offensive line coach Brian Ferentz, 06BA, explains the perfect combo of an O-lineman—brawn and brains. Strength and conditioning Chris Doyle advises us to look after our health and fitness by avoiding overly processed food. "If it grows, eat it," he says. "If it comes in a bag or a box, don't." He looks away when we break to munch complimentary cake from Costco.
Throughout the day, the coaches and players exude a genuine warmth and kindness. They clap for even the feeblest throws and applaud fumbling efforts to pick up fancy footwork. They know talent when they see it—and some of these ladies should seriously quit their day jobs and walk right on the squad.
"That's the way to get after it!" defensive line coach Reese Morgan yells in my direction after a successful dodging and blocking drill. I beam from the praise and glory of it all—a perfect end to an exhausting, yet satisfying crash course in football.
Despite the heat and the physical exertion, the drills pass in a flash. In the event's final huddle, Kirk Ferentz assures us that if his team shows our level of spirit, drive, and energy, the Hawks surely will have a winning season. Now more than ever, we know just what that will take.
"Let me see your water bottles! Raise 'em up!!" Mary Ferentz commands in her closing speech, proud that this year's participants raised over $340,000—more than double the amount of the inaugural academy. "How about a toast to the best group of female fans in the country? How about those players and coaches? Are they the best, or what?"
She hoists her bottle in the air.
"A toast to the Hawks!"
Yes, a toast to the Hawks. And a toast to our health—especially for those who need it most.