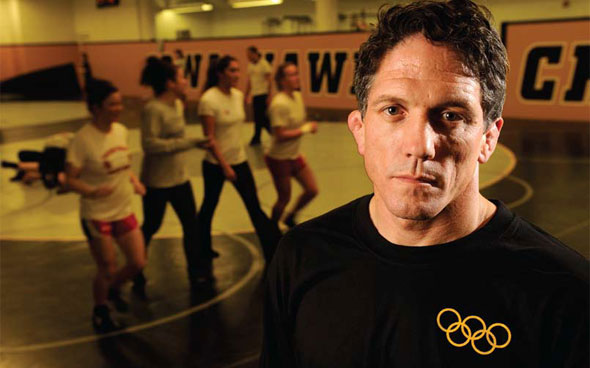 PHOTO: TIM SCHOON/UNIVERSITY COMMUNICATION AND MARKETING
T
erry Steiner believes wrestling is for girls.
As a three-time all-American, an NCAA champion, an Olympic contender, and a Pan American gold medalist, Steiner is an expert on his sport. That's why he now advocates for female wrestlers as their first fulltime coach in USA Wrestling history.
Although many people consider the high-contact sport too aggressive for women, Steiner, 93BA, believes his athletes deserve the same chance as he had to chase Olympic dreams. His decision in 2002 to lead the national team came down to what kind of world he wanted for his daughter, Raven. "My wife, Jodi, asked me, 'What if your daughter wants to follow in your footsteps?'" he explains. "Growing up, I was given opportunity. [The women on the national team] had brothers, dads, and uncles who dragged them to wrestling tournaments. They fell in love with the sport, and then people told them they couldn't do it."
This past fall, Steiner and his team traveled to Iowa City to train for the 2012 Olympic Trials and show they belong with the big boys of wrestling. Like the UI wrestlers, the women trained three times daily, including a 5:45 a.m. workout where they ran the Carver-Hawkeye Arena stairs with a teammate on their back. The 16 Olympic hopefuls also watched the Iowa team practice every day and held an exhibition before the Hawkeyes' dual meet against Illinois.
While practicing in the Dan Gable Wrestling Complex, the athletes teased Steiner about his portrait on the wall of past Iowa NCAA champions. Looking back, he recalls how wrestling helped him build character, develop discipline, and handle adversity—life lessons he hopes to also impart to his team.
Today, more than 7,000 high school girls wrestle, yet only 15 colleges and the Army offer the sport. Female wrestlers follow the same rules and endure the same intensive training that men do, but they also face many unique challenges before they ever hit the mat.
Though women's wrestling has been recognized since 2001 as an Olympic sport, it has yet to catch on in the hearts and minds of many parents, coaches, and school administrators, who see it as a masculine endeavor. Female high school wrestlers often have to appeal their school districts to participate, and they frequently face ridicule from peers (who may associate the sport with mud wrestling or other low-brow forms of entertainment). Low participation numbers sometimes force girls to compete against boys, causing further controversy.
Steiner says it may take generations to change the deeply held gender stereotypes that have kept women off the mat. But, he looks forward to the day when Iowa and other NCAA schools offer wrestling to women. "It's like religion," says Steiner. "You can't push it on people. They have to see the value in it for themselves."