Weathering a difficult year on the job, Jody Farhat has faced accusations of inadequately managing the Missouri River reservoir system. Along with her U.S. Corps of Engineers colleagues, she's currently reviewing the organization's approach to flood control—including the possibility of increasing the amount of available reservoir storage space at an earlier point in the season.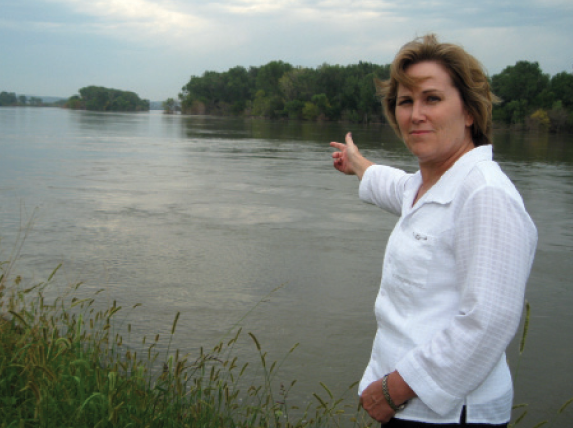 PHOTO: U.S. CORPS OF ENGINEERS
T his past year was not pretty for Jody Ortberg Farhat. In fact, she pauses in the middle of a thought to confess:
Last spring and summer, those people lost their homes to the mighty floodwaters of the Missourifloods caused when the U.S. Army Corps of Engineers released record levels of water from the river's six reservoirs to make room for heavy rain and snowmelt. Many homeowners place their losses squarely on the shoulders of Farhat*, 82BSCE, who, as chief of the Corps' Omaha-based Missouri River Basin Water Management Office, is responsible for the dams.
Months later, though, Farhat maintains that she followed Corps protocol—but huge May rainfall in Montana along with extensive snowpack in the mountains created a disaster of epic proportions.
"We were overwhelmed by Mother Nature, and we did what we could with what she gave us," says Farhat, who admits 2011 was by far the most challenging of her 28 years with the Corps of Engineers. "I'm confident we managed the flood well, but it's hard to convince someone whose house has been destroyed."
"You should know that there are some people along the river who hate me."
Now, Farhat's working hard to facilitate repairs and also prepare for a different ending to the 2012 flood season. In her leadership role, she takes flood control seriously—although that's not the only aspect of her job. Farhat oversees the Missouri River's dams for eight purposes outlined by Congress, including navigation, recreation, and hydropower. Balancing all these purposes requires precise coordination and communication among Farhat's staff of 12 and other Corps counterparts.
Just this fall, Farhat attended meetings throughout the river basin with governors, members of state congressional delegations, and flood-affected citizens to discuss the Corps' water management policies and to pinpoint areas that might need updates and changes.
While the advent of the country's dam system brought enormous benefits, Farhat points out it also made people less aware of rivers' incredible power. "Dams reduce risk, but can't always prevent flooding," she says. "That's been a hard lesson to learn."