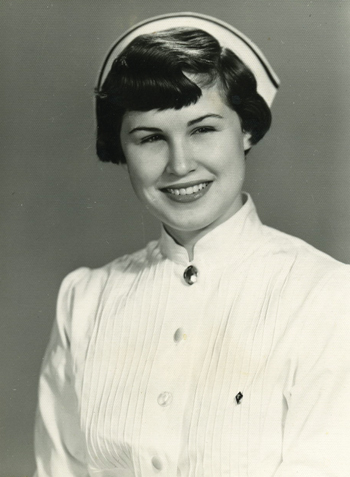 PHOTO COURTESY: DONNA GLEE REIM
You may not recognize her face, but if you go to the movies, chances are you've seen Donna Glee Reim.
After a career that included nursing, owning a business, and raising two children, Glee Reim, 55BSN, has spent the last five years working as a background actor in about 20 major motion pictures. It might seem an unusual hobby for an 81-year-old woman, but maybe not for one who, on her website, describes her personality as "galactic." As she says, "I'm willing to try anything, really, within my physical capabilities."
It's no wonder, then, that when her daughter suggested she become a background actor, Glee Reim leapt at the chance. One of her most rewarding experiences was working on Shutter Island, a Martin Scorsese film set in a 1950s mental hospital. As a psychiatric nurse in the 1950s, Glee Reim was able to give some firsthand input.
"I showed the costume designer photos of myself from my nursing career. I mentioned that in those days, each school had its own signature cap, so she changed that," Glee Reim says. "Then, when we were having our fittings, I said, 'Where are the pockets for my keys?' She said, 'The orderly will carry the keys.' I said, "Oh no, the nurses carry the keys!" And sure enough, the next time I went in, our costumes had pockets!"
One of the funniest moments of her movie career also happened on the set of Shutter Island. "The production assistant told me they wanted me right away. I ran to the set and there was Martin Scorsese," she recalls. "Before I knew what I was saying, I said, 'Marty, you're in my seat!' He hopped up, and everyone laughed. Talk about faux pas!"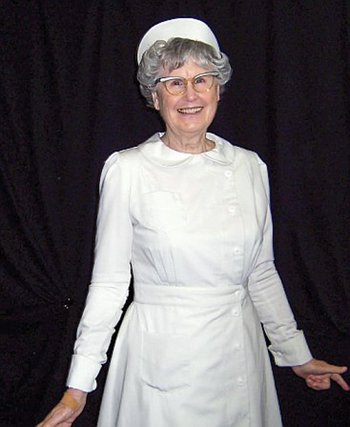 PHOTO COURTESY: DONNA GLEE REIM
Glee Reim has worked with Steve Martin ("he's very shy"), Bill Murray ("he interacted with everybody!"), Mark Ruffalo ("every time he'd go by, he'd throw me air-kisses"), Kate Hudson and Anne Hathaway ("they were as sweet as can be and even more beautiful in person"), and Richard Gere ("I played his mother, and he said, 'You even kind of look like my mother!'"). One of her favorite stories involves working with Leonardo DiCaprio on Shutter Island.
"I showed him my nursing school graduation photo and he said, 'Wow...what a babe!'" she laughs.
In addition to acting, Glee Reim is an active anti-bullying advocate for the No Hate organization, travels extensively, is an avid quilter, reads voraciously, exercises every day, and spends time with her daughters and five grandchildren.
"I just can't imagine anyone being bored," she says. "I'm so interested in things and constantly looking to do new things. People say I don't look 81, whatever that is. I plan on doing as much as I can for as long as I'm able."