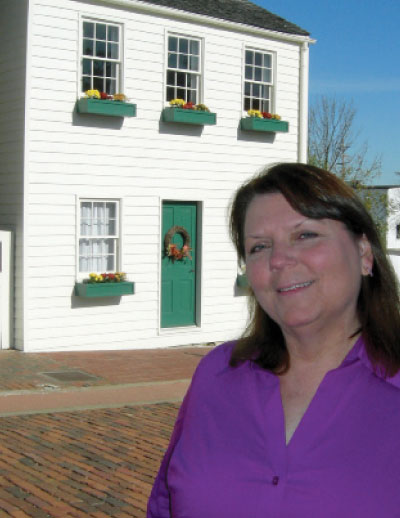 For Cindy Lovell, the best part about fourth grade was storytime. Her teacher read from many wonderful books that year, but none moved her quite like the fence whitewashing chapter from Tom Sawyer.
From then on, Lovell couldn't get enough of Mark Twain.
"I became a Twainiac at a very early age," laughs Lovell, 99PhD, now the director of the Mark Twain Boyhood Home and Museum in Hannibal, Missouri. "Friends don't let friends not read Mark Twain."
As steward of the Twain museum, Lovell wants to ensure this national treasure has the resources it needs to preserve the author's literary legacy. Through a partnership with Grammy Award-winning producer and childhood friend Carl Jackson, Lovell created a CD titled Mark Twain: Words & Music. The collection of 13 songs and spoken words honors the writer's life—bookended by his birth and death under Halley's Comet—and will ultimately benefit the nine museum properties, including the Boyhood Home. The star-studded double disc, narrated by NPR's Garrison Keillor, features Jimmy Buffett as Huckleberry Finn and Clint Eastwood as Mark Twain, with musical performances by the likes of Emmylou Harris, Sheryl Crow, Brad Paisley, and Vince Gill.
During her childhood in Pennsylvania, Lovell entertained herself with books and bluegrass music. She was 12 when she first met Carl, who played banjo with a bluegrass band. The young friends went separate ways, but their paths crossed again in 2005 when Lovell began considering how she could commemorate the Year of Mark Twain in 2010—the 175th anniversary of his birth, the 125th anniversary of The Adventures of Huckleberry Finn, and the 100 years since his death.
She thought of a CD that could educate as well as entertain. Lovell took a leap of faith and called Carl, hoping he would remember her. He did. This past fall, she and Jackson finally unveiled their project to the world. Lovell says there are many reasons why she admires Twain, but perhaps mostly for his raw and honest observations about human nature.
"We recognize ourselves on his page, our strengths and our weaknesses," she says. "He railed against injustice, and his writing is relevant today because he tells the truth."