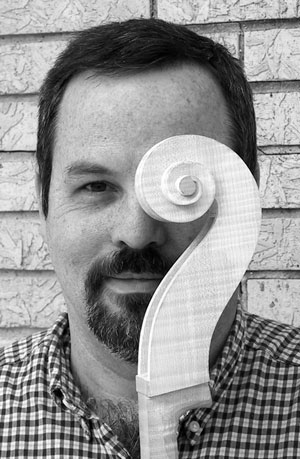 I
nside the workshop, students sit at benches with chisels in hand, prepared to carve music out of blocks of wood.
Here at the Chicago School of Violin Making (CSVM), where Fred Thompson, 77BM, is co-director, students learn to make violins, violas, and cellos the old-fashioned way—with hand tools and meticulous attention to detail.
Located in suburban Skokie, the CSVM is the largest of three such schools in the country. Students enroll from around the world to fill 30 slots per trimester, completing 3,780 class hours in subjects such as violin playing, mechanical drawing, and the history of musical instruments. Most go on to work in their own shops where they sell, rent, repair, and restore string instruments.
"There are still enough people around who value something handmade entirely by one person,' Thompson says of his vocation. "Each piece of wood—even from the same tree—has different properties that have to be taken into consideration. That's something a machine or assembly line can't do."
Thompson was in his mid-20s and playing trombone with an orchestra in Mexico when he visited a local instrument maker and discovered an opportunity to merge his interest in woodworking with his love for music. Realizing he didn't have the talent to play trombone at a high professional level, he decided to make music another way—through handcrafting stringed instruments for others.
Soon afterward he learned about the CSVM. He was accepted for admission in 1985, graduated three years later, and opened his own violin shop. In 1996, he accepted a part-time teaching position at the school and then moved to full-time in 2001. Two years later he became co-director, working up to 65 hours per week as a teacher and instrument maker.
He recently sold his 66th instrument, a viola. While the stringed creations of 18th century craftsmen such as Stradivari and Guarneri are valued at millions of dollars, a CSVM student-made violin sells for between $3,000 and $4,000. Most are sold through Chicago-area music shops, usually to student musicians in elementary school on up to college.
"I'm not the world's best woodworker," Thompson admits, "but my instruments sound good, are easy to play, and are attractive to the eye. I don't regret putting away my trombone."