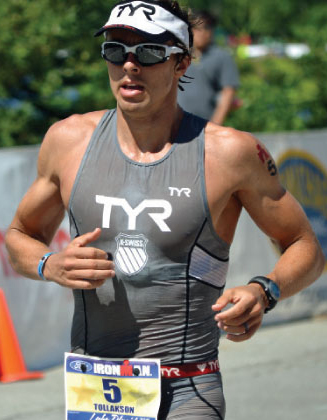 T.J. Tollakson heard his heart pounding and the footsteps of the defending champion in his wake. Energized by fans' cheers, he powered through throbbing pain to lose his opponent and win one of the world's most grueling endurance races.
This past summer, Tollakson swam 2.4 miles around Mirror Lake, biked 112 miles through the Adirondack Mountains, and ran 26.2 miles to conquer Ironman Lake Placid. "Winning an Ironman is amazing, even more than I thought it would be," says Tollakson, 03BSE, who completed the triathlon in 8:25:15. "While running uphill was the hardest part, it was the most fulfilling adversity I've ever had in my career."
Tollakson ran cross-country and swam in high school, but didn't start competing in triathlons until he joined the UI Trihawks club. After winning an amateur national championship, he accepted an invitation in 2005 to be coached at the U.S. Olympic Training Center.
Now a professional triathlete, Tollakson has competed in nearly a dozen Ironman races. He trains 30 hours each week—sometimes with his wife, Ashley Tousley Tollakson, 06BA, an elite marathon runner who qualified for the 2012 U.S. Olympic trials. "[Training is] hard mentally and physically and always taxing at the end of the day," he says, "but the drive is to be the best I can be."
When he's not racing, Tollakson uses his UI engineering and entrepreneurial background to design, manufacture, and sell athletic goods for his company, Rüster Sports. He hires UI interns and creates products such as a travel case that allows cyclists to carry their bikes in smaller pieces to avoid airline oversize bag fees.
Tollakson's performance at Ironman Lake Placid qualified him for the Ironman World Championships this past October in Hawaii, where he competed against the world's top 50 professional male triathletes. Ranked 22nd going into the competition, he was unable to complete the race after becoming ill during the bicycle leg. "Rough day in Kona, but feeling better now," he posted later on his Twitter account. "I'll be back."
Though Tollakson's ultimate goal is to win the world championship, he'll never forget earning his first Ironman gold in the same town where the 1980 U.S. Olympic hockey team experienced its "Miracle on Ice."
"[Lake Placid is] a powerful and magical place," he says. "I'll always have that memory, and it will be a stepping stone to bigger and better things."