Associate law professor Michelle Falkoff has some simple words of advice for her students: "It's all about the briefs."
In the UI College of Law's first writing workshop, "Narrative Strategies for Lawyers," Falkoff reminds fledgling legal eagles of the behind-the-scenes but essential work that leads up to great courtroom drama. To help students improve their legal writing prowess, Falkoff, 04MFA, a former Silicon Valley intellectual property lawyer who quit in 2002 to attend the Iowa Writers' Workshop, encourages them to hone their storytelling skills.
"Fiction writing offers good lessons to lawyers about writing and editing," she says. "At their heart, both fiction writing and legal writing are designed to persuade."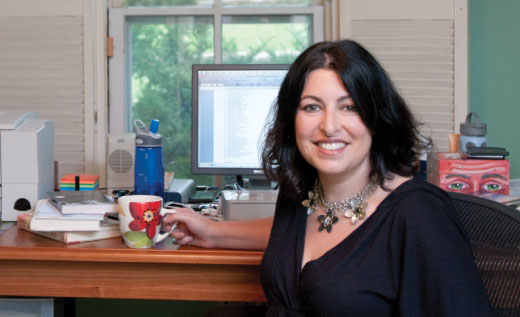 So, students craft legal-themed stories, read essays about writing, and critique each other's work. Falkoff also introduces the fundamentals of narrative nonfiction to help demystify the writing process. Through these exercises, students learn to write simple, convincing, and jargon-free prose.
Falkoff also practices what she teaches, having recently completed a novel about the ghost of a murdered teenaged football player trying to find his killer. Appropriately, it was written from her desk at home that overlooks a graveyard. Finding inspiration among the dead, Falkoff makes her stories come alive.
CURRENTLY READING: The Frozen Rabbi, a novel by Steve Stern about a rabbi encased in ice in the 1800s who thaws out to find himself living in contemporary America, and The Secret History by Donna Tartt, "a mystery where you know who gets killed and who killed him on the first page and spend the rest of the time figuring out why."
FAVORITE AUTHORS: Kelly Link, Jonathan Franzen, Haruki Murakami, and Jennifer Egan.
FAVORITE BAND: The Decemberists. "Their lyrics are wonderful. [Lead singer/songwriter] Colin Meloy is obsessed with history and writes sagas about ships and whaling."
FAVORITE CD: Picaresque by The Decemberists.
FAVORITE CONCERT: Bruce Springsteen. "He's a tireless performer who works the crowd up to a pitch unlike anything I've ever seen."
FAVORITE TV SHOW: The Wire. "You do all you can to follow the enormous cast of characters the first time you watch. It's even better the second time, when you pay attention to the storyline and see how much craft it took to put together."
FAVORITE HANGOUTS: Prairie Lights and Motley Cow Café.