Meet "Kelly Jones"
---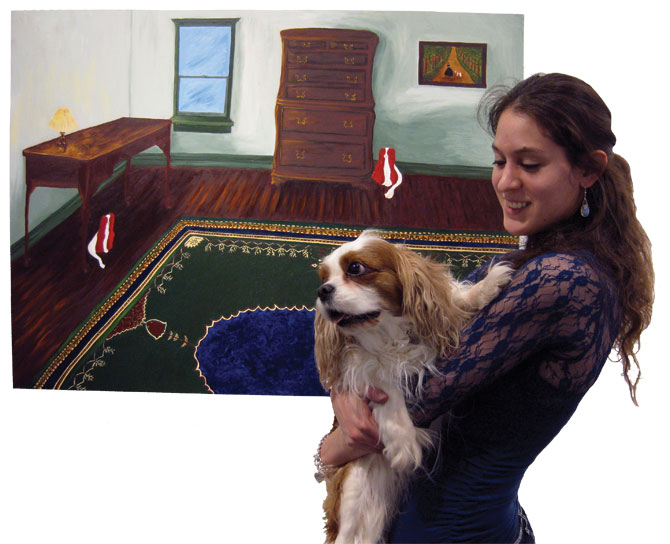 Kelly Jones didn't have to look far for artistic inspiration. Reclining gracefully on a Persian rug in her own home lay an ethereally beautiful subject with soulful eyes and silky hair-not to mention a waving, fluffy tail.
Patsy, a Cavalier King Charles spaniel, stars in many of the sketches and paintings created by Jones, a UI art senior from Iowa City. Jones' family has owned dozens of these Cavalier spaniels over the years, even breeding them for a while. Jones twice accompanied her father on a trip to England to buy a registered dog from one of the top breeding lines. "As a child, I used to draw pictures of them on the walls of our house," she says. "In fact, they're still there."
These laid-back dogs make great subjects, content to lie around for long periods during portrait sessions. Mainly, though, Jones just loves the gentle, affectionate creatures and wants to capture their beauty and personality. As she explains, "They're almost like a work of art in themselves."
The dogs were a particular favorite of King Charles II of England in the 17th century, which led to both their breed designation and the less flattering nickname of "royal flea catchers." Although today's breed is larger than those ancestors, the taste for luxury seems to have been passed down through the generations. As befits dogs with their pedigree, Patsy and her ten siblings love to perch on pillows or throws, like royalty on a throne. "You never see them just sitting on the floor," notes Jones. "Even if they're on a sofa, they still like to sit on a cushion."
In addition to realistic renderings of her cherished pets, Jones has created more idealized depictions that mirror the dogs' characteristics. At the UI Studio Arts Building earlier this year, a showcase exhibition of her work, titled "Under the Watchful Eyes of King Charles II," attracted a number of dog- and art-lovers, including one UI faculty member who purchased a painting.
The artist's muse even made an appearance. As her likenesses gazed down from the walls, the real-life Patsy paraded around the room, charming guests and graciously submitting to being admired and photographed. Long live the Queen!