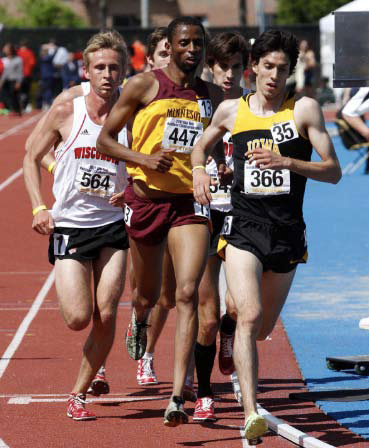 British runner Roger Bannister defied the impossible in 1954 when-for the first time in recorded human history-he ran a mile in under four minutes. In the 57 years since, many elite distance runners have surpassed his time. Yet, no University of Iowa student-athlete has ever matched the remarkable feat-until now.
Breaking the barrier for Iowa, sophomore Jeff Thode posted a 3:58.72 mile this past spring at the University of Notre Dame's Alex Wilson Invitational. "It was one of the thrills of my lifetime," says Coach Larry Wieczorek, 72BS, a former UI track star who calls the experience a "bucket list item."
While others rave about the historic moment in Iowa track history, Thode takes his accomplishment in stride. "To me, it's not that big of a surprise," he says. "I don't take much excitement from the times I run."
Indeed, trailblazing is nothing new for the sports studies major, who first shattered a 29-year-old school record for the mile last year with a 4:03.07 finish at an NCAA qualifier event. A week prior to this year's Wilson Invitational, he clocked a time of 4:02.00 at the Big Ten Indoor Championships. But only a time under four minutes would send him to the NCAA Indoor Championships.
After 12 intense races in five weeks, Thode was drained. He had less than a week to drop three seconds from his time. During the last-chance meet, he managed to dart ahead of the pack early for a second-place finish. "I pushed through the pain," he says. "I told myself there's no limit to what my body can do."
His mom cried with pride, but Thode didn't have time to rejoice. A week later at nationals, he placed sixth in the mile (4:01.73), earning first team all-American honors. He also led the Iowa team to an eighth-place finish, its best performance in program history.
Wieczorek says Thode's willingness to take risks has always placed him ahead of the pack. The Schaumburg, Illinois, native held every distance record in high school and won state titles in cross-country and the 1,600 meters. When he arrived at Iowa, he made Hawkeye history during his first 3,000-meter race and smashed a 25-year-old school record last spring in the 1,500 meters.
Thode now has his sights on the "Triple Crown": championships in cross-country and indoor and outdoor track. He may be on the right path, but don't expect him to slow down to celebrate. "That's the way he is; he's not jumping up and down clicking his heels," says Wieczorek. "My guess is he's clicking his heels inside."