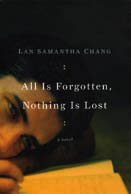 The central questions of Lan Samantha Chang's new novel have haunted wouldbe writers for decades, perhaps nowhere more so than in Iowa City.
Can writing really be taught? And, can attending a celebrated university writing program transform a student into a successful writer? All Is Forgotten, Nothing is Lost takes on those plaguing issues, as well as ambition, the significance of poetry, and the often complicated relationships between students and mentors.
Lan knows the territory well, having graduated from the Iowa Writers' Workshop in 1993 and served as its director since 2006. She fearlessly draws readers into the competitive and creative world of student writers and their teachers, with its friendships, intimacies, and rivalries.
Publishers Weekly praises Chang's "stunning" novel, which "more than fulfills the promise of her early work." Her previous honors include a Guggenheim Fellowship, as well as the Wallace Stegner and Truman Capote fellowships at Stanford University. Chang was also a finalist for the Los Angeles Times Book Prize in 1998.