Clarinet fans, take note.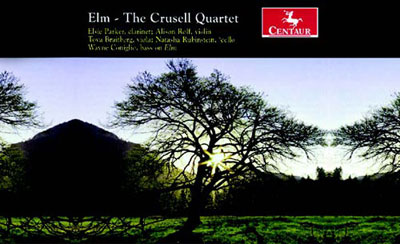 Centaur Records
While musical quartets typically consist of two violins, a viola, and a cello, Elm by The Crusell Quartet brings a clarinetist to the forefront.
UI alumna Elsie Parker, 76MA, plays clarinet in The Crusell Quartet, which is named after Finnish clarinetist and composer Bernard Henrik Crusell (1775-1838). Elm features classical pieces by French, Finnish, Hungarian, Bohemian, and Austrian composers, as well as a modern original work written specifically for the group.
Elm is dedicated to former quartet member Natasha Rubenstein, who died this past January, as well as Himie Voxman, 33BSChE, 34MA, Parker's UI clarinet instructor, and the late Charlie Eble, 40BA, who ran the Iowa City music store where Parker used to work.
Parker, a professional musician for the Saint Louis Symphony, the Saint Louis Municipal Opera Orchestra, and the Fox Theatre in Saint Louis, also has albums out with her French pop and jazz group, Elsie Parker and The Poor People of Paris.