Roseanna Smith, 04BA, 06MA
Roseanna Smith made an inauspicious debut on her high school variety football team, forgetting the play when she went out as a receiver.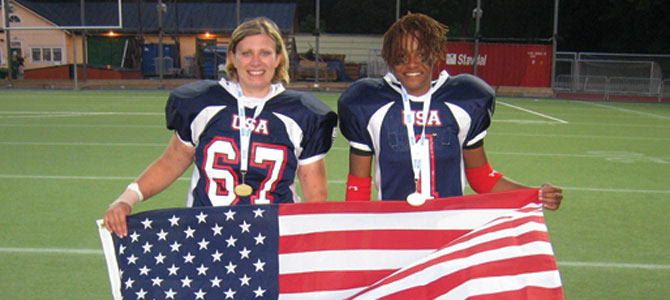 "I've come a long way since then," says Smith*, 04BA, 06MA. That's an understatement.
This past summer, Smith was among 45 athletes selected to play on USA Football's 2010 Women's National Team that competed in the inaugural International Federation of American Football Women's World Championship in Stockholm, Sweden. Team USA dominated the six-nation field, capturing the gold medal with a 66-0 victory over Canada.
"A lot of people wanted this chance. I felt very humbled to be one of the 45," says Smith, who plays center on the offensive line. "Football is what I am, and I'm so thankful for the opportunities. I hope this world championship win will cause other girls to aspire to play at the highest level."
With a lifelong passion for football, Smith realized that her final chance to play competitively was to go out for her high school team as a senior. In 1999, she became the first girl at Davenport West to earn a varsity letter in football.
"You only get one chance to play these sports in high school," she says. "If you don't do it, or you let something small get in the way of trying, you'll regret it forever."
Since 2007, Smith, of Bethlehem, Georgia, has been the starting center for the Atlanta Xplosion of the Independent Women's Football League (IWFL). As a UI journalism and mass communication and health and sports studies student, Smith did a project on the IWFL. The more she learned, the more she wanted to compete in the league that now has more than 50 teams nationally.
Despite bruising so easily that she looks battered by season's end, Smith can't imagine giving up her beloved sport. In fact, as an assistant football coach at Winder-Barrow High School in Winder, Georgia, she shares her passion with the next generation of athletes.
"Once you start playing, you really can't stop," she admits. "I'm almost 30 and I still want to be out there."