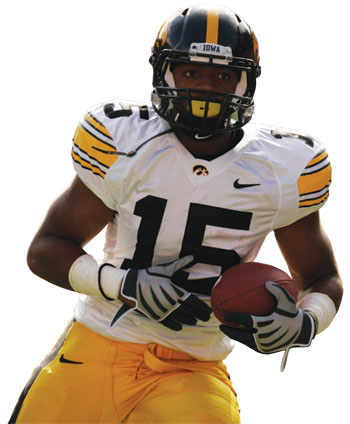 Playmaker: Derrell Johnson-Koulianos.
A boy from a broken home grows up on the streets. He never knows where he'll rest his head at night—that is, until a loving family takes him in and helps him realize his football dreams.
Many people recognize this as the plot of The Blind Side, a recent hit movie starring Sandra Bullock based on the life of NFL player Michael Oher. But Hawkeye fans might be surprised to know it's also the true story of Iowa wide receiver Derrell Johnson-Koulianos.
Born to a teenage mother in a rough area of Youngstown, Ohio, Johnson-Koulianos had to care for himself at a young age. "I didn't change clothes for days. I would wake up wherever I was…really just not knowing what the next day would bring," he said in a Gazette article. "Then my life took a drastic change."
At age ten, Johnson-Koulianos met his best friend, Stephen Koulianos, who would later become his brother. Tony and Lauren Koulianos invited Johnson-Koulianos to live with them and pushed him to work hard in school. By the end of his high school career, they had officially become his parents. "I didn't know this type of lifestyle existed—the comfort of having somebody who genuinely cares about every aspect of your life," Johnson-Koulianos told the Gazette. "It was like a Beaver Cleaver lifestyle. I embraced it."
While some of his childhood friends resorted to drugs and violence, Johnson-Koulianos headed to college. As a Hawkeye, he joined Jim Gibbons, 58BSPE, and Tim Dwight, 99BS, as the only football players in school history to lead the team in receiving for three consecutive seasons. Last year, he gained 750 yards on 45 receptions, including a 99-yard kickoff return for a touchdown against Ohio State. His gridiron performance has put him on the watch lists for the Biletnikoff Award, given to the nation's top receiver, and the Paul Hornung Award, which honors college football's most versatile player. Now in his senior year, fan favorite "DJK" is focused on surpassing Dwight and Kevin Kasper, 00BBA, to become Iowa's all-time leading receiver. The co-starter needs 30 catches and 400 receiving yards this season to break the record.
Thanks to the Koulianoses, the boy who has carried a football around since he was six looks wellpoised to reach that goal—and to fulfill loftier aspirations. "I think about the NFL every day," Johnson- Koulianos told the Gazette. "But in order to make it there, you have to be good at the college level, so my focus is to be good at the college level. I can't get to my dreams unless I take the proper steps."