The UI breaks class records and makes accommodations for its rapidly growing student body.
For the fall 2010 convocation, hardly a patch of Pentacrest lawn remained visible. Members of the Class of 2014—the largest group of incoming students in UI history—crowded in front of Old Capitol for the official welcoming ceremony into university life.
This year's record-breaking freshman class proved to UI officials that they wouldn't need long to meet their long-term goals for increasing student enrollment. An estimated 4,500 first-year students arrived on campus this fall, a whopping 450 more than last year and 200 more than the previous largest class in 2006. Besides being the biggest, the incoming class is also among the most diverse in UI history, with a number of international undergraduates and students from minority groups contributing to the enrollment boom.
In a convocation address, freshman Allison Sullivan said, "Before we have even stepped into a classroom, we have already started to make our mark on the university. And I can tell there is much more yet that we have in store."
Without a doubt, this new generation of students started making an impression on the UI even before the semester began. UI administrators, in their quest to preserve a positive academic experience for such a high volume of students, made several adjustments both inside and outside the classroom. For those high-demand first-year courses—such as rhetoric and general education program classes in math, science, and world languages—they hired additional instructors. They also increased by 30 percent the number of first-year seminars, which feature a smaller class setting with senior faculty.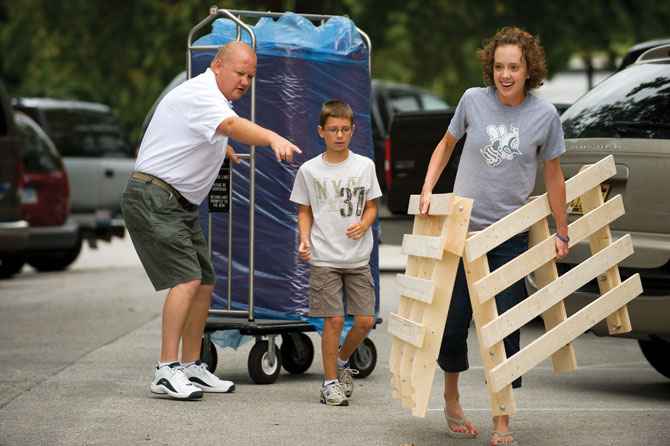 And when it became clear that the residence halls couldn't find rooms for all students, the UI turned to off-campus private property to cover housing needs. Officials leased a building from the Lodge apartment complex off Highway 1 in Iowa City, as well as units from a complex on College Street, for more than 200 transfer and returning students. This allowed the younger freshmen to remain closer to campus—but the upperclassmen don't seem to mind their independent, stylish digs. Plus, students living at the Lodge still receive all the same services they would in a residence hall, including resident advisors, Cambus stops, and meal plans.
Not that the students back in Daum, Burge, or Stanley can complain. Even these students settled in to amenities akin to hotel luxury. Marketplace dining, fitness centers, and cable with high-speed Internet have become hallmarks of modern residence hall life, and the university keeps adding new features to meet the higher expectations of today's students. Just this semester, the UI unveiled renovated rooms in Daum that include private bathrooms—complete with a toilet, sink, shower, and even a high-speed hair dryer. Other halls could see similar improvements next year.
As large classes are expected in the coming years, the UI has plans to build more residence halls to meet the housing demands. Earlier this summer, the Board of Regents, State of Iowa, approved a plan to build at least one on the west side of campus by 2013.