Abby Emmert, 08BA
Abby Emmert walked out of Carver- Hawkeye Arena two years ago with her name on a jersey. She returned this past September to her name on an office door.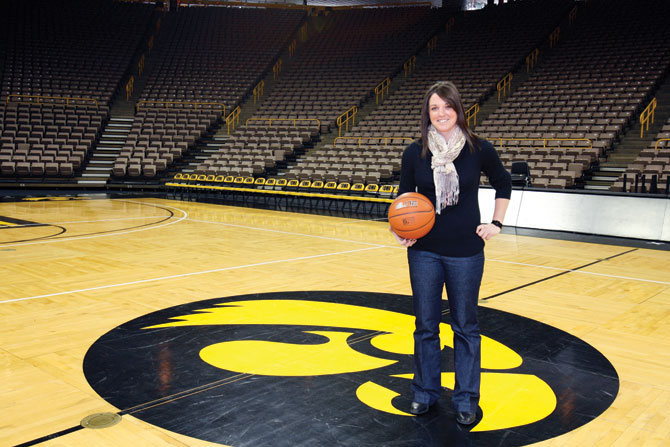 The Winterset native, who played Iowa basketball from 2005 through 2008, came back to the arena as director of basketball operations. Says Emmert, "When I heard of the opportunity to work with the coaches I had learned so much from, I knew I could only continue to benefit from being around them."
As a UI student, Emmert served as team co-captain, leading the Hawkeyes to two NCAA postseason appearances and a Big Ten regular season co-championship. "After my senior season was over, I felt like, 'What do I do now?'" says Emmert, 08BA. "It was hard to be done here, but a part of me wanted to move on and try something new."
Immediately after graduation, Emmert worked as a fund-raiser for the United Way of East Central Iowa in Cedar Rapids, but she never strayed far from basketball. She cheered on the Hawkeyes at home, served as a color commentator for some radio broadcasts of the games, and coached an Amateur Athletic Union basketball team. Those experiences, combined with an opening in the Iowa women's basketball program this past fall, sparked her desire to return to the sport.
Now back with the Hawkeyes, Emmert handles day-to-day scheduling and travel arrangements, organizes team volunteer work and appearances, and keeps defensive charts during games. She uses her past experiences as a studentathlete to guide the decisions she makes in her new position. "I can remember some of the things that stressed me out as a player [such as having a rushed schedule or not enough sleep]," says Emmert. "I have to be conscious of the demands on an athlete."
Emmert hopes her new job will serve as a stepping stone toward her ultimate goal: to become a basketball coach like her father, Gary. "This experience is perfect," she says, "because I'm at the ground level and see everything it takes to make this program run."
For now, Emmert most enjoys serving the student-athletes, who regularly show their appreciation. "They call me Mom," she says, "because when they need something, they just come to me."