Courtney Bond explains why she and so many other Dance Marathon students and alumni give up a good night's rest.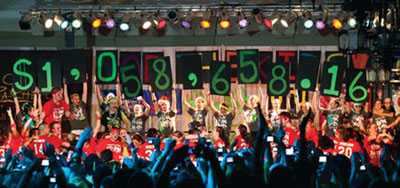 Exhausted but ecstatic, I crawled into bed late one Saturday night. Along with hundreds of other UI students and alumni, I'd been out all night. Not for a party or a bar crawl, but for kids like Sierra.
Sierra has big blue eyes, loves to attend Dance Marathon each year, and adores her nieces and nephews. Her charismatic giggle is misleading, though, for this ten-year-old has endured pain and fear that no one—least of all a child—should ever have to experience.
Sierra is one of the pediatric cancer patients at the University of Iowa Children's Hospital. She's also one of the reasons I took part in my seventh UI Dance Marathon, willing to forgo a night's sleep to help make life more bearable for these little warriors and their families.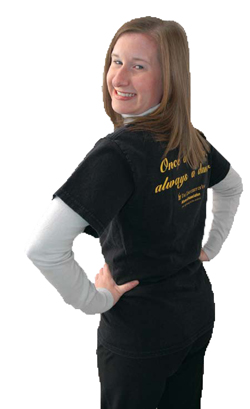 Courtney Bond, 07BA, is assistant director of membership and marketing for the UI Alumni Association, a member of the UI Dance Marathon Executive Leadership Committee, and an advisor for the Dance Marathon Alumni Group
Since Dance Marathon (DM) began at the UI in 1995, thousands of students have raised millionsof dollars to provide programs, support services, and treatment for children with cancer. A year-long fund-raising campaign culminates in the Big Event, in which dancers must remain standing, with only water, snacks, and their passion to fuel them through 24 hours of non-stop dancing.
Inside the IMU this past February 5-6, colored spotlights flashed and music pulsed. In a room that throbbed with emotion and heaved with bodies, a banner behind the stage spelled out Dance Marathon's slogan. Morale captains yelled it as a motivational chant to inspire weary dancers: "For the Kids! For the Kids! For the Kids!"
As I looked around and saw children glowing with excitement and joy—despite the fact that they may never dance again or perhaps never grow to enjoy adulthood—I was reminded why I'm dedicated to Dance Marathon. Ultimately, it's about people giving their time, energy, and hearts to a cause bigger than they can comprehend—and they always come back for more.
This year, some 1,300 current students and 100 DM alumni proudly danced past the point of exhaustion. As the long hours counted down to the final seconds, they held their breath and waited to hear the results of their efforts. Up went the tote board, and cheers of jubilation rang around the room. Dance Marathon 16 had shattered previous records and raised $1,058,658. For the Kids.
Heading home afterwards, I couldn't wait to fall into bed. More importantly, though, I couldn't wait for next year's Dance Marathon. As it says on my DM alum T-shirt, "Once a Dancer, Always a Dancer."