Retired professor Mary Maher has discovered great actors' techniques for performing Shakespeare.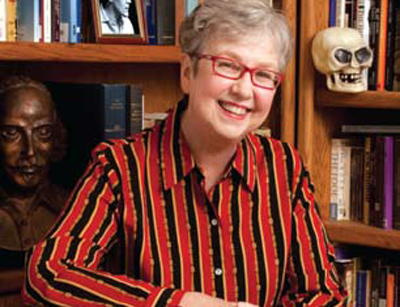 In the lobby of the Lyric Hammersmith Theatre in London, Mary Maher sat down to coffee and sticky buns with actor Ben Kingsley, ready to find out his secrets to playing Hamlet on stage. She lost herself completely in his eloquent descriptions of connecting with the energy of his audiences, almost as if he were in a tennis match.
Kingsley's insights into acting The Bard appeared in a chapter in Maher's first book on the subject: Modern Hamlets and Their Soliloquies (published by the UI Press), in which the Shakespeare scholar casts the spotlight on how performers prepare for the difficult task of speaking directly to an audience.
A former professor at the University of Arizona, Maher spent 26 years teaching courses and workshops on Shakespeare in performance. Since she needed to pen a book to achieve full professorship, she determined to pursue a topic that her students suggested—the performance of soliloquies. She then narrowed her focus to one play, Hamlet, and her first book was born.
Performing Shakespeare is like earning a black belt in acting, Maher says. Researching and writing how great actors interpret and perform these great works has become the passion of her life.
After Maher's first book, a second followed—a tribute to the late actor Nicholas Pennell and his influential contributions to staging Shakespeare. Just last year, Maher released her latest work, Actors Talk About Shakespeare, featuring all-star interviews with Kevin Kline, Kenneth Branagh, Stacy Keach, Derek Jacobi, and Zoe Caldwell, among others. These stellar performers take Maher into the heart of their acting process and transformation into a Shakespearean character.
"The actors I talked to gave me great insight into what a person goes through to act Shakespeare," says Maher, who lives in Ashland, Oregon, a small town nestled in the southern part of the state that just so happens to boast a Tony-award-winning Shakespeare festival. In her books, actors discuss their meticulous efforts to interpret Shakespearean text on a technical, physical, and emotional level. Says Maher: "Now I know how someone who is by nature a 'pussycat' can play Macbeth."
Since her retirement in 2000, Maher enjoys the extra free time she can devote to writing and pursuing work that feels personally meaningful. Each day, she lives out the words of Hamlet, "To thine own self be true."