UI third-year medical student Rachel Sandler doesn't use bandages or medicine to bring healing to her patients in Peru. All she needs is a red nose.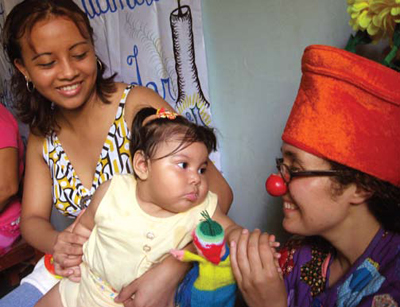 Meet Rachel Sandler.
The Urbandale native dresses as a clown to spread joy, laughter, and hope to the impoverished people of Iquitos through the Belén Project. Co-sponsored by Patch Adams' Gesundheit! Institute and Bolaroja Clown Doctors of Peru, the program aims to improve the health, education, and living conditions of members of the community, which is located near the headwaters of the Amazon River.
Sandler made her first journey to Peru in 2007 with the Belén Project. She says, "Ever since I saw the film Patch Adams, I have wanted to be a humanistic doctor who listens to people and who is able to connect with patients through humor and understanding."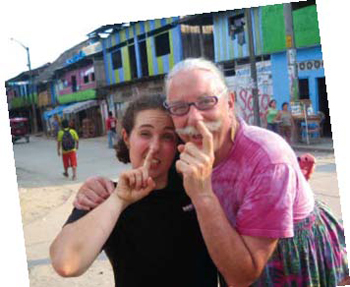 Sandler gets "nosy" with famous clown doctor Patch Adams.
Sandler, who has now volunteered alongside Adams three times, is currently on an extended fourth trip to Peru that includes four months at the Universidad Peruana Cayetano Heredia's Institute of Studies in Health, Sexuality, and Human Development in Lima, followed by four months of clinical and public health rotations in Iquitos.
So far, Sandler has conducted artistic workshops and clowned around with patients in children's shelters, nursing homes, and hospitals. "For once, the knock at the door isn't someone coming to stick them with a needle or ask them about their bowel movements, but a person with a red nose and funny clothes who has come to say hello," says Sandler. "I have had patients tell me amazingly personal things as a clown, because sometimes that is just what they need."
After graduating from the UI's MD/MPH program next year, Sandler plans to pursue a primary care internal medicine residency and work with immigrants in a community-based medical practice. "My experiences with the Gesundheit! Institute have reminded me of the importance of the human spirit in medicine," says Sandler. "As a clown, I get to attend to the emotional and psychological needs of patients without having to be concerned about managing their medications."
A ten-year-old Peruvian girl inspires Sandler in her drive to improve healthcare access. This past fall in Iquitos, the girl told Sandler she'd like to become a lawyer to help Peru's suffering children. "Though the world in which they live has been described as the 'hell of Peru,' these children remain resilient to the problems they endure," says Sandler. "The children continue to play and laugh, in spite of the horrors they face."
That girl's optimism and determination to bring hope to Peru was enough to move a clown to tears.