The world blurs with human movement.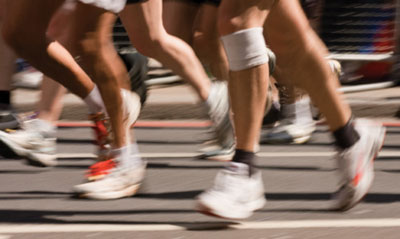 Sports medicine specialists at the University of Iowa draw upon the best resources to keep us active and able.
On a busy street corner, a runner jogs in place, waiting for a green light. On an elementary school playground, children climb jungle gyms and hang from monkey bars. In flower beds, gardeners stoop to inspect their handiwork. Everywhere, people push grocery carts, stroll along sidewalks, fly across basketball courts, pedal bicycles, and huff and puff up office stairwells.
All seemingly simple tasks, such daily activities rarely garner a second thought. Yet, they require a symphony of physiological and neurological precision—muscles, bone, and cartilage working in perfect concert with the brain to propel us through our daily lives.
Most of the time, the human body perseveres without problem. But, like a finely tuned car, it can hit a pothole, sending parts out of alignment. What used to come naturally becomes a painful struggle.
"To have good quality of life, we need to move," says Glenn Williams, UI assistant professor of physical therapy and rehabilitation science and director of research for University of Iowa Sports Medicine, whose passion is to restore normal function to people who have sustained various physical injuries—in particular knee-joint trauma, among the most common and debilitating problems.
Together with interdisciplinary experts across campus—and a brand-new, recently opened Sports Medicine Center—Williams works to meet the needs of anyone who enjoys an active lifestyle, from the elite Hawkeye who wants to avoid game-ending injury to the average amateur athlete stymied by a troublesome sprain.
In short, his life's work aims to keep people moving, doing the things they love. "From the adolescent who injures her knee playing basketball to the older adult with osteoarthritis or a torn rotator cuff," Williams says, "our research spans a lifetime."
After all, injury can happen to anyone. Gingerly shuffling into his office at the UI Foundation, Jeff Liebermann*, 02MA, a 43-year-old father of two, knows this all too well. The first time his right knee gave out was around Thanksgiving 1999. The moment didn't arrive in dramatic fashion; Liebermann was simply sitting down to lunch. A torn piece of meniscus cartilage broke loose and lodged in his knee joint, locking up the knee.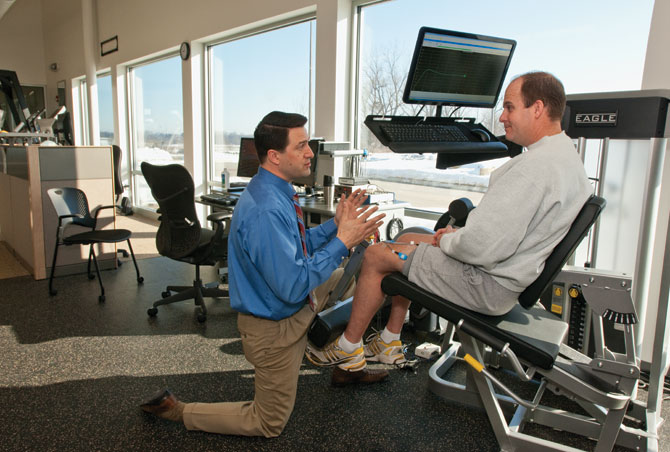 At above, Glenn Williams discusses his innovative treatment ideas for knee injury with Jeff Liebermann at the UI's new sports medicine facility.
Always one to thrive on activity, Liebermann played football, basketball, and baseball during his days at Solon High School. He pursued intramurals in college, followed after graduation by softball, jogging, and the occasional game of pickup basketball. Apart from the fun, he participated to maintain a healthy lifestyle. His knees had given him some aches and pains in the past, but other than minor annoyances and an occasional sprained muscle, Liebermann had never experienced a serious injury.
Doctors "scoped" his knee in 1999, inserting a miniature camera and medical instruments through tiny incisions to remove the damaged cartilage. Afterward, they prescribed Liebermann anti-inflammatory medications and physical therapy. Liebermann chalked up his experience to older age, plus he figured that people who pursue sports must grin and bear a certain amount of discomfort. Even Williams himself calls sports injury an "occupational hazard."
"Some days, I know I ran an extra mile that I probably shouldn't have," confesses Liebermann, who saw his knees and feet grow worse for wear over the years. With so many of his buddies suffering injuries, he'd long given up basketball, but he kept running, despite osteoarthritis in both feet and periodic pain in his left knee.
Then, just a few months ago, the right knee gave out—again. He'd awaken in the night to pain and stiffness; he struggled to walk up and down stairs. He could hardly function, much less jog. In January, he went through another scope procedure.
Knee injury represents one of the most frequent and troublesome traumas experienced by everyday exercisers and seasoned athletes alike. Meniscus tears like Liebermann's can cause extreme pain, as does an injury often seen in basketball—a tear in the anterior cruciate ligament, or ACL, one of the most important of four strong ligaments that connect the bones of the knee joint. Physicians in the U.S. perform more than 200,000 surgeries each year on ACL tears alone. Combined with follow-up treatments and physical therapy, ACL injuries cost the healthcare system more than $1 billion per year. Meniscus injuries are even more common, requiring more than 500,000 surgeries per year.
For these reasons and more, Williams focuses his research efforts on finding better treatments for knee injuries, as well as the prevention of osteoarthritis, which often follows both meniscus and ACL tears. What he primarily investigates has a scientific term: neuromuscular plasticity after joint trauma. In other words, Williams studies the effects of an injury on muscles, nerves, bones—even certain connections in the brain—and what interventions can effectively prevent post-injury muscle weakness and restore patients' movement.
Atrophy after knee injury is a major problem, explains Williams, with patients losing as much as 30 percent of their muscle after injury and surgery. His research hopes to minimize that wasting process, preserve greater muscular control, prevent osteoarthritis from taking hold, and restore a person's post-injury quality of life.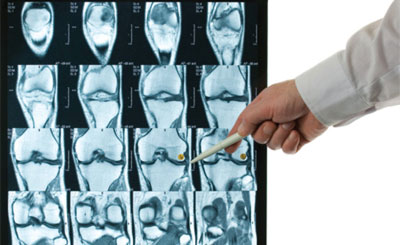 A doctor examines an MRI image of an injured knee.
"I can't emphasize enough the importance of our collaborative effort, including physical therapy and rehabilitation science, orthopedics, radiology, engineering, and others," Williams says. "Our new facility is truly an integrated center."
Why is knee injury so common? The knee joint lies at a vulnerable point between the large femur of the thigh and the two leg bones below, the tibia and fibula. Surrounding the femur is the quadriceps, the largest and strongest muscle group in the human body. When a person jumps, runs, spins, or twists, the knee and its tissues sustain an extremely high load of force. "Under normal conditions, the human body can withstand a lot and is quite amazing in its ability to perform a wide range of tasks involving many variables at once," Williams says. "It really speaks to how remarkable the body is that more injuries don't occur."
Nevertheless, it doesn't take much to make a wrong move.
Current standard treatment for knee injury takes place after atrophy has already developed. Patients receive exercises to do at home or undergo surgery followed one or two weeks later by rehabilitation. Instead, Williams recommends a novel early intervention approach that applies an aggressive exercise program to the knee in the critical first few days after injury. His research suggests that an early application of high-intensity exercises—such as repeatedly extending the bottom portion of the leg—together with neuromuscular electrical stimulation of the muscles can dramatically help minimize weakness and atrophy. He will continue to study this new therapy with hopes that the clinical community will experience the benefits in the next five to ten years.
While maintaining that most people are physiologically equipped to play sports, Williams acknowledges that certain populations likely have anatomical, structural, or genetic factors that make them more susceptible to injury. This is another topic of interest for the sports medicine research team.
One undeniable factor, particularly for ACL injuries, is gender. Women are three times more likely than men to suffer an ACL tear, a hot topic in sports medicine right now. As the 2009-10 Hawkeye women's basketball players discovered, though, their injuries aren't restricted to knees.
This past season, one press release after another announced the latest team member's fall from the court, with concussion, ankle sprains, back spasms, stress fractures, even a life-threatening blood clot. Sports medicine specialists like Williams search for answers into how the female body's unique biomechanical, hormonal, and neuromuscular properties make women vulnerable to injury.
Sophomore Hannah Draxten went out in late December with a herniated disc in her back. The road to her season-ending injury began in the summer when her back began to hurt from the constant pounding of practice. Then, one solid collision on the court in late fall sent her for an MRI, which revealed a bulging disc. She took a break and tried to regain some mobility with pain-relieving injections. Unfortunately, the pain stubbornly failed to subside, and Draxten was forced to the bench after playing only four games.
"It was a huge letdown, a big bummer," says Draxten, who suffered her first sports injuries—a broken leg and torn ankle ligaments—in high school. She now faces surgery that will essentially shave away the damaged tissue in her back, speeding her recovery. "We've had more than our share of blows this year, but we've kept up a lot of good energy and stayed positive. No matter what type of injury we have, we feel lucky that someone at the UI will know what to do."
As far as ACL injuries go, Williams believes the answers lie in comparing women who frequently tear their ligament versus women who don't (as opposed to comparing women to men, classic apples and oranges). Thus far, researchers have pinpointed a few clues; one study concluded that women who tear their ACL usually have higher body-mass indexes, greater joint laxity, and smaller anterior cruciate ligaments than their peers.
Other answers lie in landing mechanics. Women who injure their ACLs tend to land in a knock-knee position with the foot outside the base of support. Prevention lies in improving neuromuscular control, agility, and balance to promote safe landings. This past winter, in fact, the UI athletics department's strength and conditioning program held its inaugural women's injury prevention clinic for female athletes in grades six through ten. Participants learned strengthening exercises, as well as the basics of posture, running, and landing mechanics. As Draxten illustrates, most first injuries occur in adolescence, so this age group will benefit from early preventive measures.
Remembering his own adolescence, Liebermann chuckles and thinks of a quote from baseball great Mickey Mantle: "If I knew I was going to live this long, I would've taken better care of myself." Not that Liebermann didn't follow a healthy, active lifestyle; he just recalls times when he probably could've applied more caution. From his new perspective—right leg elevated on an extra office chair—he offers these words of wisdom: "Take good care. If you feel pain, don't run. If something hurts, stop."
Liebermann's last real run was almost a year ago, and he won't be hitting the pavement any time soon. His doctors say he's on the road to a possible total knee replacement, and jogging will only get him there faster. For the foreseeable future, Liebermann will continue to take it easy and work hard in physical therapy.
"A doctor could tell me many other things that would be far more disappointing than that I shouldn't run again," Liebermann says. "To me, what's really important is the ability to play catch with my sons, to mow the lawn, to sit comfortably in a chair at a school performance. All I want is to enjoy basic locomotion."
UI experts agree: that's not too much to ask.