Documenting the flood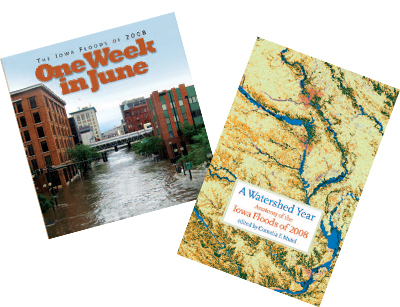 In words and photos that fill two new books, local heroes and national experts offer their perspectives on the infamous eastern Iowa floods of 2008.
One Week in June by Jeff Stein*, a faculty member at Wartburg College, features essays that trace the flood's progress and impact on the state's communities and people. "I had planned to tell … the unique stories of what happened at each point where the river made its presence known," writes Stein. "But in many places, that proved to be difficult, not because there were not local heroes at every stage, but rather because no one thought what they did was special. When I would ask people about the endless supply of sandbaggers of all ages, sizes, and incomes who showed up on a moment's notice when summoned, I would get in return a puzzled look, as if to say, 'Well, what did you expect? Of course, that's what people would do.""
More than 200 photographs, including some by Daily Iowan photographers, also chart the highs and lows of this momentous event in Iowa history.
The 25 essays in A Watershed Year offer scientific and technical examinations of the flood's causes and effects.
Edited by Connie Mutel, historian and archivist for IIHR-Hydroscience and Engineering at the UI College of Engineering, the essays draw upon the expertise of scientists, watershed specialists, engineers, and public administrators to provide clues not only to what happened here in Iowa but to how humans in general should learn to live with floods in the future.