Motivated by his family's experience with the devastating mental illness, an Iowa-trained doctor creates a new fund at his alma mater.
Scott Estrem (76BS, 80MD, 85R, 86MS) spent his 37-year career as an ear surgeon and medical device inventor helping others achieve better health. But when members of his family were diagnosed with severe mental illness, Estrem had to come to terms with his inability to control an often uncontrollable disease. 
Two of Estrem's adult sons have schizophrenia, a chronic brain disorder that distorts how a person interprets reality and can lead to delusions, hallucinations, and trouble thinking and speaking. After his family's lives were turned upside down by the diagnoses, Estrem devoted himself to getting his sons the treatment and support they needed. Now, he's helping others do the same through his philanthropy.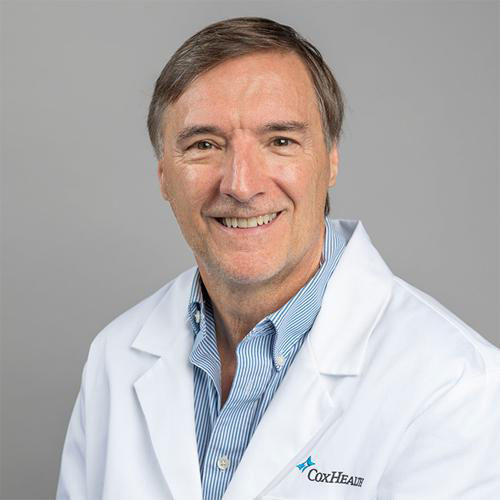 PHOTO COURTESY COX HEALTH
Dr. Scott Estrem
Estrem recently donated $1 million to his alma mater to establish the Estrem Family Schizophrenia Fund in the Iowa Neuroscience Institute and assist the UI experts who study and treat the disease. The fund supports a collaborative research program in schizophrenia at Iowa, which has long been a national leader in psychotic disorders. The UI Department of Psychiatry was one of the earliest departments to advocate that psychotic disorders were a biological illness of the brain, and pioneering Iowa neuroscientist Nancy Andreasen (70MD) developed the first scales to measure the symptoms of schizophrenia. UI Hospitals & Clinics, meanwhile, has a 22-bed inpatient unit dedicated to caring for adults with schizophrenia and other psychotic disorders. 
Schizophrenia affects about 1 percent of the population, with symptoms typically manifesting in men in their early to mid-20s and women in their late 20s. People with the disease require lifelong treatment, including medications and psychosocial therapy. Estrem describes caring for family members with schizophrenia as an emotional rollercoaster from one day—or even one moment—to the next. 
"It's hard to explain what it's like to live with a person with schizophrenia," Estrem says. "There's no logic, but you can't blame the person—it's that abnormality inside the brain that makes that person do what they do. You do your best just to hang in there and take care of them. But we don't always have control in this world."
Estrem was familiar with Iowa's neuroscience tradition from his days in medical school, when his clinical rotation included psychiatry shifts. The Decorah native was a general science major at Iowa before beginning medical school his senior year through an early-acceptance program. Estrem stayed in Iowa City for his residency and trained to become an ear surgeon under Brian McCabe, who was then the head of the Department of Otolaryngology. 
After leaving Iowa, Estrem spent 15 years as an otologist and neurotologist at the University of Missouri before moving into private practice in 2000 in Springfield, Missouri. He most recently was a surgeon at CoxHealth in Springfield until his retirement this past August. 
Estrem also found success as an entrepreneur. He invented a tool in 1998 called the Ototek Loop that allows people to safely clean excess earwax without damaging their ear drums or inner ears. The company, which is now run by Estrem's daughter, has sold more than three million units, including in Walmarts, Walgreeens, and CVS stores nationally. 
Even with his background in medicine, Estrem couldn't have prepared for the challenges ahead when his oldest son was hospitalized with a psychiatric breakdown in college and diagnosed with schizophrenia. The family's hardships compounded when, later, Estrem's younger son was also diagnosed with schizophrenia after returning home from teaching overseas. "It's emotionally and physically tough," says Estrem of caring for two family members with the disease. "It's kind of like a death of the son that you knew." 
Today, Estrem's oldest son requires 24-hour care, while his youngest son has been able to successfully mitigate the disorder with medication, says Estrem. He's hopeful that doctors at Iowa will continue to make progress understanding the vexing disease and that breakthroughs lie ahead in early diagnosis and treatments. 
"We're in this for the long haul," Estrem says. "It's not necessarily always right around the corner. And as a former scientist myself, I understand that it takes time. But they are definitely making a lot of inroads."