A health and human physiology professor highlights the long-term power of pumping iron.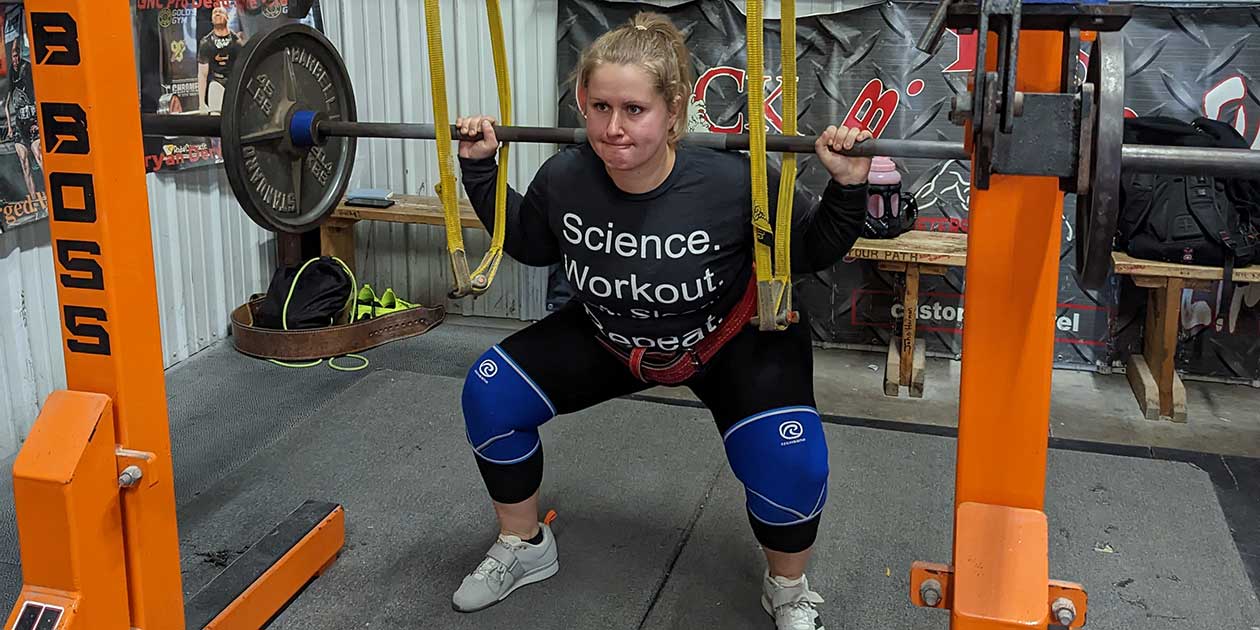 PHOTO COURTESY JESSICA GORZELITZ
UI assistant professor Jessica Gorzelitz, an expert in exercise oncology, works out at Magni Barbell in Iowa City.
Growing up in Wisconsin, Jessica Gorzelitz was an avid weightlifter. Her passion for health and fitness eventually bled into her professional aspirations as she studied to become an epidemiologist.
"I was curious to see how weightlifting impacted my health, and I learned along the way that there wasn't much information out there about weightlifting and its impact on health and mortality," she says.
While pursuing postdoctoral training at the National Cancer Institute, Gorzelitz dug deeper into her interests—using prostate, lung, colon, and ovarian screening trial data from about 100,000 older adults to unearth whether aerobic exercise and weightlifting impact mortality. The results, published this past fall in the British Journal of Sports Medicine and drawing international headlines, found aerobic exercise and weightlifting could lead to a longer life.
"We already knew that aerobic exercise resulted in lower mortality, but it was a novel finding for weightlifting," says Gorzelitz, who found exercising with weights alone resulted in a 9–22% lower risk of death. "The greatest mortality benefit was for those who do both aerobic and weightlifting activities, resulting in a 42–49% reduction in mortality. It's more proof that you should do both, but some is better than none."
While it's not exactly known why weightlifting can extend lives, Gorzelitz—who is finishing up her first year as assistant professor of health promotion within the University of Iowa's Department of Health and Human Physiology—is taking her research a step further by now looking at how weightlifting can be beneficial for cancer survivors, focusing on female survivors and especially uterine cancer. Gorzelitz's laboratory is also creating exercise plans that can be done remotely or through telehealth.
"It's important for everyone to have access to exercise, no matter where you are in Iowa," says Gorzelitz. "It's my hope to help others become more active, whether it's through research and better studies or reducing barriers to entry."