The team of red-tailed and Harris' hawks delight fans at Kinnick Stadium through the Raptor Ambassador Program.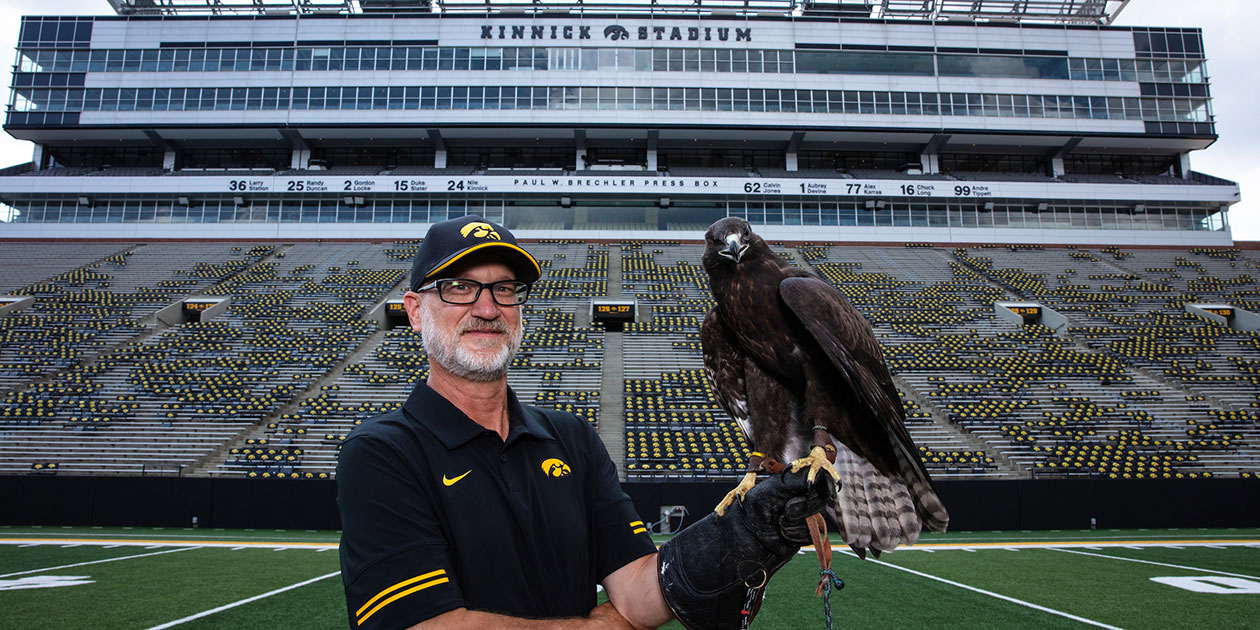 photo: brian Ray/hawkeyesports.com
Through the Raptor Ambassador Program, UI WILD Director David Conrads and his team—including Hercules 2 the red-tailed hawk—teach Hawkeye fans about nature conservation.
This past fall, Iowa football fans had an up-close look at native birds of prey as they soared over Kinnick Stadium at home games. To prepare these majestic creatures to fly in front of nearly 70,000 fans takes a lot of effort and coordination.
David Conrads, director of University of Iowa WILD (Wildlife Instruction and Leadership Development) within the UI College of Education, explains that his team uses well-established falconry techniques to ensure both fans and fowl are safe.
"We keep a really close tab on their hunting weight," says Conrads, who partners with the UI Department of Intercollegiate Athletics on these efforts through the Raptor Ambassador Program. "If our birds are not at hunting weight, they're not going to respond to the lures we use to help them fly from person to person."
Learn more about the Raptor Ambassador Program and the team of hawks that soar over Kinnick Stadium.
Preparation for fall football games starts after the birds of prey—which live at the Macbride Nature Recreation Area near Solon, Iowa—complete their yearly molt, which is the shedding of old feathers to make way for new ones. In July, work began with four birds of prey—red-tailed hawks Hercules 2 and Hercules 3, and Harris' hawks Superior and Walter—two times a week to ensure they are comfortable with their surroundings at Kinnick.
"It's really incredible to see how much care they put into the practice runs—making sure the birds are kept in a safe and controlled environment and keeping in mind how much and what they are fed," says Nicholas Alex, a graduate student who helped with the training this past summer. "They're very calculated with the birds."
For Conrads, the effort is all worth it to advance conservation efforts in the Hawkeye State.
"Everything we do is to awaken awareness, nurture appreciation, and inspire action for all things wild in Iowa, and birds of prey are an amazing way to tell that story," says Conrads. "This is a great way to bring conservation to Iowans."