Sparked by a family member's diagnosis, the Chakrabortys help Iowa scientists study new treatments for a common juvenile genetic eye disorder.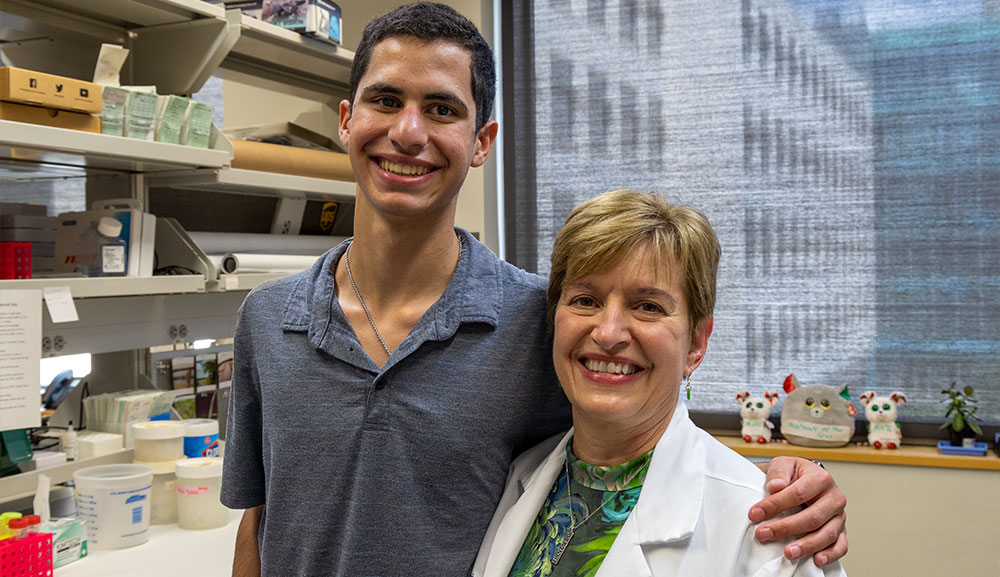 PHOTO: JOHN EMIGH
Jag Chakraborty visits the lab of his doctor, University of Iowa pediatric ophthalmologist Arlene Drack, who is researching treatments for genetic eye diseases such as juvenile X-linked retinoschisis.
University of Iowa pediatric ophthalmologist Arlene Drack faithfully wears a necklace she once received from the family of a 1-year-old patient with vision loss.
The silver necklace, featuring the word "love" embossed in Braille, reminds her of Jag Chakraborty—one of the patients motivating her search for a treatment for juvenile X-linked retinoschisis, which is among the most common genetic eye disorders in males.
Seventeen years since their first meeting at Children's Hospital Colorado, Drack greeted the Chakraborty family with hugs this past summer at her UI lab. Drack (91F, 92F) returned to Iowa from Colorado 14 years ago and became the UI's inaugural Ronald V. Keech Professor of Pediatric Genetic Eye Disease Research, while Jag is now a first-year honors student at the University of Denver.
Despite the distance, the Chakrabortys maintain a close relationship with Drack, visiting her annually to supplement Jag's care and learn about the latest advances she and other researchers at Iowa have made toward a treatment for his disease. Earlier this year in honor of their son, Sayan Chakraborty and Julia Franklin pledged a substantial gift to the Chakraborty Family Fund, which supports juvenile X-linked retinoschisis research at Iowa. A few of Sayan's colleagues at the system software company Workday—including co-founder and CEO Aneel Bhusri and co-founder and CEO emeritus David Duffield—contributed to the family's pledge.
Sayan first gave to the UI in 2015 when he sold his startup company to Workday. "It really felt like the work being done [at Iowa] was focused on what I care about," he says. "It wasn't focused on commercialization of a cure where you can go and make a lot of money, nor on publishing a bunch of prestigious academic papers; it was focused on materially helping people."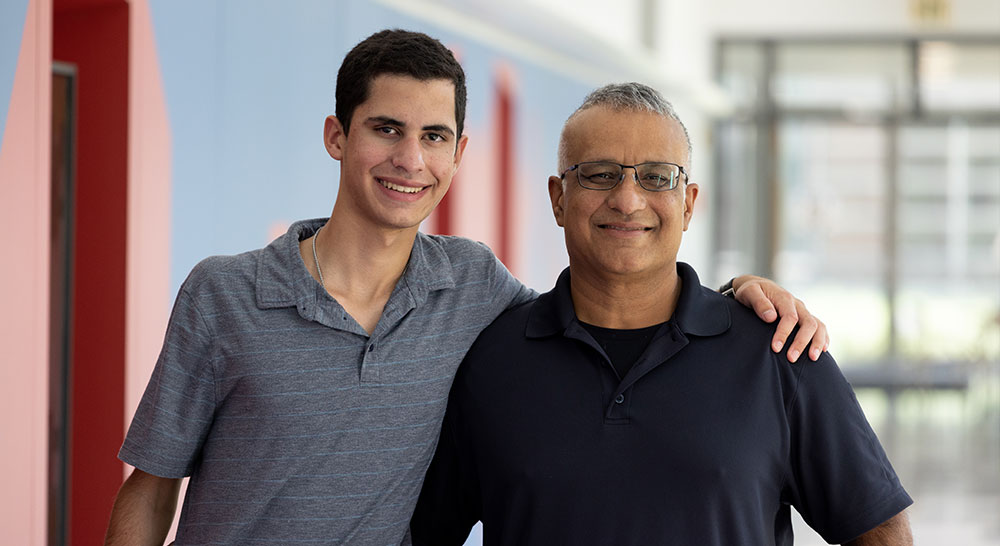 PHOTO: JOHN EMIGH
The Chakraborty family, including Jag and his father, Sayan, give to support vision research at the University of Iowa.
Sayan was driven to give to the UI again after learning that the support could significantly reduce the time it takes to find a treatment for the genetic eye disorder. A split in the retinal layers of the eyes leads to visual impairment in retinoschisis, but physicians believe—as with other inherited retinal conditions—that it can be treated with gene therapy. Research is underway to determine how best to deliver a healthy copy of the gene to replace the mutated gene causing the disorder.
In addition to supporting the necessary research, staffing, and equipment, the Chakraborty gift established the endowed Chakraborty Family Professorship in Pediatric Genetic Retinal Diseases, which is held by Alina Dumitrescu (11F), a UI clinical associate professor of ophthalmology and visual sciences who can now devote more time to this research. "[The gift] really changed everything, because it opens up tremendously the avenues of research we can pursue," says Drack. "You have to spend a lot of time trying to figure out which experiments to do next. And the more smart, interested people you have working on that, the better, which is why an endowed professorship is so important."
As for the young patient who inspired the gift, Jag plans to either go into clinical therapy or cognitive neuroscience, so he can positively influence those who face similar challenges with disabilities. "I've never wanted to be too much different than anyone else, so I worked quite hard to push myself," says Jag. "That's why I like what we're doing here, because it's giving a lot of people in the future a chance to hopefully be better than what they'd otherwise have been because they'll have the support that I had."