PHOTO: JOHN EMIGH
While a student at UCLA, Cargill helped build the world's first 3D computer model of Qumran, the site where the Dead Sea Scrolls were found.
---
Cargill was raised in Madera, California, a small city away from the coast just north of Fresno, in a devoutly religious family that belonged to the local Church of Christ congregation. His mother was a schoolteacher, and his father and grandfather were both minor league baseball players (Cargill's father became a police officer after leaving the sport) who wanted him to go on to the major leagues. Raised with a ball glove "glued" to his hand, Cargill played and paid his own way through two years at Fresno City College by working 40 hours a week on the overnight shift at the local Walgreens. Around the same time he decided he didn't share his patrilineal dream of making it in the MLB, Cargill also realized that he had questions he wanted to answer, questions he wanted to pursue through education.
"I was raised in this conservative, Christian tradition, but my brain always sensed this tension. My thoughts were doing this a lot," he says, butting his two closed fists against one another.
Cargill felt like he had to learn how to navigate the murkiness of entering academia on his own. After he finished a bachelor's degree in human physiology at Fresno State University, he knew he wanted to pursue a path outside of athletics, but he wasn't sure what was next. Using his upbringing as a catalyst for intellectual investigation and engagement, Cargill went on to pursue a Master of Science in ministry and, subsequently, a Master of Divinity, both from Pepperdine University in Malibu, California. He married his first wife and, in 2000, they had a daughter, Talitha.
He took up studying archaeology and ancient Near Eastern cultures and, in 1999 and 2000, Cargill was invited to go on excavations at Banias, a historic and religiously significant site in the Golan Heights, next to the origin of the Jordan River. He was digging "in what felt like an endless mud pit," and he wanted to find something, anything to call it a successful dig, but for days, all he dug up was more mud. One day, his supervisor had Cargill change locations to share digging and hoeing techniques with a group of local Palestinians also hired to excavate.
"About halfway through the morning, we made an amazing discovery—the marble head of an approximately 8-year-old girl with braided hair—a statue of some wealthy Roman princess from two millennia ago. She was staring right at me. She still had flesh tones painted on her cheeks. I immediately named her 'Tali' after my own daughter back home. It was at that point I was hooked. The smell of the earth. The prospect of discovering something no one had seen in 2,000 years with each throw of the pickaxe.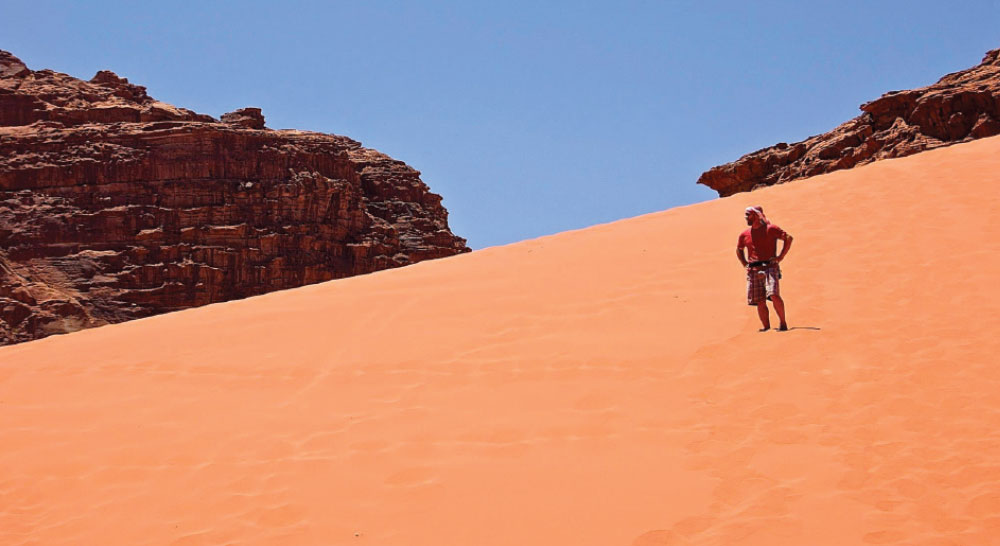 PHOTO COURTESY ROBERT CARGILL
Cargill in the Near East.
I knew at this point I'd be doing this, and studying this, for the rest of my life," Cargill once wrote about the dig. "Today that bust is on display in the Israel Museum in Jerusalem."
Back home in California, Cargill was hired at Pepperdine in 2002 to teach courses in the Hebrew Bible and the New Testament. At the same time, and as a function of his proximity to Malibu, his daily life happened to contain run-ins with the era's glitterati: Madonna, Minnie Driver, Tia and Tamera Mowry, Tom Selleck, Barbara Bush, Ben Stein, and Danny DeVito, just to name a few.
"I went from working-class Fresno to seeing all these celebrities and movie stars. I had to learn: When you see Steven Spielberg in the grocery store looking for bread, keep walking. He's just trying to live his life." —Robert Cargill
"I went from working-class Fresno to seeing all these celebrities and movie stars. I had to learn: When you see Steven Spielberg in the grocery store looking for bread, keep walking. He's just trying to live his life," Cargill says.
He learned quickly, though, that if a celebrity approaches you, never turn the opportunity down. While teaching his Introduction to the Old Testament course, an auditing student approached him after class and asked Cargill if he might be interested in privately tutoring one of her friends.
"I'm the kind of person who always has time to do a little more work for extra money," Cargill says, self-effacingly.
The next thing he knew, it was 2004, and he was sitting next to actress Nicole Kidman in her trailer on the set of the movie Bewitched, tutoring her in the Old Testament. Kidman was incredibly attentive and kind, Cargill says, and he didn't teach her anything different from what he taught his Pepperdine students, though he persistently wondered what made her so interested in taking this a la carte, scholarly class on the Bible.
The next spring, Kidman gave a series of public interviews following her divorce from Tom Cruise in which she stated she was studying biblical history with a private tutor from Pepperdine. That led to a flurry of calls on Cargill's phone from "every tabloid in the country" who triangulated, though course listings, that he might be the guy behind the scenes. On guidance from Kidman's publicists, Cargill confirmed only that he was the professor. With even that limited information, Cargill's phone rang again, this time from a local documentarian who wanted to interview him for a film about the Bible. Cargill said yes, and before he knew it, traveled to a historic house in Malibu to sit in front of a camera for the first time to talk to an audience about what he knew. One thing he couldn't have predicted at the time: that offer after offer would suddenly flood in from other filmmakers and TV producers who wanted to put this tall, athletic scholar in their films to fill the part of the critical academic, debunking sensational myths about the genesis of the Abrahamic faiths.
Meanwhile, the analytical lessons Cargill learned during baseball and the "hard work pays off " mentality of his youth kept coming back to him as his interest in the foundation of Christianity deepened.
"I realized I wanted to study Greek and Hebrew, and I wanted to do it in a scientific way. My job was to listen, but then to question. I've always been analytical; I was a catcher in baseball, which is kind of like the quarterback—I was the player making all the calls. And I learned pretty quickly that when you grow up in a blue-collar town, you have to work harder. I want my students to know: Just because you didn't grow up rich doesn't mean you can't go on to do great things," Cargill says.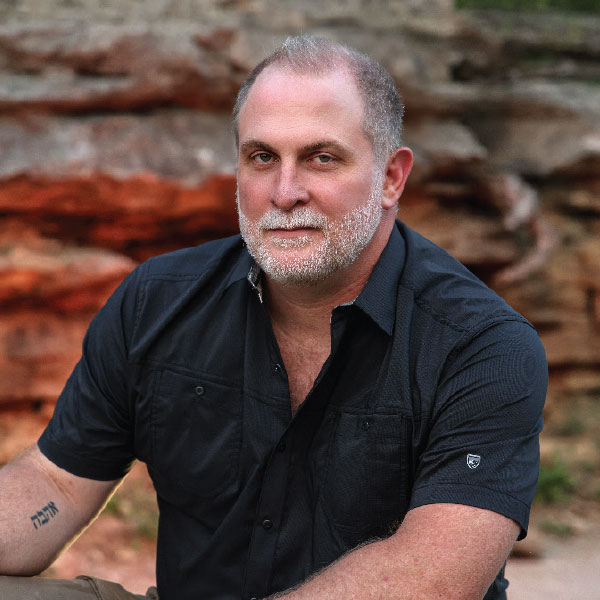 PHOTO: JOHN EMIGH
Once again, Cargill went back to school. He received a fellowship to attend UCLA and earned a master's in ancient Near Eastern civilizations and a doctorate, with an emphasis in Second Temple period archaeology and biblical studies. His dissertation work focused on the archaeological remains of Khirbet Qumran, the site associated with the discovery of the Dead Sea Scrolls.
His work with the Dead Sea Scrolls and Qumran led to a fascinating merger of old and new. In 2007, Cargill was working on a several-yearslong project to digitize the landscape of the Qumran remains so that it could be accessed virtually by scholars and the public. At the same time, the San Diego Natural History Museum was preparing to host an interactive exhibit about the scrolls. It heard about Cargill's work digitizing Qumran and asked if he could have his digitization ready—as a virtual reality film for museumgoers—in a year. Cargill was hesitant to promise a compression of years of work into a single calendar year, but then the museum secured enough money from Steven Spielberg's Righteous Persons Foundation to fully fund Cargill through the process and the rest of his doctoral dissertation. Faced with an offer he couldn't refuse, Cargill moved all the digital modeling computer equipment into his house and worked on the Qumran digitization site from the time he woke up to the time he went to bed each evening.
Ultimately, he was able to complete the film in time for the exhibit, which grew into his first book, Qumran through (Real) Time: A Virtual Reconstruction of Qumran and the Dead Sea Scrolls, published in 2009. The book uses Cargill's work digitizing Qumran to support his hypothesis that the location wasn't just the home of the Jewish settlers who were responsible for the scrolls, but also an earlier fortress for Hasmonean soldiers. This analysis solidified Cargill as a potent scholar in this controversial academic field, while, at the same time, increasing his TV and documentary appearances. Today, that number is more than three dozen. Cargill has served as an expert on programs such as Writing the Dead Sea Scrolls for the National Geographic Channel, Finding Jesus and Jerusalem: City of Faith and Fury on CNN, and this year he's in the History Channel's Colosseum, a documentary series exploring the Roman Colosseum and gladiatorial games.
Perhaps his most controversial appearances have been on the History Channel's Ancient Aliens. Here, Cargill maximized his potential as the sober scientist in contrast to the fanatical, fringe beliefs of those under the extraterrestrial influence. The process taught Cargill something about the power of what academic research can do when it's filtered through channels that reach everyday people—not just other professors.
"I get more feedback from guys eating Doritos, smoking pot, and learning about some of these historical places for the first time [than from anyone else] when I appear on those shows," Cargill says. He loves writing books and publishing academic papers, but concedes that the vast majority of people aren't going to necessarily pick up those books. They will, however, turn on their TVs and tune into something controversial. If Cargill is there, he enables people outside of academia—"which is most people," he reminds me—to engage with real science and hear credible theories as an alternative to "aliens did it."
"I decided early on that I was going to do public scholarship. Public scholarship is just as important, and I'm good at it," Cargill tells me.
When he started brainstorming for a second book, Cargill remembered a question that Nicole Kidman had posed to him a decade earlier. During their time together on the movie set, reading the book of Genesis, Kidman had asked, "Where did the Bible come from?" In 2016 Cargill attempted to answer that question when he published The Cities That Built the Bible, a text that would appeal to a reader outside the field of religious studies as much as it would a professor within that field. The book—and Kidman's question—are emblematic of the kind of work that Cargill feels most passionate about doing. He tells me he feels at home in Iowa, in the Midwest—despite its differences from California—because students here often come to him with the kinds of questions he lacked answers for when he was young.
Cargill has used his deep, early knowledge of the Bible and Christianity to grow into a deeply curious, knowledge-building, public scholar who wants to help his students develop their own sense of self. He is passionate about doing that work at Iowa because he feels a kinship with his students from working class, first-generation, and rural backgrounds who have potential and drive, but don't know quite yet how to ask the right questions that will help them succeed.
Cargill teaches more than 20 different courses in the UI classics department, including "Global Religious Conflict and Diversity" and "Mythology of Otherworldly Journeys." Even with this high level of specialization, he still identifies with the students who went to Kirkwood Community College or Des Moines Area Community College and transferred to Iowa. He feels like he has a purpose when a student from a small town comes to his office hours and asks, "Is it possible to be gay and a Christian?"
"You can be whatever you want, I tell them. You are not only a product of your upbringing, of the things you were given, of the things other people wanted you to be," he says. "When I got divorced, I decided, 'I'm going to be who I want to be, and that's when I met Roslyn." She had been studying and working in youth ministry at Pepperdine at the time. Six months later, they were married. That moment of internal generosity seems to have given Cargill the kind of grace a person needs to want to put himself, over and over again, in his students' shoes.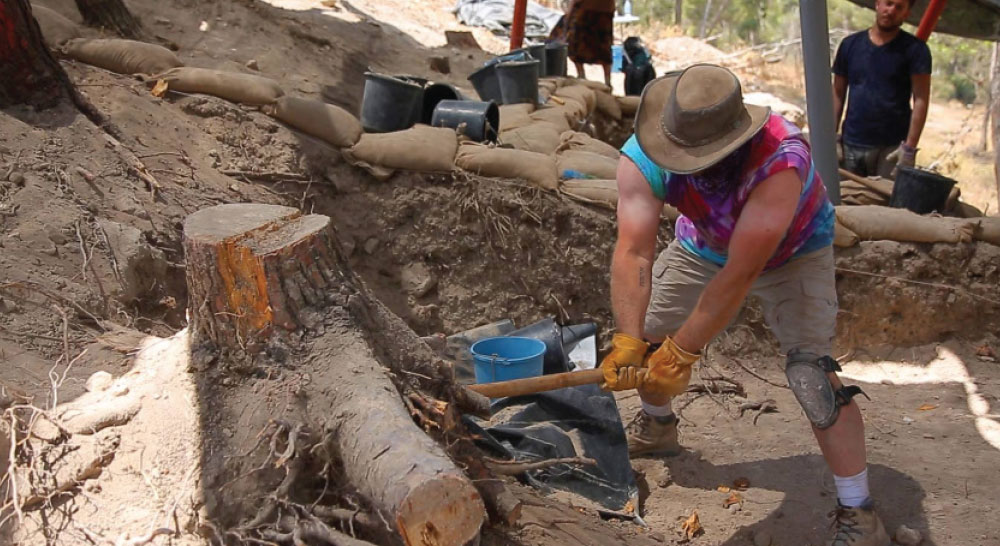 PHOTO COURTESY ROBERT CARGILL
Cargill on an archaeological dig.
---
We're sitting in Cargill's living room, and his son Quincy tells me about the digital projects he makes—animated meme-based videos that riff on internet humor. With all of the politeness and patience in the world, he tells me he wants to do cool virtual projects like his dad one day. The kids get exposure to Cargill's digital work because, not unlike his days digitizing Qumran at UCLA and in large part thanks to the pandemic, he does much of it at home. Everything about his life is integrated: from the way he sees his upbringing as a crucial influence on his scholarship to the way he values uncovering and archiving the past in order to preserve it for the future. Cargill is meticulous and careful; it seems as though he views all the things in his life as precious.
Back in his digital studio, Cargill hands me a copy of his book, Cities that Built the Bible, out of which falls a letter from the chaplain at Anamosa State Penitentiary, thanking Cargill for his time. A few years ago, a study group at the prison adopted the book, and Cargill went in for a guest lecture.
"It was 25 guys in their jumpsuits, who had really read my book, asking technical, theological questions. I thought of the penitent thief on the cross next to Jesus. I broke into tears," he says. "They're reading my book and trying to better themselves."
---
We can label Cargill's attitude as something paternal; we can call it one form of good teaching. It is both of those things, and it is also the creation of a person who learned early in life that he could use the ideas around him not as precursors of his destiny, but as artifacts of his upbringing, on top of which he could build a new home for himself and the people he loves, one that serves him, one that—he hopes—he can build into a place, insulated and open, in the trees and in the cloud, that serves those coming up behind him, too.
"I'm a trail guide who's been through it before. I'm trying to hold a lantern," he says. "It's not a way out. It's a way through."
---