The UI Museum of Natural History invited the public to retrace the steps of Iowa City's most prominent writers on a fall walking tour that celebrated the UNESCO City of Literature. Here are some of the noted landmarks: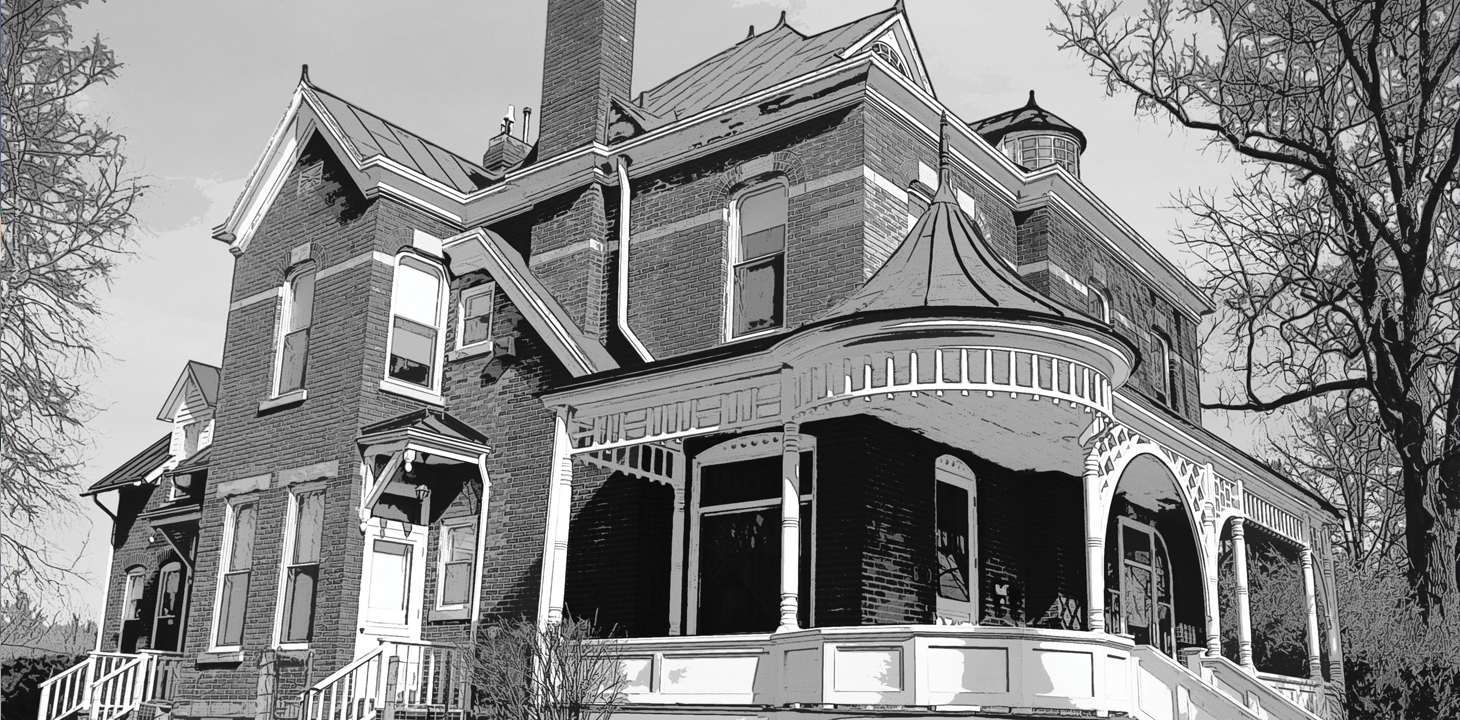 PHOTO: WIKIMEDIA COMMONS
While in Iowa City, author Kurt Vonnegut lived in the Vogt House (pictured above) and taught students such as John Irving (67MFA), Gail Godwin (68MA, 71PhD), John Casey (68MFA), and Nicholas Meyer (68BA) at the Iowa Writers' Workshop.
Old Capitol, 21 N. Clinton St.
In 1861, one of the UI's first literary societies, the Zetagathian Society, met here by the light of oil lamps. The group critiqued original essays and debated hot topics of the day, creating a burgeoning literary movement on campus that eventually led to the 1936 founding of the Iowa Writers' Workshop.
Prairie Lights, 15 S. Dubuque St.
One of the top independent bookstores in the nation, Prairie Lights features the Times Club Café, which is named after one of two literary clubs in 1930s Iowa City that hosted prominent speakers such as Robert Frost and Langston Hughes. The Times Club called for intellectual discussion of contemporary issues, while members of the Grant Wood-led Society for the Prevention of Cruelty to Speakers dressed in goofy Victorian garb and refused to take themselves too seriously.
General Hospital, 220 Hawkins Drive
Tom "Tennessee" Williams (38BA), who received his famous nickname while a student at Iowa, lived on eggs for a month before landing a job as a waiter in the doctor's cafeteria at University Hospitals. The playwright, who studied under UI theatre department head E.C. Mabie, wrote that he hoped never to lose the hospital job because it provided him with free meals.
Vogt House, 800 N. Van Buren St.
Kurt Vonnegut penned the modern classic Slaughterhouse-Five here while teaching at the Iowa Writers' Workshop in the late 1960s. Legend says the deed to his former home, which is listed on the National Register of Historic Places, required occupants to host a May Day party every year as Vonnegut did.
St. Mary's Church, 228 E. Jefferson St.
Missing her native Georgia, Iowa Writers' Workshop alumna Flannery O'Connor (47MFA) made her home away from home at St. Mary's, where she prayed twice a day.
Former site of Grace and Rubies Café, 209 N. Linn St.
In 1977, novelist T.C. Boyle (74MFA, 77PhD) wrote a short story, "The Women's Restaurant," from the perspective of a male narrator determined to infiltrate this real-life, female-only café (located where Brix Cheese Shop & Wine Bar stands today).
George's Buffet, 312 E. Market St.
Though known as the poets' hangout among Iowa Writers' Workshop students, wordsmiths of all stripes have joined townies in praise of George's cheeseburgers, prepared in a 1950s electric broiler and served on a soft sesame-seed bun.
Dave's Fox Head Tavern, 402 E. Market St.
Inside this dimly lit, red-paneled shack, picture Vonnegut in the corner sipping scotch and water, Frank Conroy shooting pool through a smoky haze, and Hunter S. Thompson kicked to the curb for unruly behavior (as the story goes).
Visit litcity.lib.uiowa.edu for a virtual tour of Iowa City's literary landmarks and mnh.uiowa.edu for a list of upcoming events from the UI Museum of Natural History.