The UI provides a safe haven for a philosopher's career to flourish.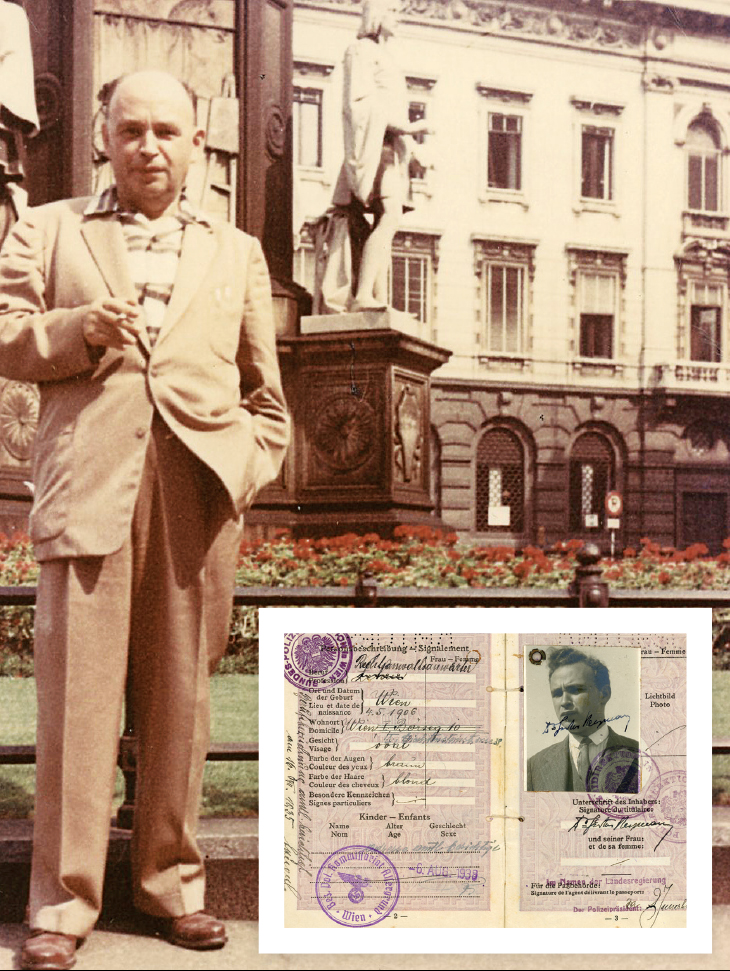 PHOTOS: SPECIAL COLLECTIONS AND UNIVERSITY ARCHIVES, UI LIBRARIES
Gustav Bergmann escaped Nazi-occupied Austria in pursuit of academic freedom. With help from his colleague Albert Einstein, he found it at the UI.
Central Europe in the mid-1930s was a perilous place and time for many of its citizens, particularly for those identified as Jewish and others persecuted due to their ethnicity, religion, political beliefs, or sexual orientation. The tactics of Germany's Third Reich, increasingly malevolent as the decade wore on, exploded in November 1938, when Nazis targeted and torched homes, schools, businesses, and synagogues.
Earlier that year, German troops marched into neighboring Austria and annexed that country. Anschluss, as it became known, put Austria's citizens on notice that the new regime would spare no one who was considered an enemy of the state.
Intellectuals in both countries—like Bergmann—were among the first targeted in this lethal, state-sanctioned roundup. Their lives at stake, the scholars were banned from teaching and threatened with prison. Recognizing this danger, the Institute of International Education established in 1933 the Emergency Committee in Aid of Displaced Foreign Scholars. For the next eight years, the New York-based committee identified and rescued more than 300 scholars, assuring them safe passage to the United States and other participating nations, where they could continue to pursue their research and teaching.
These scholars represented a wide range of academic disciplines. Among them was Bergmann (1906-1987), a Vienna native who found his new home in Iowa City in 1938, when he joined the faculty as an instructor of philosophy at the State University of Iowa. His degrees from the University of Vienna—a doctorate in mathematics in 1928 and JD in law in 1935—and his work with Einstein in Berlin in 1930-31 cemented the young scholar's stature in several academic arenas.
During the early to mid-1930s, Bergmann was a member of the Vienna Circle, a collaboration of scientists, philosophers, and mathematicians who were proponents of logical positivism, a Western-based theory that held that empirical observation is essential to verify statements of value. Both Bergmann and Kurt Lewin, another noted scholar that the committee placed at SUI, advocated this fact-based approach to inquiry.
In 1938, at age 32, Bergmann determined it necessary to flee Vienna. A letter of recommendation from Einstein helped Bergmann continue his academic pursuits in the U.S. Papers in Bergmann's biographical file at the University Archives reveal a months-long process that led to his one-year appointment at Iowa. A lifelong career at the university followed, where his writing and influence flourished as a professor of philosophy and psychology.
Without the assistance of the Emergency Committee and the advocacy of SUI faculty—including Lewin (who arrived in the U.S. from Poland several years before); George Stoddard (25PhD), director of the Iowa Child Welfare Research Station; and university president Eugene Gilmore (41LLD)—Bergmann's notable works perhaps would never have come to fruition. These books include Realism: A Critique of Brentano and Meinong; Philosophy of Science, Meaning and Existence; and Logic and Reality, all published by University of Wisconsin Press during the 1950s and 1960s and still cited by scholars today.
The American dream may unfold in many ways. For Bergmann, it was the opportunity to pursue academic inquiry freely and unfettered, without fear of reprisal or concern for personal safety. The academy, in turn, reaps the benefit of such inquiry. Societies that expel such thought ultimately weaken themselves. The societies that grow are nurtured by holding onto their freedoms.
---
Learn more about Gustav Bergmann, and view his papers at the University Archives.