Photo: 1944 Hawkeye Yearbook
Kinnick, third from left, smiles for the camera on the sidelines alongside his former coach, Eddie Anderson, far left, and others during the Iowa football team's season opener on Sept. 19, 1942. It was Kinnick's final visit to Iowa City.
Even amid the daily rigors of training at sea and the perils of Pacific battles looming, Kinnick's letters kept him connected with home—Adel, where he grew up; Omaha, where his family moved before his senior year of high school; and Iowa City, where he made his indelible mark as a scholar and athlete.
Kinnick last roamed the Midwest and the UI campus the previous fall, in September 1942, on leave for three weeks after earning his Navy wings in Pensacola, Florida. Kinnick paid visits to friends and family in St. Louis, Kansas City, Omaha, and Adel, before hopping aboard the Rock Island Rocket from Des Moines to Iowa City.
On a chilly autumn weekend, Kinnick arrived at the old train depot near campus. Assistant athletic director Glenn Devine (22BA) fetched Kinnick from the station and drove him to the Field House, where his former team was dressing for practice the day before the season opener. Outside the locker room, coaches and sportswriters welcomed home the former star athlete and student body president. Head coach Eddie Anderson, who had led the famed Ironmen team to a 6-1-1 season in 1939, suggested Kinnick join the workout, so he tossed on a pair of sweatpants and a quarter-sleeve shirt and kicked a few footballs around the field. "Didn't do badly either," Kinnick later wrote.
After practice, Kinnick met up with friends for dinner at the student union. "It was just like old times—eager appetite, good food, lusty, happy companionship, the prospect of a game the next day; I enjoyed every minute of it," he wrote. Later, he and a friend took dates to the Mayflower Inn along North Dubuque Street and a night spot in the nearby town of Tiffin, where Kinnick ran into a number of familiar faces.
On Saturday, Kinnick ate lunch at his former fraternity house, Phi Kappa Psi, where he was happy to see his former housemother and cook. On his way to the football game, two staff sergeants from his ROTC days greeted Kinnick with hearty handshakes instead of salutes. Then once at Iowa Stadium, Kinnick stopped in the locker room to meet with the team before heading to the press box, where he mingled with university president Virgil Hancher (18BA, 24JD, 64LLD) and other local leaders. Kinnick sat down for a radio interview with WSUI at halftime, and word quickly spread in the stands that Kinnick was at the game. Soon, the crowd took up the chant, "We want Kinnick! We want Kinnick!" In his khaki Navy uniform, necktie, and well-polished shoes, the All-American stepped outside the press box and waved his officer's cap to the roaring crowd. The spirited day ended with a Hawkeye victory, 26-7, over St. Louis' Washington University.
"Wasn't it wonderful!" Kinnick later wrote about the hero's welcome in the stadium that, exactly 30 years later, would be renamed in his honor. "Such a fine, spontaneous gesture! Certainly the people of Iowa have been good to me."
Kinnick's nostalgic visit lasted another two days. A theater and film lover, he saw two movies while in Iowa City: Pride of the Yankees and Talk of the Town. He stopped by the law school to catch up with his old professors, strolled downtown to chat with business owners, and attended a church service. On Monday, he dropped by a practice for the Iowa Navy Pre-Flight School football team, which shared facilities with the university during the war. Several former Hawkeyes were on the Iowa Pre-Flight team's roster, and Kinnick reunited with Ironmen teammates Al Couppee (47BSC) and George Frye (47BSPE). When Kinnick said farewell aboard a Monday afternoon train for Chicago, he left Iowa City for the last time "secretly happy over the manner in which she had welcomed me back."
If a man would grow in character his battle with self must be unceasing.Diary of Nile Kinnick, May 29, 1943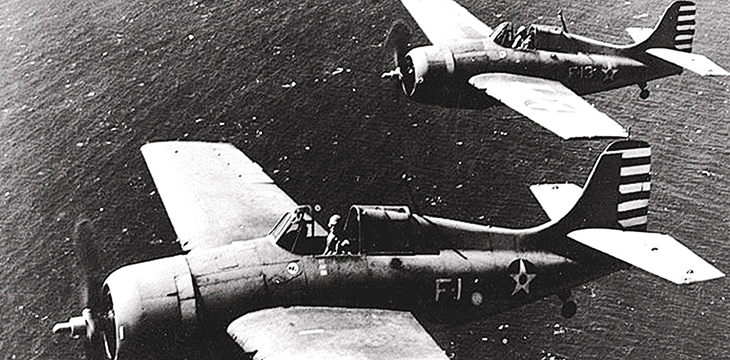 Photo: WikiCommons
Kinnick piloted a Grumman F4F Wildcat—like these fighter planes pictured over the sea during World War II.
The Lexington crew had been training for more than two weeks in the Gulf of Paria when Kinnick climbed into the cockpit that fateful Wednesday morning—June 2, 1943. At 8:33 a.m., in quiet waters and good weather conditions, the Lexington launched Fighting Squadron 16 for practice operations. His Wildcat's propeller roaring, Kinnick rocketed down the runway and into the skies over the Caribbean.
At 9:23 a.m., ship logs show that the attack group began a simulated, coordinated offensive. The first sign of trouble came at 9:51 a.m. when the Lexington's radio crackled with concerning news: F4F-4 No. 7 had developed a serious oil leak. Crewman scrambled on the carrier's deck in preparation for a deferred landing, while in the sputtering plane, Ensign Nile C. Kinnick Jr. fought his failing engine. Soon Kinnick lost all oil pressure and his engine seized, according to a later letter from his commander. Within sight of the flight deck yet still four miles out from the Lexington, it became clear Kinnick would be unable to make it back.
Pilot and bunkmate Bill Reiter was flying alongside Kinnick when he first spotted the oil pouring from his friend's plane, according to a letter Reiter later sent Kinnick's parents. Reiter radioed Kinnick to alert him of the problem, but little could be done. Reiter watched as Kinnick, calm and efficient, performed what he described as "a perfect wheels-up landing in the water." From overhead, Reiter believed he saw Kinnick in the water and clear of the plane, though Kinnick didn't signal. Reiter raced to the approaching rescue boat and guided it back to the crash site, but all that remained when crews arrived were paint chips and a gasoline slick, according to various letters.
In a letter to the Kinnick family, Lt. Cmdr. Paul Buie said water landings were typically a relatively safe maneuver. Buie speculated that Kinnick's safety belt may have broken upon impact with the water and the pilot struck his head, hampering his ability to stay afloat or inflate his life jacket. Another member of Kinnick's four-man team that day, Ardis Durham Jr., later wrote to Kinnick's father that he saw Kinnick perform "as sweet a water landing as I've ever seen," then watched as the plane floated for a few seconds before sinking. A piece of yellow debris had floated to the surface, giving Durham a false sense of relief. But the plane—along with Kinnick—vanished into the ocean. An hours-long search by hundreds was futile, and Kinnick's body was never recovered.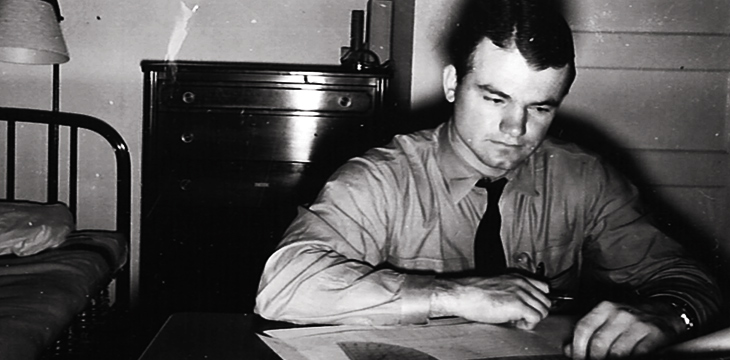 Photo: UI Special Collections, Nile Kinnick Digital Collections
Kinnick read and wrote extensively during the war, leaving three war diaries and numerous letters to friends and family that are archived today in UI Special Collections.
Kinnick died just a month shy of his 25th birthday, his final resting place almost 3,000 miles from Iowa City. Two days before the crash, however, he wrote one last letter to reflect on the college town where crowds once chanted his name, where he pored over law books and yearned to make a difference in the world, and where his legend was born.
"That little town means so much to me—the scene of growth and development during vital years—joy and melancholy, struggle and triumph," Kinnick wrote in the letter to Celia Peairs, a friend he'd dated before the war who'd recently visited Iowa City. "I love the people, the campus, the trees, everything about it. And it is beautiful in the spring.
"Ah, for those days of laughter and picnics when the grass was newly green and about a grab and a half high. ... I hope you strolled off across the golf course just at twilight and felt the peace and quiet of an Iowa evening, just like I used to do."
Kinnick never forgot Iowa City. And 75 years after his death, Iowa City hasn't forgotten Kinnick.