An American Marriage
By Tayari Jones (94MA), Algonquin Books of Chapel Hill, 308 pp.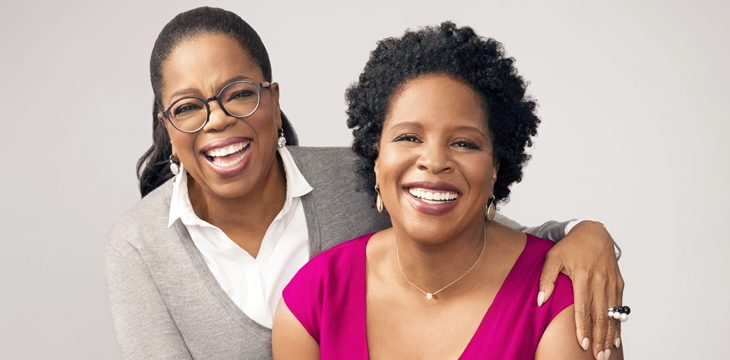 PHOTO: VICTORIA WILL/HARPO, INC.
Oprah Winfrey with Tayari Jones
Like so many other readers hooked by Tayari Jones' new novel, Oprah Winfrey wanted to cancel all of her plans until she reached the final line of An American Marriage. When she finally did put the book down, Winfrey immediately dialed up Jones—a career-changing conversation for the author and Iowa alumna.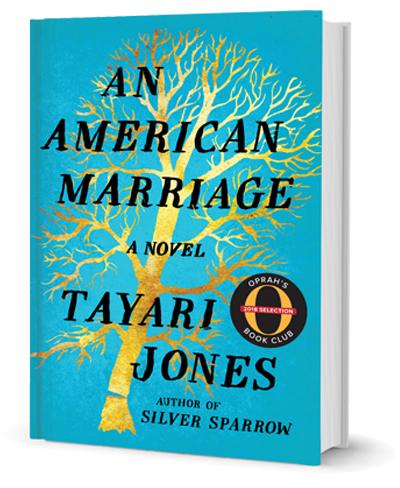 In February, Winfrey announced that Jones' novel—the story of a newly married couple torn apart when the man is wrongly imprisoned—would be her first selection of 2018 for Oprah's Book Club. "I think you'll come away with greater empathy and understanding, but even if you don't, it's just a great read," the entertainment mogul and literary tastemaker said in a video revealing her book club pick on the Oprah Winfrey Network's website.
Jones, who earned a master's in English at the UI, is the author of three earlier novels. Her latest was inspired by a fellowship at Harvard's Radcliffe Institute, where she researched wrongful incarceration. It was an argument she overheard between a couple at an Atlanta shopping mall, however, that fully seeded the storyline for An American Marriage. When Jones heard the elegantly dressed woman shout to the man, "You know you wouldn't have waited on me for seven years," inspiration struck.
Jones is an associate professor in the MFA program at Rutgers University in Newark, New Jersey, and has spent this past academic year as a visiting fellow at the Black Mountain Institute at the University of Nevada, Las Vegas. Iowa Alumni Magazine caught up with Jones via email between stops on her national book tour.
How did you learn your novel was selected for Oprah's Book Club?
She just called me on the telephone, out of the clear blue sky. I was driving, and that distinct voice came pouring through my stereo system. "Hi, this is Oprah." I was so stunned, I had to pull the car over on the side of the road.
What does receiving Oprah's endorsement mean to you?
I consider it an honor and a responsibility. When she puts that "O" on the front of my book, she is lending her good name to my work. I want to make sure that the book reaches the people who need it because that is really Oprah's mission with her book club—to connect stories with people who will either learn from them or be healed by them.
Your book tackles big issues like race and wrongful convictions; how was it shaped by the current social climate?
I started this book six years ago when we were in a different political moment, but the people who are languishing in our prisons have been there much longer than just a couple of years. I am glad that there is renewed attention to this subject, and I think that is due to our political moment.
How did you arrive at the idea to weave together a love story and the topic of mass incarceration?
To me, these ideas are not contradictory. Every incarcerated person is loved.
How did the UI help you grow as a writer?
It exposed me to a wide range of literature, especially writers from the Caribbean. I think all American writers can benefit from reading writers who come from a different literary tradition.
Do you have a favorite memory from your days at the UI?
I miss the Deadwood. I know it's grimy—or at least it was—but I had some fun in there. Especially the jukebox.