Johnny Kastl, seen here with TV star Zach Braff, has traded in his scrubs for briefs and lawsuits.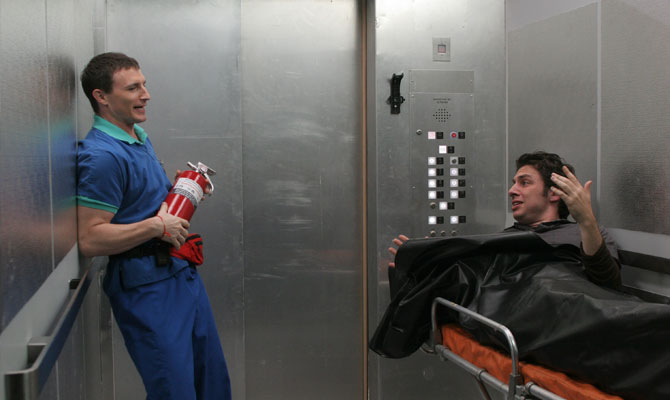 PHOTO: ABC PHOTO ARCHIVES/GETTY IMAGES
Johnny Kastl has appeared in the summer blockbuster movies Hulk and War of the Worlds. He's made audiences laugh as the peculiar pathologist on the hit medical comedy Scrubs. He's also shared credits with acting icons Michael J. Fox, Patrick Swayze, and Tom Cruise. But, this past fall, Kastl walked away from Hollywood to take on his most challenging role yet—first-year law student at the University of Iowa.
"I love acting, but I always had my eye on law," says Kastl, best known for his eight years as Dr. Doug Murphy on Scrubs. "[Law school is] a big switch, but I've never been one to stagnate."
Kastl's road from the silver screen to the college scene began in 2008 when Scrubs changed networks after a wildly successful run. The actor, long interested in law, decided to bow out of the show to work for a Chicago law firm. Then he got an invitation to act with Swayze in his last television role, The Beast. Says Kastl, "The opportunity to work with the original Johnny Castle [Swayze's Dirty Dancing character] was too fortunate to pass up, but I found a way to juggle it with my advocacy work."
After the FBI series ended in March 2009, Kastl began searching for a law school close to the Chicago area, where his wife and two sons live. He was instantly impressed with the atmosphere, resources, and students of the UI Boyd College of Law.
Though the allure of fame and fortune draws many to Hollywood, Kastl never intended to stay in acting. "Some people take time off to backpack through Europe; I moved to L.A. to work in TV and film," he says. In those early days, he pretended to be his own agent, making phone calls using a British accent and a fake name. In 2000, he auditioned for the lead on Scrubs, but later accepted a recurring role as Murphy, a doctor so incompetent that he has causes of death named after him. "Doug is essentially my insecure self," says Kastl. "He's not fearful of the world, but his place in it. Yet, everything is a new, exciting experience for him."
Now the former actor faces his own eye-opening adventure, balancing family life in Chicago with eight-hour school days in Iowa City. Kastl, who has biology and drama undergraduate degrees from Washington University in Saint Louis, plans to graduate from Iowa in 2013 and practice litigation law. "The passion and tenacity required to become a working actor in Hollywood translate well into law and advocacy," he says. "The skills I've acquired in overcoming challenges will only make me a better lawyer."