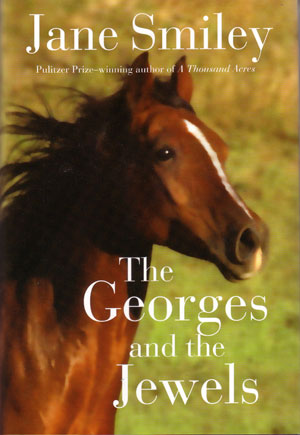 Read The Georges and the Jewels by Jane Smiley, 75MA, 76MFA, 78PhD
An outcast at school facing friction at home, 12-year-old Abby Lovitt finds solace in horses. She seems a natural with nearly all of the "Georges" (geldings) and "Jewels" (mares) on her family's ranch, but one horse refuses to be tamed. The Georges and the Jewels—Jane Smiley's first book for younger readers—explores how Abby overcomes this challenge she affectionately calls "Ornery George."
Smiley, 75MA, 76MFA, 78PhD, a UI Writers' Workshop graduate and Pulitzer Prize winner, has already written a book for adults, Horse Heaven, about horse breeding and racing. Now she brings her love of horses to preteen and teen readers in grades five through eight. Abby's adventures will continue in two more books—A Good Horse, which comes out in September, and in an untitled novel that debuts next year.